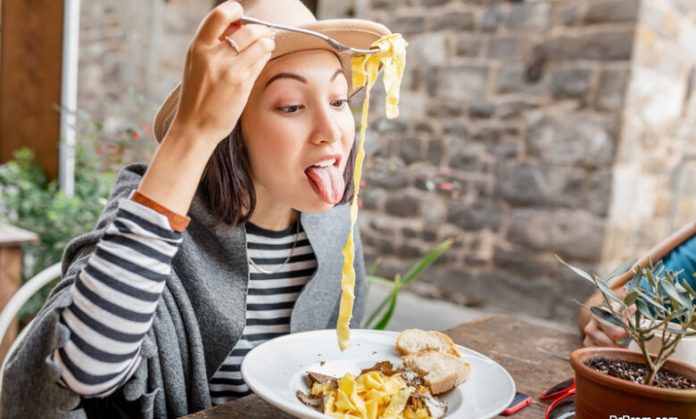 If you dream of la dolce vita, strolling along the canals of Venice, or summering in Positano, you're not alone. Italy is a dream destination for many a traveler. But if jetting off to Italia isn't in the cards for you, you can bring its cuisine and ambiance to you—no passport required!
Setting The mood
To set the mood, queue up your favorite playlist for your evening. Depending on your crowd, you may opt for a little Italian-American flair with hits by Dean Martin and Rosemary Clooney, classical opera by Puccini, or a more contemporary sound with Eros Ramazzotti or Lucio Battisti. This playlist on Spotify hits the spot.
You'll also want to set the table with proper linens and silverware, and consider adding seasonal flowers if space allows. If you'll be dining outdoors, you may want to add candles to your table for when the sun goes down.
Kick Things Off With An Aperitivo
In the tradition of Northern Italy, aperitivo anytime between 4:00pm to 9:00pm is meant to serve as sort of a "happy hour" and a way to whet your appetite before dinner. While wine is a popular option, you can also try a quintessential Italian drink like Campari or Aperol with a bit of soda, or with a splash of Prosecco (known as a spritz). Other popular beverages include vermouth, negroni, or a classic gin martini. Also note that aperitivo is meant to include salty appetizers.
To get more insight on how to throw your best Italian-inspired dinner party, we caught up with Francesco Torre of Canetti Roadhouse in Forestville, CA. Torre, a native of Massa, Italy, is a former executive chef at the five-star Il Bottaccio Hotel in Tuscany and the Badia a Coltibuono winery in Chianti. Additionally, he enjoys hosting his own family-style dinners when at home.
"Classic aperitivo is just olives, nuts and potato chips," says Torre. "But bars with more sophisticated clientele will offer a whole varietal of small bites, (like) ravioli, tea sandwiches, and so on."
Taking Torre's lead, we rounded up some Italian aperitivo bites and dishes from our Cookidoo® recipe platform.
Smoked Salmon and Watercress Crostini
These little toasts are made with lemon ricotta, watercress pesto, and topped with a bit of salty, smoky salmon and fresh grapes—a perfect combination of savory and sweet.
Artichoke Bruschetta
A red jalapeno pepper gives a little kick to this easy appetizer made with marinated artichoke hearts and cream cheese, whipped together for a creamy spread.
Italian Savory Cheesecake
A creamy blend of Gorgonzola and ricotta cheese make up the body of this luxurious dish, set atop a crust of cracker crumbs and topped with briny green olives.
The Main Event
Formal Italian dinners consist of many courses, starting with antipasti, pasta (primi), meat (secondi), salad, soup, fruit and cheese, and dessert (dolce). This can all be a bit overwhelming for a more casual get together, so remember, you can always minimize.
"Life now isn't as rough as it once was, (so there's) no need for so many calories," says Torre. If you want to scale back, you can opt out of a few courses."
But if you want to go all out, here are some more tasty Italian plates.
Primi
Ravioli Stuffed with Artichokes and Pancetta
Follow up your appetizer course with these billowy ravioli. Tangy goat cheese plays well against the salt of the pancetta and artichoke, and your guests will be impressed that you put them together yourself!
Spaghetti Carbonara
A classic Roman favorite, this simple dish only has a few ingredients so make sure you're using the best quality eggs, bacon, and cheese you can get your hands on. If you prefer thicker pasta, go with a bucatini, and adjust the pasta cooking time accordingly.
Mushroom Risotto
No need to stand over the stove stirring endlessly with this creamy, vegetarian-friendly risotto, featuring porcini mushrooms. Play around with the types of mushrooms used in this dish. Brown creminis will yield very mild flavor, while a mix of wild mushrooms like morels and chanterelles will be earthier and more robust.
Secondi
Chicken Breasts Pizzaiola
A perfect dish to please those who prefer poultry, this recipe tops steamed chicken breast with tomato sauce and cheese, akin to a healthier version of Chicken Parmigiana.
Spicy Pork with Tomatoes
Pork tenderloin is simmered in a spicy tomato sauce and herbs for a tantalizing, succulent main dish. Fire roasted tomatoes add depth and complexity. You can even repurpose leftovers as pasta sauce the next day.
Meatballs with Tomato Sauce
Contrary to popular belief, meatballs are rarely served with pasta in Italy. They're often their own dish. This classic recipe uses all ground beef, but you can also change it up by adding ground pork or veal to the mix.
Dolci
Chocolate Cream Cheese Tart
Just four ingredients make up the filling for this dark and delicious tart. The beautiful thing about this dessert is that it isn't too sweet, and it pairs with espresso or port really well.
Tiramisu
Mascarpone cheese, strong brewed coffee, and ladyfinger cookies are layered together in this truly classic Italian dessert. Tiramisu means "pick me up" in Italian, and trust us, you won't want to put it down after the first bite.
Pistachio Ice Cream
Pistachios are ubiquitous in Italia, and you'll find them everywhere from gelato to cannoli. Impress your guests by serving up your own homemade pistachio ice cream, and garnish with even more pistachios and a hint of shaved chocolate.
According to Torre, coffee is a must, even after dinner. "Caffe at home is rarely espresso," he declares. "We brew coffee in those Bialetti-style coffee pots and call it moca."
If your guests won't drink coffee at night, offer a digestif of Amari or Fernet Branca to help aid with digestion, limoncello or grappa.
Final Tips
Take your time. A true Italian dinner can last for hours if the wine and conversation are flowing.
"Family dinner starts around 7 or 8pm," says Torre, "but typical restaurant dinners start at 9:00pm or later."
When hosting dinner at home, if the evening goes well into the early morning, non fa niente. Dishes can wait until tomorrow.
Want some more Italian inspiration? Check out our brand new Italian cookbook "Italian Kitchen" here!