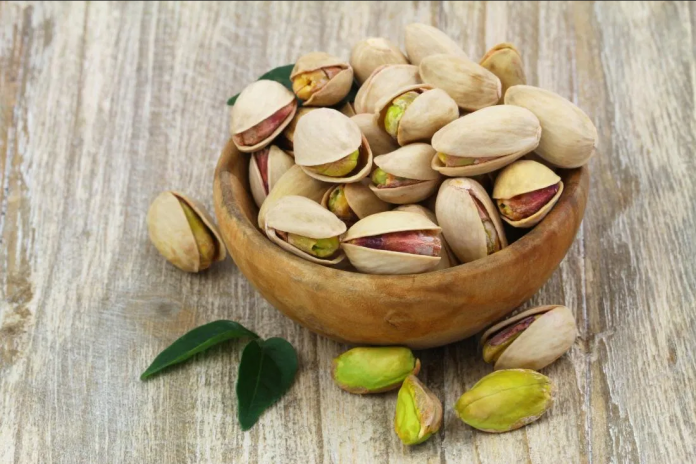 Pistachios are one of the oldest edible nuts and are commonly used in cooking and as snacks worldwide. Pistachio nuts belong to the Anacardiaceae family from the genus Pistacia, and a tree takes about 10 to 12 years to produce the first crop. They are drupe, where the fruit has a large seed in the center, which is edible. Pistachio nuts are not seasonal and are available all year long.
Pistachios are one of the few nuts that contain a well-rounded balance of nutrients, such as carbohydrates, protein, amino acids, fats, and dietary fiber. Let us explore some of the health benefits of pistachios.
A)Aids in digestion:
Pistachios are a good source of dietary fiber, which aids in smooth digestion. A serving of about one ounce or 30 grams of pistachios contains about 3 grams of dietary fiber, more than enough to get your digestive tracts working at optimum capacity.
B)Helps in weight loss:
Generally pistachios and nuts are usually considered to be fattening. However, they contain healthy fats along with a sufficient amount of dietary fibre which assists in weight reduction by making you full for longer.
C)Promotes heart health:
Pistachios contain one of the lowest amounts of fats among all the nuts and most of this fat is in the form of unsaturated fatty acids. Studies indicate that pistachio consumption helps to  reduce bad cholesterol and increases the amount of good cholesterol which  in turn promotes heart health.
D)Antioxidant properties:
Reactive oxygen species (ROS) generated during ultraviolet (UV) light exposure can induce skin damage and ageing. The best antagonist to ROS is antioxidants. Antioxidants can scavenge the free radicals thereby providing protection against oxidative injury to the skin. Pistachio is loaded with natural antioxidants.
E)Promotes brain function:
The green and purple kernel of pistachios contain pigments such as lutein and anthocyanins which is effective in improving cognition (thinking and understanding).
F)Anti-diabetic:
Pistachios are an excellent choice of food for diabetic and pre-diabetic individuals. It improves insulin sensitivity and decreases the levels of fasting blood glucose levels, thereby, helping manage diabetes.
G)Boosts immunity:
Pistachio is a good source of various vitamins but Vitamin B6 is very essential to build a healthy immune system. Various in preclinical and clinical studies suggest that vitamin B6 increases the proliferation of antibodies and lymphocytes (a type of white blood cell) in the body, which are essential for a strong immune function. Additionally, It ensures proper blood and supply of blood throughout the body.
H)Promotes hair growth:
The fatty acids present in pistachios contribute to the growth of strong and healthy long hair. The key factor responsible for hair loss is biotin deficiency. Pistachios are a good source of biotin and their inclusion in our daily diet arrest hair loss.
A hair mask using pistachios proves excellent for rough hair, split ends, dehydrated and colour damaged hair. This mask deeply nourishes the hair and enhances flexibility. It also hydrates the hair and scalp.