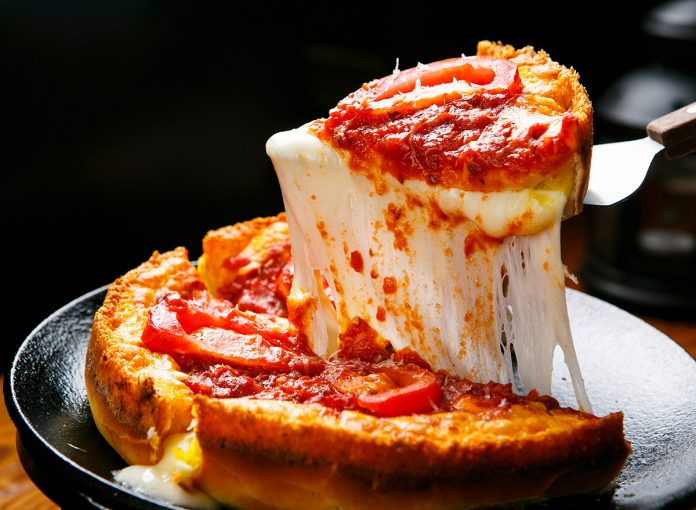 When you think of Japanese cuisine, raw fish and seaweed might come to mind. And Italian cooking probably makes you think of pasta, risotto, and plenty of cheese. But American food is less easy to define—the country is a melting pot of culinary influences. That's why the culinary experts, chefs, and food writers at Flavored Nation put together a list of the best American foods in every state each year. The annual list, announced in April, incorporates data from research, consumer input via social media, and conversations with state tourism boards.
Pulled pork, shrimp and grits, key lime pie, and lobster rolls are classic American dishes you can easily associate with a state or region. We hear North Dakota makes excellent strawberry rhubarb pies, and West Virginia has killer cornbread.
And for more, don't miss The Most Popular Slow Cooker Dish in Every State.
ALABAMA: Fried Green Tomatoes
This Southern classic is especially beloved in Alabama. Try dipping these fried bites in ranch dressing for a heavenly appetizer.
Fried green tomatoes are just one of the 23 Iconic American Foods Everyone Should Try Once!
ALASKA: Reindeer Sausage
Whether you picture reindeer sleighing through a Christmas Eve sky or on a bun at a hot dog cart, the gamey meat has been an Alaskan staple since the late 19th century.
ARIZONA: Enchiladas
As Flavored Nation explains, the enchiladas you'll find in Arizona have a red sauce and aren't overly spicy. So if you're looking for a dish that's mild but still flavor-packed, this is a great option.
And for more fun facts, here are 6 Americanized "Mexican Dishes" They Won't Eat in Mexico.
ARKANSAS: Fried Catfish
While Arkansas' freshwater bodies are brimming with the state's staple, authorities set a daily creel limit on many catfish species to ensure the streams and lakes maintain their abundance. In restaurants, you'll often find the fried fish breaded with a mixture of flour, cornbread, and spices, and served alongside hushpuppies.
CALIFORNIA: Fish Tacos
The classic fish taco—grilled or fried white fish (such as cod or mahi-mahi), shredded cabbage, crema, pico de gallo, and a squirt of lime all nestled into a double layer of corn tortillas—originated in Baja, California.
Want to make your own fish tacos at home? Try this Spicy Tuna and Avocado Fish Taco Recipe.
COLORADO: Rocky Mountain Oysters
Rocky mountain oysters aren't a type of seafood—they're actually fried bull testicles. Whether or not that sounds appetizing, these are a delicacy in Colorado.
CONNECTICUT: Lobster Mac and Cheese
Nothing screams "New England" more than sweet lobster chunks, especially when they're baked into a delicious plate of mac and cheese.
And if you love this cheesy dish, don't miss these 18 Amazing Mac-and-Cheese Recipes.
DELAWARE: Fries with Vinegar
FLORIDA: Key Lime Pie
As the official pie of the Peninsula State, key lime pie features a tangy yet sweet mixture of aromatic key limes, eggs, and condensed milk. Key limes, which are native to the Florida Keys, differ from other lime varieties because they're smaller, seedier, and more flavorful.
Want to make your own version of the dish? Here's The Easiest Key Lime Pie Recipe.
GEORGIA: Peach Cobbler
It's no secret that Georgia is known for its juicy peaches, but how did the fruit-filled cobbler come about? According to Flavored Nation, cobblers were created by combining fruit with "cobbled" together clumps of biscuit dough that are then baked over a fire. The pie originated as the main meal for American settlers but is usually enjoyed for dessert nowadays.
HAWAII: Poke
Poke bowls are a common trend now, but Hawaiian people have been enjoying poke bowls for years. And with all of those delicious flavors, we don't blame them!
IDAHO: Finger Steaks
Much to our dismay, Idaho's most iconic food isn't the nutritious potato. Finger steaks began as a means to repurpose leftover tenderloin and are made by cutting the meat into half-inch-wide strips, battering them in flour, and deep-frying them.
ILLINOIS: Deep Dish Pizza
No surprises here! Chicago is known for the deep dish pizza that was invented at Pizzeria Uno in Chi-town in 1943. The super-stuffed pie is assembled upside-down to prevent overcooking all your favorite fixings.
INDIANA: Pork Tenderloin Sandwich
Nick's Kitchen in Huntington, Indiana created the sandwich that features a hammered-thin piece of pork tenderloin that's dipped in flour, eggs, breadcrumbs (which can be swapped out for crushed saltines) and then deep-fried. It's served with condiments galore. (We like relish and mustard!)
IOWA: Corn Dogs
The Iowa State Fair is one of the largest summer fairs in the nation, so it's no surprise that the batter-coated sausage is the region's iconic staple.
Prefer traditional hot dogs? Here are 16 Delicious Ways to Dress Your Hot Dog Beyond Ketchup and Mustard.
KANSAS: Burnt Ends
If burnt ends aren't your favorite part of the brisket, you don't know what you're missing. The crispy, flavor-packed barbecue portions make for the perfect sandwich.
KENTUCKY: Bourbon Bread Pudding
Kentucky is home to numerous bourbon distilleries, and what better way to use that booze than by putting it in a dessert? You'll never think of bread pudding the same way again.
LOUISIANA: Jambalaya
There are plenty of classic New Orleans foods, but jambalaya is a Louisiana staple. Shrimp and sausage rolled into one delicious, hearty stew? Sign us up!
MAINE: Lobster Roll
Just as Connecticut braves the cold, snowy winters with a warm lobster roll, Maine is notably known for its cold lobster rolls. The difference: Unlike Connecticut's steamy chunks, Maine lobster is chilled and tossed with mayo and celery or scallions into a seafood salad that's then piled over a special bun called the "New England."
MARYLAND: Crab Cakes
You really can't go wrong with a fresh-baked crab cake dipped in tangy tartar sauce. And Maryland does it best by baking its cakes with blue crabs straight from the Chesapeake Bay.
For a taste of Maryland at home, try this Baked Crab Cakes With Mango-Avocado Salsa Recipe.
MASSACHUSETTS: New England Clam Chowder
A trip to Cape Cod would be incomplete without a bowl of New England clam chowder. The hearty soup is concocted with clams, potatoes, onions, and milk or cream, which lends the chowder its signature richness and white color. The brew was believed to be introduced to the northern states by either French, Nova Scotian, or British settlers and was a staple in the region's diet in the 1700s.