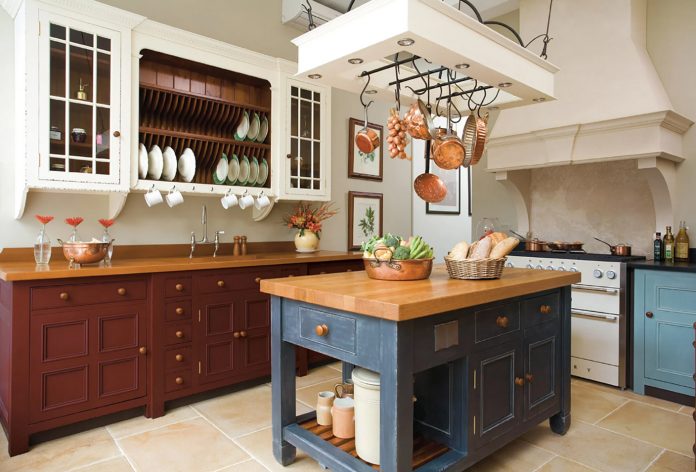 Your kitchen is more than just a place to cook. It's a gathering space for family, a casual dining area and, if you love to cook or bake, a place to hone your culinary skills. Good kitchen organization ideas make an efficient kitchen, but storage doesn't have to be boring.
A)Island Living
Any space is valuable in a busy kitchen and floor space is no different. A kitchen island makes excellent use of your floor space, giving you an area for baking, food prep and serving. Make the island work even harder for you as a work surface or additional seating.
Are you short on square footage? Look for smaller islands or compact, rollaway kitchen carts that provide storage and organization space when you need it. Some even feature fold-down tabletops and hideaway stools.
B)Bring the Lazy Susan back
Lazy Susans are the little black dresses of kitchens: useful, versatile, convenient, and surprisingly stylish. They can do so much more than sit on the dining table and hold your napkins and condiments for a family dinner.
Get creative and use Lazy Susans in different sizes and different areas of the kitchen. For example, put one in the corner of your counter to corral spices or condiments.Or stick a Lazy Susan in the fridge to organize beverages or little bowls of pre-chopped and prepped ingredients for dinner.
You can even put a Lazy Susan in a cabinet to hold your jars of flour, rice, and sugar for easy access.
C)Elevate Your Pots and Pans
A pot rack shows off the beauty of your cookware, makes it easy to reach, helps prevent dings and dents, and adds a vertical design element to your kitchen. You can find small wall-mount pot racks, or if you have the space, opt for a ceiling-mount rack. Want some extra sparkle? Find one with integrated lighting.
D)Shelve It
If you have free wall space, put it to work and remember that kitchen walls aren't just for cabinets. Hang wall shelves as companions to cabinets or as unexpected alternatives. They provide storage space while opening up the kitchen. Shelves keep serving dishes, mixing bowls and cookbooks out of the way.
E)Add Art
Searching for a stylish way to upgrade your rustic kitchen shelving? Place a colorful painting or a couple of art objects, along with your favorite dishware, on an open shelf to turn your wall storage into a mini-masterpiece.
F)Stay Sharp
Knives don't have to be boring or stay hidden in a drawer. Cutlery with a knife storage block or magnetic knife bar turns these implements into décor while keeping them organized and out of harm's way. Big bulky knife blocks should be a thing of the past. Not only do they take up valuable counter space, but they can also collect some pretty icky bacteria, too.