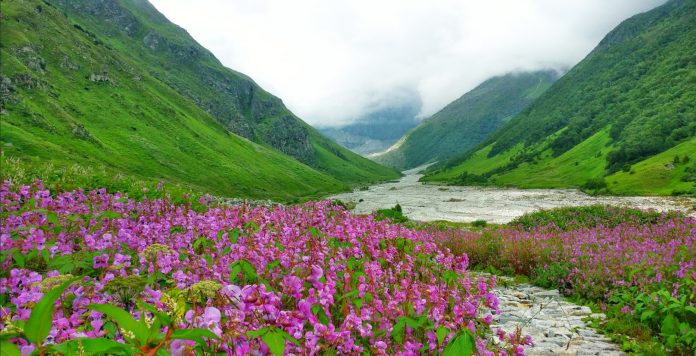 The magic of nature hidden in the valleys and mountain ranges is exciting to explore. Each ecosystem has its own beauty which should be experienced.
A meadow of flowers, velvety-green forests, dreamy hills – isn't that what Windows wallpapers look like? We've found those places and they are all in the country! Most people don't even know that India is also home to some of the best flora that blooms especially during the monsoon season. These flower valleys in India are a thing of dreams!
1. Yumthang Valley, Sikkim: 
Nestled at 3596 metres, Yumthang Valley in Sikkim is where you need to go to fulfill all your filmy fantasies of walking on flowerbeds with your partner with the snow-frosted mountains towering all around you. Cinquefoils, Rhododendrons, Iris, Poppies, Louseworts, Primroses, and Cobra-lilies grace Yumthang valley from late February to mid-June, transforming it into a sight you will have a difficulty believing, even after you witness it. It is only at Yumthang that the rhododendron blooms in 24 different varieties.
2. Valley of Flowers, Uttarakhand: 
Valley of Flowers in Uttarakhand is India's most mesmerizing flower valley, which is also a UNESCO world heritage site. The valley is flourishing in the middle of Bhyundar Valley, up in the western part of the Himalayas at an elevation of 3,658 mts above sea level. It is popular for its verdant valleys of endemic alpine flowers and the unbelievably mesmerizing scenic beauty.
When you trek to Valley of Flowers, you see rare flowers, including Brahma kamal, Yellow Cobra Lily, Jacquemont's Cobra Lily, Wallich's Cobra Lily, Elegant Slipper Orchid, Himalayan Slipper Orchid, Himalayan Marsh Orchid etc. The trek has been done and praised by many mountaineers, botanists, and renowned trekkers in the past.
3. Kaas Plateau, Maharashtra: 
If we were Hulk, we would simply jump from one flower valley to the other, given that all of them are spectacular! Kaas Plateau in Maharashtra is every photographer and botanist's dream for it is here that 850 different kinds of flowers bloom from late August to September. But, there's a twist in the plot. You have to wait for this place to turn into a purple-blue idyllic beauty for these flowers bloom only once every seven years. The Toothbrush Orchid, Deepkadi Flowers and Indian Arrowroot are among the many that grave this plateau and we think it is well worth the wait!
4. Munnar Valley, Kerala:
Munnar is known as honeymooner's paradise, but very few know that the onset of August month covers these green meadows with incredibly mesmerizing lavender-colour flowers, known as Neelakurinji. Neelakurinji is a rare flowering plant grows in Western Ghat's Shola grasslands. This natural phenomenon occurs only once in every twelve years. This definitely gives explorers and travellers a major travel goal for the coming year. After all, you will only get a few chances in your life to witness this magic of nature.
5. Dzoukou Valley, Nagaland: 
Dzukou Valley is one of the most splendid but least-known valleys of India, situated at 2452 mts above sea level. This land of flowers is only known to locals, keen trekkers and explorers, which also means, Dzukou is far, far away from commercialization making it an offbeat trekking destination in the Himalayas. Only true trekkers trek the trails of Dzukou valley, and they are the one who gets to experience the heaven on earth.
The valley of celestial charm turns into a bed of flowers like aconitums, rare Dzukou white & pink lilies, euphorbias, and many other species of flowers that pain the valley in vivid colours.
6. Tulip Garden, Kashmir: 
Indira Gandhi Memorial Tulip garden is the largest Tulip garden of Asia, situated on the foothills of Zabarwan Range with a picturesque world famous Dal Lake in Jammu and Kashmir. Every year, from March to May, the garden hosts its annual festival during the full bloom of spring. Mark your calendars for the upcoming year's annual showcase of tulips and daffodils at the foothills of the sylvan Zabarwan Range.  Tulip Garden is surrounded on three sides by the Nishat Bagh and Chashma Shahi Mughal Gardens of Srinagar.