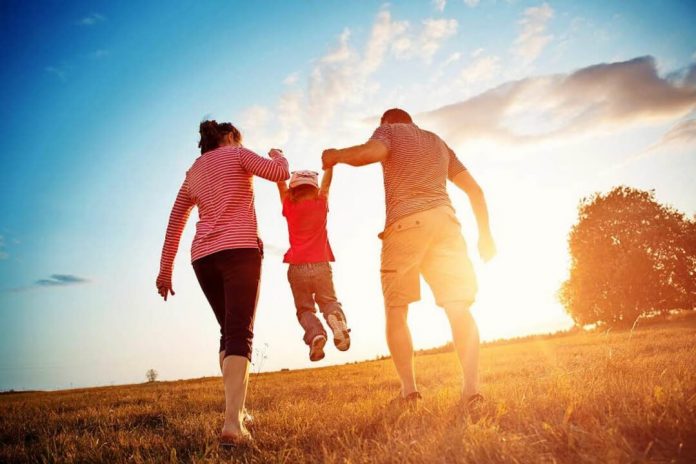 To Mohd Nashriq Labeni, 30, operations executive, his family is his "Number One fan".
KL-based Nashriq has an older sister, Nurhaizum Labeni, 32, who is married and works as a kindergarten teacher in Kuching, Sarawak, while their mother, a retiree, lives in Sarikei, Sarawak.
"My family always supports me and they give me good advice. Although we are far apart in distance, we never fail to contact each other every day by WhatsApp, phone, or video call, " Nashriq says.
"We should cherish our family members because they are our greatest treasure. They will always be there for us no matter what happens, and they make us feel comfortable and secure always, " Nurhaizum adds.
Both of them were raised single-handedly by their mother Maimon Kelompo, 61, a divorcee, since Nashriq was four.
"Our mother is our greatest hero because it couldn't have been easy raising us by herself, but she successfully overcame all the challenges and made sure that my sister and I succeeded in life, " Nashriq says.
Their best family memories are during Hari Raya where the whole family gathers to celebrate. During the rest of the year, everyone is busy and so the family hardly get to see each other.
"But this year, it may be a little different.
"Because of the Covid-19 pandemic, my sister and I aren't able to balik kampung, " he says.
"But the important thing is that all our family members are safe and in good health, " his sister adds.
Every family goes through both good and bad times.
For Nashriq and his family, their most difficult time was when his sister's first child passed away because of an accident.
"The incident happened a day before my diploma convocation ceremony.
"I had to postpone my graduation because I was at my niece's funeral, " he recounts.
"It's never easy losing a loved one, especially a child, and no words can ever express the grief and sadness.
"But the important thing is that we're here for each other always, " he says.
They reveal that their "best kept family secret" is a recipe.
"My mum's best dish is chicken soy sauce recipe and even though I initially didn't like the dish, it ended up being my favourite, " he said.
Also read: Parents need to grow along with their kids
Far in distance, close in heart
For Kuala Lumpur-based Lynette Chin, 69, and Wilfred Ng, 70, great things come in large packages, and that includes their family. The couple have three grown-up children – a son and two daughters – and five grandchildren. But they say that their family has also extended to include in-laws and the loyal "kakak" who looks after their grandchildren here in Malaysia.
"We have a huge family of 13 and everyone is far away right now. Our son (with his wife and children) is the only one in Malaysia but our two daughters are married and have settled down in Australia and Canada, " Ng says.
To the elderly couple, family means always being there for one another, even when they may be far apart in distance.
"It isn't easy being far apart in distance and not being able to see one another as often as we'd like to, and especially with the MCO for nearly two months, we haven't even seen our son and grandchildren who live in KL, " Chin says, adding that before the MCO, their son and family would also visit them on weekends.
But thanks to technology, they do keep in touch virtually.
"Our son and two daughters video call us weekly, " they said, revealing that they always update one another on what's happening in their lives or any problems they may be facing.
During special occasions like Christmas, New Year and Chinese New Year, they make it a point to visit their children overseas, alternating between Canada and Australia.
Their most special family memories are those of when they visit their children and grandchildren.
"Spending time with loved ones is always special, " Chin says.
"Although it isn't often, we try to at least once a year… although this year, I'm not sure if we'll be able to because of the pandemic, " Ng says.
Two is company
The rather "young and cool" (in their own words) fun-loving couple have been married for five years but don't have any plans to have children yet.
"We are like best friends who are always up to some adventure, sometimes with unexpected endings, " says Vijay, 36, a cybersecurity project manager.
One of the adventurous couple's best family memories is going on a road trip across New Zealand together in 2016.
"The beautiful landscapes and serene nature made us appreciate the environment and realise how important it is to preserve it, " Gee says.
"The lakes, mountains, and treks in New Zealand are breathtakingly beautiful.
"And the bungee jump from Kawarau falls in the South Island definitely makes me grateful to be alive!" Vijay enthuses.
Going through the MCO has been an especially difficult time for them, they confess.
"I work with special needs children and trying to keep them engaged through the new normal of remote communications is challenging, " Gee says.
"Sports and outdoor activities are a big passion for us. So you can image how caged up we have been feeling for the past two months, " Vijay adds.
Not being able to visit their parents, grandparents and close friends has also made a very big void in their lives.
"The MCO is not an easy time to go through, but it's also a good opportunity to realign our priorities and recharge ourselves and look forward to the future," Gee says, while Vijay adds: "I'd like to end with a 'dad joke' – Which Middle Eastern food are you not allowed to eat in Malaysia? Tabouleh (Tak boleh)!"
The humorous couple laugh uproariously.