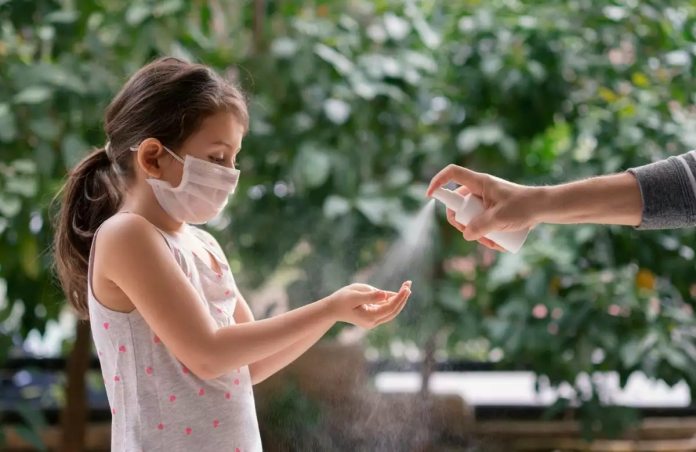 Prevention from COVID-19 by following the various measures has been touted as one of the few ways to stay safe, and away from COVID-19, the disease caused by the novel coronavirus, also called SARS-CoV-2. Hand hygiene remains important to keep diseases such as COVID-19 at bay since our hands become carriers of such pathogens from surfaces to our nose or mouth, where the virus can enter the body and cause disease. Frequent hand washing and use of alcohol-based hand sanitizers is recommended for prevention from COVID-19.
A recent study found that hand sanitizers, which is one of the most important tools to prevent COVID-19, is said to harm and hurt children's eyes.
According to the new study published on January 21 in JAMA Ophthalmology, the excessive use of alcohol-based hand sanitizers amidst the pandemic has raised serious problems of eye injuries among kids.
Additionally, the data provided by the French Poison Control Center claimed that eye injuries caused due to harmful chemicals in kids under the age of 18 were seven times higher than those who suffered with the same in the previous year.
The study reported, "In 2019, hand sanitizer accounted for just 1.3 per cent of all chemical eye exposure incidents in the pediatric database. By the end of 2020, that number was up to 9.9 per cent. Just one toddler in France required hospitalization for sanitizer in his eyes in 2019. In 2020, 16 children were hospitalized for such chemical exposure."
What you can do to keep your children safe from hand sanitizer injuries?
Here are a few ways to minimize the risk of hand sanitizer injuries to eyes, especially among kids.
Since many hand sanitizer machines placed in public spaces are automated, make sure children steer clear of them, as they detect motion and release a spray/lump of sanitizer, which can enter their eyes.
Ensure children wear glasses at all times, especially if they have weak eyesight. Glasses can actually prevent the sanitizer from entering their eyes.
If the child is very young, make sure you give them the hand sanitizer yourself to disinfect their hands.
Prefer hand washing over hand sanitization, when a sink is accessible.