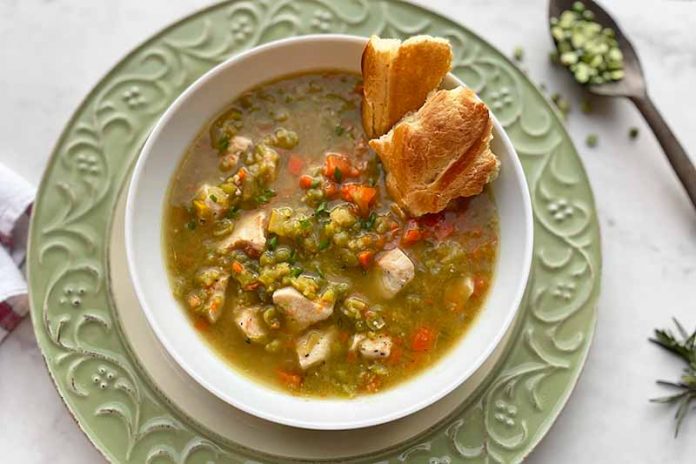 My Oma makes the BEST split pea soup. The secret? A good, smoky ham hock. It imparts so much delicious flavor, and if you're lucky, you can get some meat off of it too. Serve with a slice of toasted sourdough bread and you're golden.
Wait, what is a ham hock? Ham hock, aka pork knuckle, is in the ankle region of a pig. There's not a lot of fat, but it is covered in skin, which adds a ton of flavor and silky body to the soup after you sear it.
I'm vegetarian, can I leave it out? Absolutely. Though we love the smoky flavor, this soup is still delicious without meat. If you want that smoky flavor, consider using some smoked paprika instead.
Can I make this ahead of time? Sure thing. We ❤️ soup because they store so well! Leftovers will keep in the fridge for 4 to 5 days, or in the freezer for up to 3 months. If the soup thickens too much over time after it's chilled, stir in some water or broth when you reheat leftovers to dilute it to your desired consistency.
Made this yet? Let us know how it went in the comments below!
Ingredients
2 tbsp. extra virgin olive oil, divided
1 (1 lb.) smoked ham hock
1 medium yellow onion, chopped
2 medium leeks (white and pale green parts only), thinly sliced
2 large shallots, minced
Kosher salt
Freshly ground black pepper
1 lb. dried green split peas
8 c. low-sodium chicken broth
2 sprigs fresh thyme, plus more for garnish
2 bay leaves
Directions
Step 1
In a large pot over medium heat, heat 1 tablespoon oil. Add ham hock and cook, turning occasionally, until golden on all sides, about 6 minutes total. Remove ham hock from pot and add remaining oil.
Step 2
Add onions, leeks, and shallots and season with salt and pepper. Cook until tender, 6 minutes more. Add split peas, broth, thyme, bay leaves, and seared ham hock and bring to a boil. Reduce to a simmer and cook, covered, stirring occasionally until peas are tender, about 1 hour. (If the soup gets too thick, add water 1/2 cup at a time until desired thickness is reached.)
Step 3
When peas are tender, remove bay leaf, thyme, and ham hock. Remove any meat from ham hock and shred. Use an immersion blender or countertop blender to purée roughly 1/4 of the soup. Return puréed soup to pot along with shredded ham hock and season to taste with salt and pepper.
Step 4
Served topped with more fresh thyme and another crack of black pepper.