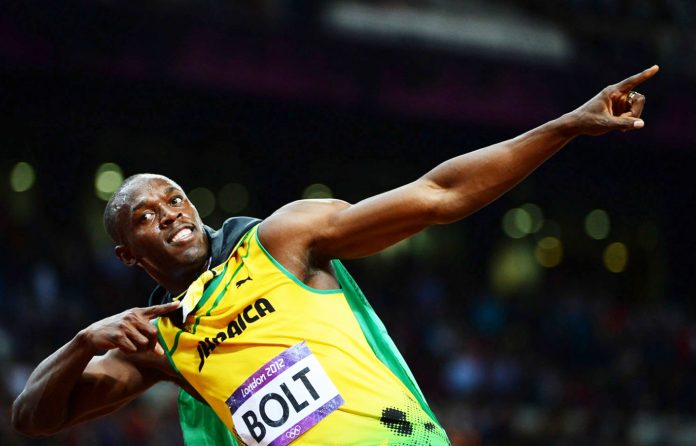 Usain St. Leo was born on 21 August 1986 in Sherwood Content, a small town in Trelawny, Jamaica. As a child Usain was very interested in sports. He used to play football, cricket and Basketball most of the time when he was a youngster. Usain had decided to make a career in cricketer until his school cricket coach noticed Bolt's speed on the pitch and urged him to try track and field events. He approached and anyhow convinced Bolt to try himself in sprinting. By the age of twelve, Bolt had become the school's fastest runner over the 100 meters distance.
It was in 2001 that he won his first medal in sprinting in the High School Championships. He took the silver medal in the 200 meters with a time of 22.04 seconds. Pablo McNeil, a former Olympic sprint athlete, and Dwayne Jarrett coached Bolt. After his success in his childhood, Pablo McNeil became his full time coach. As a child, Bolt was a sincere boy who used to visit Sherwood Content Seventh-day Adventist Church in Trelawny, Jamaica with his mother.
Usain Bolt Personal life
Father– Wellesley Bolt
Mother– Jennifer Bolt
Sister– Sherine Bolt
Brother– Sadiki Bolt
Usain Bolt and his family lived in a small town in Jamaica. His family ran a grocery store in the rural area.He had an elder brother Sadiki and a sister Sherine. Usain was more interested in playing cricket and football with his brother and other friends on the streets. His mother Jennifer Bolt was a firm believer and she didn't serve him pork to in accordance to Adventist beliefs. Bolt took to sprinting when he was convinced by his school cricket coach. is physical traits matched to a sprinter's physique.
Growing to a height of 6 foot 5 inches, Bolt showed a sprinter need not be short and powerful like previous sprinting greats. Before getting into sprinting, he had already developed a deep affection for the European football (soccer) teams Real Madrid and Manchester United, but his school coaches steered him toward track and field. But his success in sprinting made him choose the sport over cricket and football.
Usain Bolt Professional Life
Coach- Pablo McNeil
The 2002 World Junior Championships were held in front of a home crowd in Kingston, Jamaica, and Bolt was given a chance to prove his credentials on a world stage. Bolt became the youngest World medalist ever as he won the medal in 200m category. His rise to International prominence was in 2003 for which he trained very hard and went on to win Gold at the World Youth Championship. In 2004, Bolt turned professional, under the guidance of new coach Fitz Coleman. He began his career with the CARIFTA Games in Bermuda. He became the first junior sprinter to break 20 seconds for the 200 metres. By 2005, Usain had a new coach Glen Mills who encouraged Usain to take a more professional approach and not just rely on his natural talent.
In 2007 he appeared newly dedicated to his training and earned a silver medal in the 200 meters at the world championships. He also persuaded his coach to let him try the 100 meters, and he ran 10.03 sec in his first professional race at the distance. On May 3, 2008, he lowered his best time to 9.76 sec, then the world's second fastest mark. Bolt broke the world record, running 9.72 sec to defeat world champion Tyson Gay.
Usain Bolt participated in his first ever Olympics event in 2008 where he got a reckoning as a young and talented sprinter the world had ever seen. In that event he won two gold medals in 100m and 200m category each making a mark in Beijing.
He also won 3 gold medals in 2012 London Olympic Games. 2016 was his last Olympic Games appearance where he won 3 gold medals in 100m, 200m and 4x100m relay categories.
Usain Bolt has won numerous awards for his successful career and here is the list of some notable awards he has been given:
Laureus World Sports Award for Sportsman of the Year (2010, 2013, 2017)
Best International Athlete ESPY Award (2009, 2013)
Milliyet Sports Award for World Athlete of the Year (2010)
Best Track and Field Athlete ESPY Award (2010)
BBC Overseas Sports Personality of the Year (2008, 2009, 2012)
Apart from his tremendous success in Olympic Games, Usain Bolt has bagged a whole lot of medals in other championships. Here is the complete list of his medals that he has won in his entire career:
Usain Bolt Net worth
Usain Bolt has been one of the highest paid athlete in the World. His success has earned him money from brand endorsements. As of 2019, his current net worth is estimated to be around $ 90 million. The fact that he is one of the highest paid Olympians of all time following his massive success in the Olympic games. The Jamaican sprinter has partnership with a major brand Puma. He receives $10 m from Puma every year.