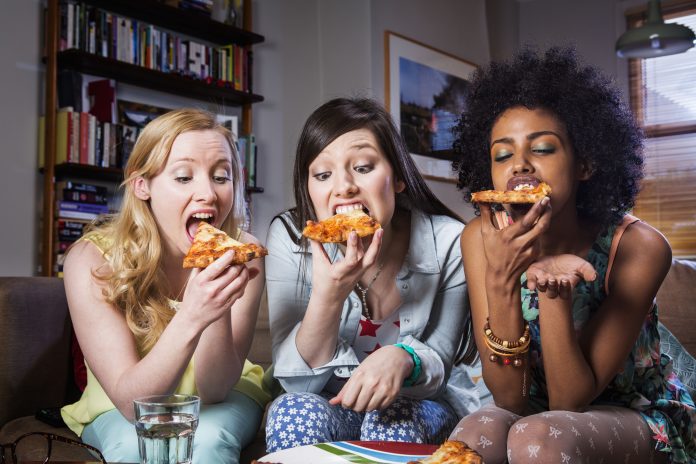 For many people, pizza tops the list of favorite foods. Not only is the drool-worthy combo of cheese, bread, and sauce satisfying, but it's one of the easiest meals to pick up (or have delivered) from your local pizzeria. While your favorite slice may be delicious, it can be easy to go overboard on sodium-laden sauce, toppings, and high-calorie crusts. Luckily it's just as easy — and delicious — to pop a homemade pie into the oven. With a few simple swaps and key ingredients, you can give your favorite comfort food a wholesome makeover without skimping on flavor. So whether you're craving a fresh-out-of-the-oven slice or just looking for a hassle-free weeknight meal, these five healthy and delicious pies are better than delivery!
Greek Vegetable Pizza
This Greek vegetable pizza from Lauren Kelly Nutrition is ideal as an appetizer or lunch. Trading tomato sauce for a tzatziki made with low-fat, plain Greek yogurt adds a dose of protein, while thin-crust tortillas are a smart swap for high-calorie pizza dough. Add chopped fresh vegetables, including tomatoes, avocado, and olives for an easy dish anytime.
Butternut Squash Veggie Pizza
Give your traditional slice a fall upgrade by topping whole-wheat dough with a creamy, homemade sauce made from butternut squash. This vegan butternut squash pizza from Minimalist Baker combines roasted butternut squash with heart-healthy olive oil, sea salt, black pepper, and maple syrup for a touch of sweetness. Finished off with broccolini, chickpeas, onion, and a sprinkle of Parmesan cheese, the unexpected combo makes for a veggie-packed pie that's sure to please.
Avocado Pizza
Another creamy alternative for a tomato-based sauce is an avocado spread, which is rich in heart-healthy fats. This quick avocado pizza from Fit Men Cook calls for mashed avocado flavored with sea salt and black pepper. You can also flavor with a squeeze of lemon, which also keeps the sauce from browning too quickly, or include a sprinkle of chili pepper flakes for heat. Add hearty ingredients like grilled chicken, eggplant, or Portobello mushrooms for a satisfying meal.
Sweet Potato Pizza Crust
If you're looking for a vegan or gluten-free pie, this sweet potato pizza crust from Blissful Basil is just the dish you need in your recipe box. Steamed and mashed sweet potatoes are mixed with a chia seed "egg," oat flour, and almond meal to create a flavorful, nutrient-rich crust that puffs up when baked (thanks to the secret ingredient, apple cider vinegar). Top with homemade sauce, low-fat cheese, and your favorite veggies.
Chef Richard's Turkey Sausage Pizza on a Cauliflower Crust
One way to cut back on refined carbs in your pizza is to swap traditional dough for a vegetable-based crust. Cruciferous vegetables like cauliflower are perfect for the job: They're crispy and tasty when baked. This cauliflower crust pizza from Chef Richard Rosendale combines riced cauliflower with low-fat cheese and flavorful herbs, like dried oregano and garlic, for extra flavor. Topped with hearty turkey sausage, cherry tomatoes, and fresh basil, no one will miss the traditional pizza dough — or the empty calories.