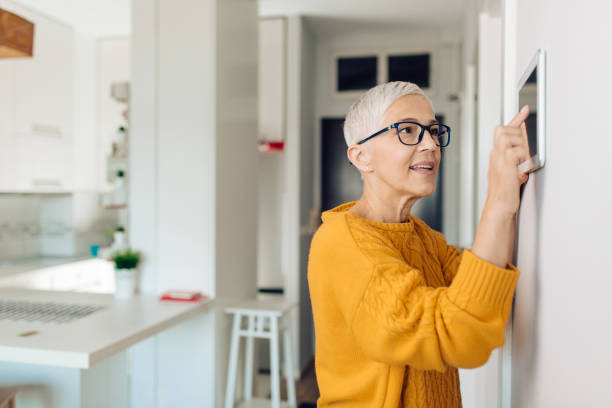 The next generation of smart homes anticipate your needs before you do
Smart home technology has come a long way from clunky automated blinds and motion detecting lights. We now have smart ovens like the Tovala, which reads barcodes and adjusts its steam and temperature settings to best cook the food you place inside it. There are devices like the Netatmo Weather Station, which measures pollution levels, temperatures and lets you know if you need to water your garden. There's even the Nightingale, a customised smart sleep system that immerses your bedroom with comfortable ambient noises known as "sound blankets".
Perhaps one of the best-known innovations is Nest, a thermostat that monitors inhabitants' activity, learns their schedules and temperature preferences and heats or cools the residence as it deems appropriate. But despite a flood of products that promise to make homes "smarter", a barrier to mass adoption has been the technological fragmentation of the smart home ecosystem, in which consumers need multiple networking devices, apps and more to build and run their smart home.
A number of companies are working to address this. Google has (unsurprisingly) developed its own smart home system that makes use of its vast search capabilities. Google Home functions as a control point for a variety of smart systems, including Nest, Chromecast, Samsung SmartThings, Philips and IFTTT-friendly devices. You can also ask it to play songs via Google Play Music, and it can give out alerts about travel disruptions, such as flight cancellations.
Going a step further, Zurich-based company digitalSTROM specialises in the complete digital transformation of the home. Through the company's platform, analogue devices are made digital and then connected to each other via software that orchestrates their interaction. "We can make sure the music stops when someone rings the doorbell", explains CEO Martin Vesper. "We also give the devices additional abilities. We can set up a kettle that responds to voice command and allows you to select the temperature of the water".
Retrofitting analogue systems to digital is done via the home's electrical system, which means digitalSTROM is currently limited to countries that use 220-240 volts (this includes Europe and most of Asia.) But otherwise, the transition is relatively seamless. Existing smart home technologies such as audio-visual systems that are already installed in the home can also be incorporated into the platform.
digitalSTROM keeps a close eye on new technologies that can benefit their system. Recent developments like voice and image recognition have already been incorporated. Hold your hands under the tap and a camera linked to Microsoft's cloud service for image recognition allows the sink to see your hands and give you water at a pleasant, hand-washing temperature. Hold a cup under the sink and it will fill with cold water, stopping automatically when it's full. Martin Vesper's own home has undergone a complete digital transformation and he says can easily make things happen by simply "talking to" his house. "When I make tea, I don't have to get up twice", he says.
Property developers are also starting to work more closely with tech companies to integrate smart home features into projects from the start. In Singapore, the newly launched 6 Derbyshire project by Fantasia Investment includes "LifeUp", an app that allows residents to book facilities, make payments, as well as control appliances like air-conditioners and audio-visual systems inside the home. The project, which bills itself as a "smart condominium", also includes facial recognition devices for residents to access common facilities like the gym, as well as car plate recognition systems.
Philip Tang & Sons have also created an integrated platform for Corals at Keppel Bay that combines smart home control, condo management and lifestyle offerings. Dubbed Habitap, the app allows residents to set their home temperature, unlock their door remotely or book condominium facilities through a few taps in a single app on their smartphone. "You can have all these devices, but if you have to use an app for every device, you're not going to find it convenient", said Philip Tang & Sons CEO Franklin Tang. Habitap's streamlined service is integrated into 366 units at the new waterfront development from Keppel Land and the platform also includes state-of-the-art bank-grade security features developed in collaboration with Swedish security company Keypasco.
Safety and security are central to most of today's smart home platforms. In digitalSTROM's system, facial recognition can be used to identify houseguests. The system is also able to detect abnormalities such as water or gas leaks in the home, and users can also program extra features such as instructions for children in the event of a fire that sound over the home speakers when the alarm goes off. "A smart home is safer than a non-smart home", Martin Vesper says.
Not everyone likes the idea of a digitised home, however. Some fear being hacked or spied on— reasonable anxieties given the penetrability of some devices. Smart home products are sometimes vulnerable due to poor programming or because they come with easy-to-guess usernames and passwords. Tech experts urge consumers to change the default passwords and update software regularly.
Martin Vesper believes the response to smart home technologies is largely a matter of presentation. At CES 2017, the world's largest consumer electronics show, digitalSTROM unveiled a robot for the home that provides cognitive services through customer interaction. "People think the robot is cute", says Vesper. But, he says, if you take the same functionality, basically two web cams and a microphone, and put them in a room, people will feel uneasy.
"When we feel we are losing control, then we get scared. That's totally normal", Vesper says. At the same time, he points out, people like to feel understood and enjoy pre-selected services that cater to their needs. "Previously there was the corner store where the owner knew what you wanted. Now it's algorithms that predict our desires". Ironically with today's flood of information and seemingly endless product diversity, algorithms may ultimately have the power to reduce complexity and make our homes stress-free.