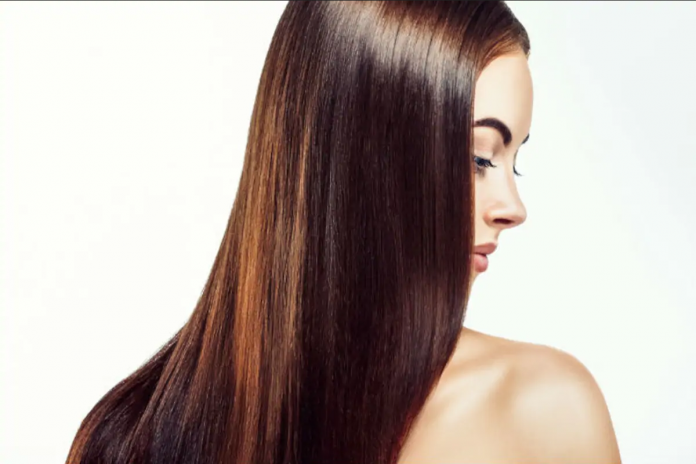 Keratin is a protein that is naturally found in the human body. Our nails and hair are made of keratin and it can also be found in some of our internal organs. It is also produced in many other animal species and can be derived from feathers, horns, wool, etc.
Since our hair mostly consists of this protein, many products and hair treatments now include keratin as an ingredient in hopes that the texture and quality of the hair would improve by using them. Many of these treatments have shown positive results and, therefore, have become extremely common now.
While keratin is a naturally-occurring protein, the hair treatment offered in salons includes many other chemicals, making it a chemical procedure. It is always best to discuss the benefits and side effects of the treatment with your trusted hairstylist before proceeding with it.
There are a few different types of keratin treatments – the common factor among all of them is that they contain keratin, many of the other chemicals change. The results, procedure and duration may also depend on the specific type of keratin treatment used.
The procedure usually starts with a shampoo. Your hair is then partially blow-dried, followed by the keratin product being applied. Your hair will then be straightened using a hair straightener which can take upwards of an hour, depending on the length and density of your hair. This is followed by another hair wash, serum application and finally a blow-dry.
Keratin treatments sometimes go by the name of a Brazilian blowout as well. They can safely be done on colored hair but can sometimes cause a slight change in the color.
Benefits of keratin treatment:
There are was a time not so long ago when only two types of hair treatments existed: one to straighten and one to curl your hair. Now, every parlour you visit has an entirely new range of treatments – or so it seems. Picking one of them can be a challenge. If you're thinking of opting for keratin, these are the benefits you should be aware of:
1.It strengthens your hair
Keratin gives your hair strength, elasticity and can withstand both extremely low and high temperatures if you have enough keratin in your hair. Regular heat styling can damage the bonding between the keratin structure, leading to breakage and damage. Which is exactly why it's so important to not only incorporate protein into our diet, but also to apply Keratin directly to your hair.
2.No more frizz
People who use keratin on their hair have smoother, easier-to-manage hair. Keratin works by smoothing down the cells that overlap to form your hair strands. The layers of cells, called the hair cuticle, theoretically absorb the keratin, resulting in hair that looks full and glossy. Keratin also makes curly hair less frizzy, easier to style, and straighter in appearance.
3.It seals in color
Keratin treatment can be applied on natural or chemically treated hair. If you're thinking about getting a color done, it seems best to do so before you treat your hair with keratin. The reason for this, is that the moment keratin is sealed on your hair, the color that had been applied on your hair previously is sealed effectively. The keratin you'll get from the treatment also prevents the color from fading.
4.It prevents and repairs damage
Keratin provides an extra layer of protection and the conditioning your hair might need if it's been damaged by chemical treatment or product build-up. Keratin also works to replenish the hair during specific seasons and conditions when it prone to be extra dry. Maintaining the health of your hair helps prevent split ends and breakage, by giving it an extra boost of moisture. These keratin oil benefits are especially helpful if you want your hair to grow.
Side effects of keratin treatment:
Any chemical treatment for hair would have some side-effects. Make sure that the benefits outweigh the side-effects for your hair before you sign up. Also, speak to your hairstylist about what exactly you want for your hair – in case there is another, more appropriate treatment for those particular results, they will be able to suggest those to you.
1.It could cause some hair breakage:
The  product applied to your hair results in stronger hair but the straightening process can cause hair breakage if the heat is too strong or the procedure is not done by a professional.
2.Your hair will emit formaldehyde:
Formaldehyde is a gas that will be formed once the chemicals present in most keratin treatment products come in contact with heat via the hair straightener. This gas is known to be extremely harmful, and exposure to it can lead to eye, skin or throat irritation, watery eyes, difficulty breathing and nausea.
3.Temporary smell and styling limitations:
There are a few immediate limitations: after the treatment, your hair may still smell a little bad as a result of all the chemicals applied. You won't be able to wash it off as you're advised not to wash your hair for a few days after the treatment. You also can't tie your hair back in a ponytail or a bun for a few days as this may affect the results of the treatment. Post-treatment, you should use sulphate-free hair products for lasting results.
4.It isn't permanent:
Keratin treatment won't last as long as treatments like rebonding. You will start to notice the effects fading away in about three to four months.
5.It is expensive:
Salon keratin treatment should ideally be performed by a trained professional in a good salon. This can cost about Rs 5,000-8,000 on average, varying based on hair length.