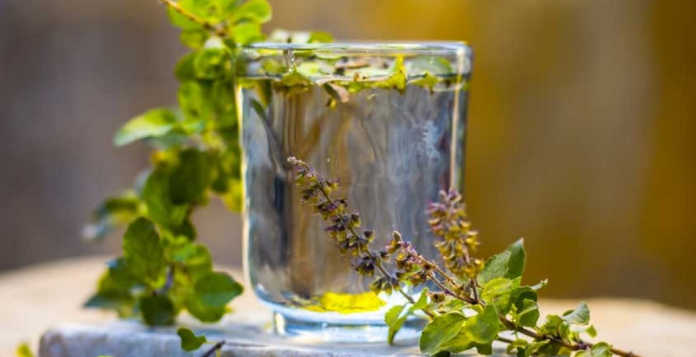 Tulsi or Holy Basil is a widely known herb in the family Lamiaceae. Tulsi, also called Holy Basil, due to its broad-spectrum of health-supporting properties.
Indian mythology attaches a great significance to Basil by recognizing it as a holy herb. Perhaps, such significance comes from the actual health applications of the herb. Its use is recommended as a first aid in the treatment of respiratory, digestive and skin diseases. Apart from these common ailments, Ayurveda also recognizes its use for the diseases ranging up to tumerous growths. Experimental studies identify it to be a highly promising immunomodulator, cytoprotective and anticancer agent.
How to Use Tulsi for Cold and Cough?
Tulsi Soup:
It is one of the best home remedies for treating cough and cold and can be made in a matter of minutes if you have toor dal water at home. This soup tastes really delicious and is very comforting to drink on a cold winter day.
The soup smells of ghee & pepper with a slight smell of tulsi. Because we don't grind the leaves there is no bitterness nor the overpowering smell of tulsi. You can also use black tulsi leaves (Krishna Tulsi) instead of green tulsi leaves for this soup.
Anytime if you are unwell, have a cold, just try this soup. It is very easy to prepare. All you need are fresh tulsi leaves and boiled toor dal water (you can save a bit of boiled dal water whenever you make rasam at home).
Ingredients:
Boiled toor dal water – 1 cup
Cumin seeds – 1/2 tsp
Whole pepper – 1/2 tsp
Green tulsi leaves – handful
Ghee – 1 tsp
Salt – to taste
Method:
First pound the cumin seeds and pepper coarsely in a mortar and pestle. Don't pound it finely, just pound it once and that is enough.
Heat 1 tsp of ghee in a pan and add the pounded spices and fry for a minute in a medium flame. Don't let the spices burn.
Add 1 cup (250ml) of  boiled toor dal water and salt. Bring to boil.
Once the desired consistency is reached (the soup should neither be too thick, nor too thin), add the fresh tulsi leaves and switch off immediately. Don't boil, after adding the tulsi leaves.
5.Strain the mixture and serve it hot.
Notes:
The tulsi leaves should be fresh.
Don't use oil instead of ghee, the soup will not taste good.
Increase the amount of pepper, if you really want the soup to be spicy.
To make toor dal water: boil 1/4 cup toor dal with 1cup water, 1/4 tsp turmeric powder and little bit of castor oil in a pressure cooker till the toordal is cooked well. Strain the water and use.