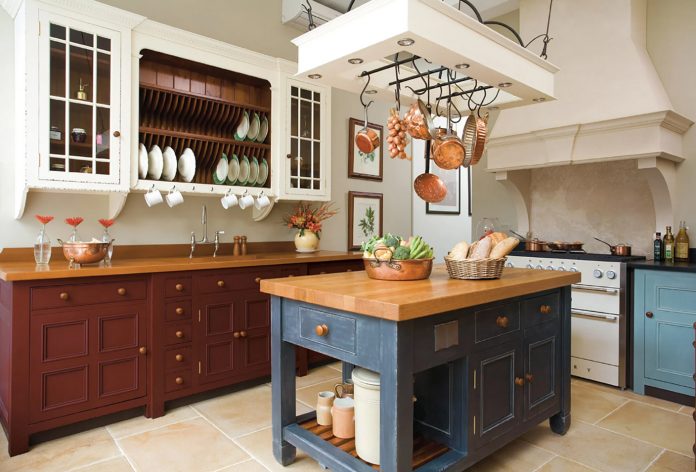 It can be hard to organize any room in the house, but especially kitchen spaces that can become a magnet for clutter and miscellaneous kitchen tools. Even though kitchens are usually smaller than most other rooms, they're always somehow jam-packed with twice the amount of stuff. With towers of plastic food containers taking up entire cabinets, drawers full of loose pot lids, and pantries stocked with ingredients from years past, it's no wonder why everything can get so chaotic.
Because we imagine you might be hunting for ways to declutter in the new year, we've rounded up a range of products that will clear your cooking space and set you up for organizational success. Items like magnetized knife strips will help you clear up counter space—while there are also several dividers, files, and crates that will make it way, way easier for you to organize your cabinets, whether you're storing spices, canned foods, cooking supplies, or anything, really. Even if you only incorporate one of these tools into your kitchen space, odds are it will make your life a lot easier.
Yamazaki home Tosca Storage Basket, $35
These stylish Yamazaki storage baskets are some of our favorite shelf and countertop organizers for not only storing but also displaying knickknacks. Because they come in a crisp white color, they'd make fruit look even better as a fruit bowl, or they can store snack and chip bags tucked away in a cupboard.
SONGMICS Cabinet Shelf Organizer, $18 for a set of two
Put one (or several) of these handsome wooden riser shelves in your pantry and suddenly you'll have a whole other level of space for your ingredients.
DecoBros 3-Tier Wire Hanging Basket, $14
Hanging wire baskets are a stylish way to display your fruit and keep it from taking up space in a bowl or pile on the counter.
YouCopia Chef's Edition 30-Bottle Spice Organizer, $40
Spice cabinets can become such a mad clutter that you're often having to dig through a mess of bottles and tins just to find the cinnamon or herb that you need. This organizer with pullout drawers holds 30 full-size spice bottles (or 60 little guys), so that you can actually see what you're dealing with, and takes up very little space in a cabinet.
Joseph Joseph Expandable Cutlery Tray, $20
Joseph Joseph knows that cutlery trays can be an eyesore, which is why they created this delightful color-blocked one with room for all of the essentials, plus a hidden expandable compartment for all of the weird jumbled chopsticks and tea strainers and pizza cutters that are hard to place.
Umbra Float Kitchen Organizer, $15
Instead of cramming your assortment of wooden spoons (somehow there are always more than you need) and spatulas into one cluttered jar, consider pulling your most-used utensils and sticking them in a floating rack like this, where they're accessible when you need them—it can be easily mounted to the underside of your cabinet.
Home-Man Laundry Room Organizer, $38
If you have a small kitchen without a dedicated pantry or much shelf space, you may want to consider getting one of these narrow shelves on wheels that can easily hug a wall or squeeze behind a table. It's ideal for storing your favorite condiments and dry goods, and wheeling out when you need it.
OXO Steel POP Ten-Piece Container Set, $100
These containers are pricey, but they'll keep your food fresher than any other. Moving ingredients from their original bags is just one great way to keep your pantry from descending into total chaos. Things like flour and sugar can easily spill when left in their bags, not to mention they're more susceptible to being contaminated by any bugs that might find their way into your kitchen. A good rule of thumb: Any ingredient sold in a bag should be transferred to these.
YAMAZAKI Magnetic Storage Holder & Organizer, $39
Sometimes, instead of three separate organizers, you want an all-in-one organizer that stores paper towels, spices, and utensils all in one place on the fridge. This one comes in an understated white steel finish and is magnetic for securing to the fridge (or it can be nailed to the wall).
InterDesign Refrigerator Soda Can Organizer, $17
This contraption may look like it's just for soda cans, but you can totally use it to store any kind of cans you have on hand. Whether you've got a bunch of canned beans or pumpkin purée, this will help you keep them together.