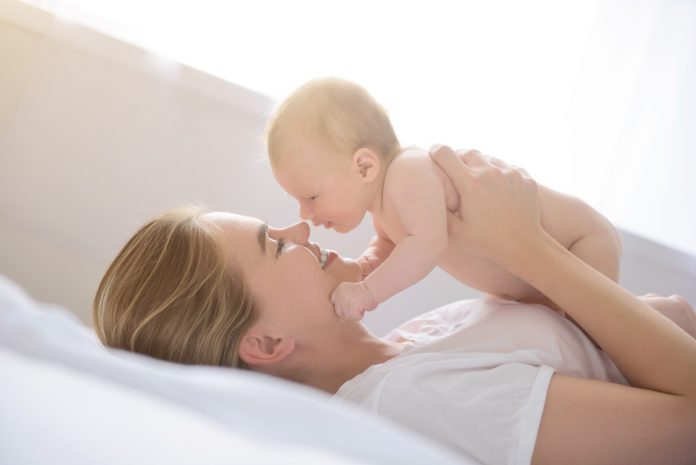 During this season of social distancing, there are still many ways to help new moms, even if you can't visit them in person. Having a newborn is challenging—from managing new emotions brought on by hormones to sleep deprivation to adjusting to a new life together as a family. But support from loved ones and friends will help new moms (and their families) get through those first few months postpartum successfully. Below are a few ways to support the new mom in your life without risking exposure to germs by visiting her in person.
How You Can Help a New Mom While Social Distancing
1. Be a Shoulder to Lean On
One of the best things you can do to help a new mom is to let her know you are thinking of her and that you care—in a relaxed and supportive way. Send her text messages or phone calls, depending on what type of communication she prefers, but don't expect a response back. If you can, be available to her at odd hours, as well. When she's awake at 3 am feeding her newborn, it may mean a lot to her to know that she can reach out to you to "talk." Whether by text, FaceTime, Facebook messenger, or phone call
2. Pay to Have a Meal Delivered
Ask the new mom in your life what her favorite restaurant or meal is (and food for her partner and children, too). Then, call the restaurant or use a delivery service app to order and pay for the meal and have it delivered straight to her door. She and her family will love having a meal that they don't have to prepare themselves.
Getting gifts can be a great way to help new moms who are busy taking care of their little one's every need. Choose some items you know she'll love and have them delivered to her through the mail. Is she into reading or art? Send her some crafts, a watercolor paint set, or books and magazines. Is she a foodie? Try a gift basket with gourmet food items, fruits, or baked goods. Perhaps your friend would appreciate a hand-made piece of jewelry to commemorate the birth of her child, made by an artist on Etsy. You can also find individual gifts on Amazon and have them sent to her individually, such as lip balm, cozy socks, and a soothing collection of tea.
4. Pick up Groceries or Pay to Have Her Groceries Delivered
Ask the new mom in your life to send you her grocery list. Then, go grocery shopping for her or pay for a grocery delivery service to shop and deliver the items to her home. When I was a new mom, the thought of walking around a grocery store was definitely not something I wanted to do, let alone lug the groceries from the car into my house. With the season of social distancing that we now live in, keeping new moms and babies out of public places is even more important than ever. And if her partner usually does the shopping—now they will get a break, too!
5. Send Her a DiaperPax Variety Sampler
One of the best ways to help new moms during social distancing is to pick up (or send) necessities for her. Diapers will be one of those necessities! Choosing a diaper that works just right for her new baby can be a challenge. Different children have different needs and preferences regarding the right fit and feel of a diaper. Order a sampling of diapers so that she can see what works best for her new baby.
6. Send Her Flowers
One of the surest ways to brighten any new mom's day is to bring or send her a happy bouquet of colorful flowers. Depending on what your own social distancing needs are, you can either pick up a bouquet from your local grocer and drop it off at her front doorstep, or you can order from your local florist or online. Another option is a small plant such as a decorative rose bush or pot of blooming tulips or daffodils.
7. Make a List of 10 Movies or Shows She Would Love
Sometimes the best thing for a new mom is to sit back and watch a little television. It isn't easy searching for a series or movie while holding a baby in one arm and the remote control in the other. So make a list of ten movies or T.V. series you think she'd enjoy, and text her the list. She'll be happy she doesn't have to channel surf to find something good.
8. Send Her Books to Read or Listen To
These days, it is often possible to order books for pick-up at the library, order books from local vendors and bookstores online, or download books on tape or for a Kindle. Whatever method she prefers, offer to procure a new mom her favorite reads for the next few weeks. Ask her to send you a couple of titles or genres and then do the legwork for her. She will be grateful to have something good to read or listen to while feeding baby or to decompress when she gets some time alone.
9. Knit Her Something
Taking the time to knit her a hat, scarf or shawl can mean a lot to the new mom in your life. Particularly if she appreciates creative endeavors and thoughtful, homemade pieces. If you or she prefer a different type of craft or homemade gift, opt for that instead. Either way, sending her a gift that you made is a nice way to show her that you care and gives her something fun to wear, use, or look at every day!
10. Offer to Walk Her Dogs
If the new mom in your life has a dog, offer to take him out for a walk a few times a week while she adjusts to her new lifestyle. Bringing a new baby into a family can turn the family schedule upside down, including chores. Pets can bear the brunt of this the most, so pitching in with some dog walks makes a real difference and relieves mama and other family members from having to do those chores while supporting their furry friends.
11. Frame a Picture or Make a Picture-Book for Her
Many companies offer apps and online tools that make it easy to upload photos from your phone to create scrapbooks, framed photos, picture books, flipbooks, wall art, magnets, mugs, and more! Ask the new mom in your life to send you some digital photos that she would like to see printed. Then surprise her with these photo gifts. Companies like Shutterfly will print and deliver the products directly to her house.
12. Send Gifts for the Older Children
Sometimes it's hard for new moms to make time for all the children right after a new baby is born. If the new mom in your life has other children, send some age-appropriate gifts for the older sibling(s), such as books, clothes, puzzles, games, or crafts. This helps the other children feel appreciated and remembered and may help encourage them to be more loving and supportive of their new sibling and mom.
13. Make Them a Dinner and Drop it Off
Depending on what feels appropriate to you, given new social distancing rules, it can always be nice to receive a home-cooked meal from family or friends if you're able to do it. Offer to make the new mom in your life a home-cooked dinner, and make sure it is something she can freeze, so she has that option if she wants to save it for a later date. Ask her when a good time to drop it off is (day of the week and time of day), and leave it on her doorstep. She and her family will enjoy a nourishing meal that they didn't have to worry about making themselves. This is a wonderful way to help new moms and their families!
Are there any other creative ways you have come up with to help new moms during this time of social distancing?