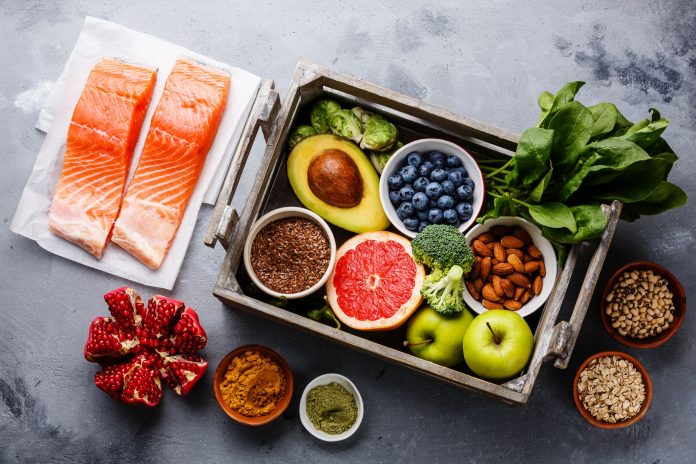 High blood pressure, or hypertension, occurs when your blood pressure increases to unhealthy levels. Your blood pressure measurement takes into account how much blood is passing through your blood vessels and the amount of resistance the blood meets while the heart is pumping.
Hypertension typically develops over the course of several years. Usually, you don't notice any symptoms. But even without symptoms, high blood pressure can cause damage to your blood vessels and organs, especially the brain, heart, eyes, and kidneys.
Early detection is important. Regular blood pressure readings can help you and your doctor notice any changes. If your blood pressure is elevated, your doctor may have you check your blood pressure over a few weeks to see if the number stays elevated or falls back to normal levels.
A healthy diet is essential for lowering blood pressure and maintaining optimal levels, and research has shown that including certain foods in your diet, especially those high in specific nutrients like potassium and magnesium, reduces your blood pressure levels.
Here are the best foods for high blood pressure,
1.Salmon and other fatty fish
Fatty fish are an excellent source of omega-3 fats, which have significant heart health benefits. These fats may help reduce blood pressure levels by reducing inflammation and decreasing levels of blood-vessel-constricting compounds called oxylipins.
2.Citrus fruits
Citrus fruits, including grapefruit, oranges, and lemons, may have powerful blood-pressure-lowering effects. They're loaded with vitamins, minerals, and plant compounds that may help keep your heart healthy by reducing heart disease risk factors like high blood pressure.
3. Beans and lentils
Beans and lentils are rich in nutrients that help regulate blood pressure, such as fiber, magnesium, and potassium. Numerous studies have shown that eating beans and lentils may help lower high blood pressure levels.
4.Berries
Berries have been associated with a variety of impressive health benefits, including their potential to reduce heart disease risk factors like high blood pressure. Berries are a rich source of antioxidants, including anthocyanins, which are pigments that give berries their vibrant color.
Anthocyanins have been shown to increase nitric oxide levels in the blood and reduce the production of blood-vessel-restricting molecules, which may help reduce blood pressure levels. However, more research in humans is needed to confirm these potential mechanisms.
Blueberries, raspberries, chokeberries, cloudberries, and strawberries are just some of the berries that have been associated with blood-pressure-lowering effects
5.Bananas
Bananas contain plenty of potassium, a mineral that plays a vital role in managing hypertension. One medium-sized banana contains around 422 milligrams of potassium.
According to the American Heart Association, potassium reduces the effects of sodium and alleviates tension in the walls of the blood vessels.
6.Beets
Drinking beet juice can reduce blood pressure in the short and long terms.The researchers suggested that beet's high levels of inorganic nitrate caused the reduction in blood pressure.It may help to drink a glass of beet juice each day, add beets to salads, or prepare the vegetables as a healthful side dish.
7.Pumpkin seeds 
Pumpkin seeds may be small, but they pack a punch when it comes to nutrition.
They're a concentrated source of nutrients important for blood pressure control, including magnesium, potassium, and arginine, an amino acid needed for the production of nitric oxide, which is essential for blood vessel relaxation and blood pressure reduction.
Pumpkin seed oil has also been shown to be a powerful natural remedy for high blood pressure.
8.Dark chocolate
This sweet treat may lower blood pressure. A review of 15 trials suggests that cocoa-rich chocolate reduces blood pressure in people with hypertension or prehypertension.
Choose high-quality chocolate that contains a minimum of 70 percent cocoa, and consume a single square, or a piece measuring about 1 ounce, each day.
9.Kiwis
A daily serving of kiwi can reduce blood pressure in people with mildly elevated levels. Kiwis are also rich in vitamin C, which may significantly improve blood pressure readings.
10.Watermelon
Watermelon contains an amino acid called citrulline, which may help to manage high blood pressure.
Citrulline helps the body to produce nitric oxide, a gas that relaxes blood vessels and encourages flexibility in arteries. These effects aid the flow of blood, which can lower high blood pressure.
11.Pistachios
Pistachios are highly nutritious. They help to maintain healthy blood pressure levels. They're high in a number of nutrients essential for heart health and blood pressure regulation, including potassium.
12. Carrots
Crunchy, sweet, and nutritious, carrots are a staple veggie in many people's diets. Carrots are high in phenolic compounds, such as chlorogenic, p-coumaric, and caffeic acids, that help relax blood vessels and reduce inflammation, which may help lower blood pressure levels.Although carrots can be enjoyed cooked or raw, eating them raw may be more beneficial for reducing high blood pressure.
13. Tomatoes
Tomatoes and tomato products are rich in many nutrients, including potassium and the carotenoid pigment lycopene.
Lycopene has been significantly associated with beneficial effects on heart health.Eating foods high in this nutrient, such as tomato products, may help reduce heart disease risk factors like high blood pressure .
14. Chia and flax seeds
Chia and flax seeds are tiny seeds that are teeming with nutrients that are essential for healthy blood pressure regulation, including potassium, magnesium, and fiber.
15. Spinach
Like beets, spinach is high in nitrates. It is rich in antioxidants, potassium, calcium, and magnesium.So it forms an excellent choice for people with high blood pressure.The spinach soup also decreases artery stiffness, which may help reduce blood pressure and improve heart health.
16. Oats
Oats contain a type of fiber called beta-glucan, which may reduce blood cholesterol levels. Beta-glucan may also lower blood pressure, according to some research.Start the day off with a bowl of oatmeal, or use rolled oats instead of breadcrumbs to give texture to meat or vegetarian burger patties.
17. Natural yogurt
Greek yogurt is a nutrient-dense dairy product. It is rich in minerals that help regulate blood pressure, including potassium and calcium.
18. Cinnamon
Cinnamon may also help to reduce blood pressure, at least in the short-term.Add cinnamon to the diet by sprinkling it over oatmeal or freshly chopped fruit, as an alternative to sugar. It is available to purchase in various forms.
19. Garlic
Garlic is a natural antibiotic and antifungal food. Its main active ingredient, allicin, is often responsible for associated health benefits.
Some research suggests that garlic increases the body's production of nitric oxide, which helps the smooth muscles to relax and the blood vessels to dilate. These changes can reduce hypertension.Garlic can enhance the flavor of many savory meals, including stir-fries, soups, and omelets. Using garlic instead of salt can further promote the health of the heart.
20. Pomegranates
Drinking 1 cup of pomegranate juice daily for 28 days can lower high blood pressure in the short term. The researchers attributed this effect to the fruit's antioxidant content. When buying pre-packaged pomegranate juice, check to ensure that there is no added sugar.