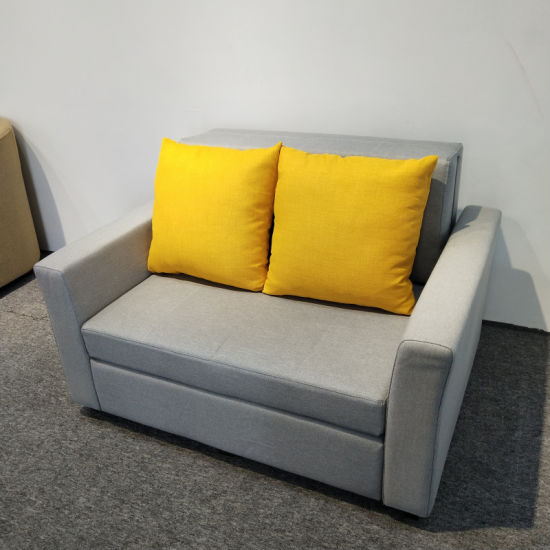 Real estate prices are always on the rise and homes tend to become smaller and smaller, especially in big cities. People prefer to buy apartments based on their needs like family size, budget, space utilization, etc. Small homes definitely have certain advantages – for one, they are extremely low on maintenance. However, the biggest problem that homeowners face is the lack of storage. That's why designing small spaces is challenging. Good space utilization and planning are essential.
It can be tricky to design small living rooms. Do you emphasize the space or the components of the space? Can there be a balance between making them feel spacious while adding additional furniture? How should the layout be? To make it easier for you to go about the process, below are 10 smart design tips that will help in making the most of this space.
1. Select Small Furniture
Huge sofas and bulky armchairs that look good in magazines may not be meant for your small living space. Instead of choosing a uniform size, chairs and sofas in different shapes and colors should be mixed together to create interest
2. Fill Up a Corner Space
Although it might sound counter-productive, filling up the corner in a small living room with one piece of large furniture – a sofa or armchair – can lend a sense of expansiveness to space. Besides adding a unique dimension to the room, this arrangement also seats extra people and makes the rest of the room feel uncluttered.
3. Create a Hidden Storage
It is crucial to choose furniture wisely for a small living room. Do a little research and plan. Utilize the living room space by creating built-in storage in furniture – using an old trunk as a coffee table, or a sofa that doubles up as a bed – or using a diwan bed with storage, are all clever ways of maximizing storage, without taking up additional space.
4. Use Interesting Design Elements
Even if your living space may be small, adding unique design elements can invigorate the area. A living room without ventilation can feel too boxed in. By creating a focal point, adding light reflections, and increasing depth, such as quirky wallpaper, a hanging wall mirror, or a chandelier of hanging origami birds, your space will look more fun and put together.
5. Emphasize on Design Elements
If your small living room has a greater height, rather than width, make the most of it. Fill the walls with eclectic artworks or exciting wall decor that takes the gaze up, and thus makes it look bigger.
6. Do Away with The Fluff
Furniture that is bought for bigger homes may be bulky and chosen just for their looks. For small living rooms, it makes sense to select simple furniture with clean lines.
7. Use Backless Sofa or Bench
Sofa sets are often placed against the wall, but add your own twist by placing them in the center of the room. One way to work around this arrangement is to have a backless sofa/ bench that looks chic and elegant. If you have one space that is both your dining area and living area, use this piece of furniture to divide the room visually.
8. Add Greenery
Besides decor ideas, plants also add incredible depth and dimension to a small living room. Greenery softens sharp edges, adds little pockets of interest to the room, and coaxes the eye into a false sense of expansiveness. They can be placed beside furniture and in corner spaces.
9. Use Multifunctional Furniture
Every piece of furniture in a small living space has to be useful. Always keep this in mind when selecting coffee tables that also act as storage nesting side tables that can be placed around or little stools that can double up as tables as well.
10. Use Invisible Furniture
Glass, acrylic, and lucite are materials that are visually elegant while taking up almost zero visual space. They are great for small living rooms because they are unobtrusive. Coffee tables, small stools, and even floor lamps work well in a transparent material.
Small design changes and decor highlights can transform the look of small living spaces. Incorporating them ensures your home is a cozy, eclectic space without compromise on looks. If you need help to make your small living room look the best it can – and get the most functional use out of it, contact the experts at Homelane right away.