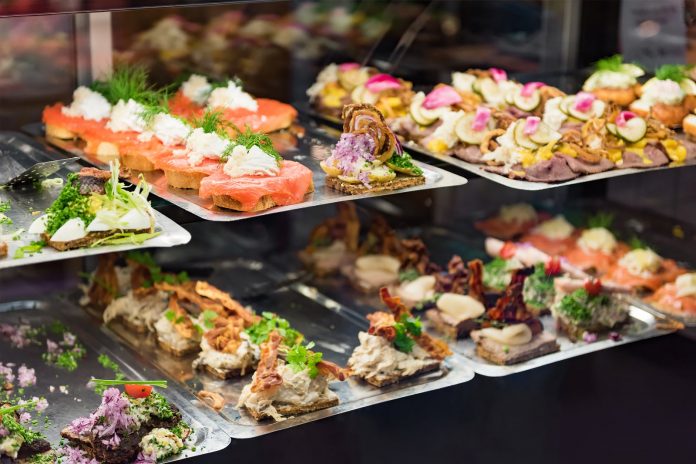 There are many great restaurants and lots of good food to eat in Copenhagen, and whether you are after traditional Danish courses, food with a foreign touch, everyday food or gourmet meals, you can find it at one of Copenhagen's restaurants, as fast food or in one of the cafés.
Bring take-away to one of Copenhagen's parks and enjoy your meal while watching life unfold around you, or experience city life from a window seat at a café. You could also have a meal at the hotel restaurant, or you can visit one of the many restaurants in Copenhagen, where the chefs and waiters will give you a fantastic and memorable experience.
1.Open sandwiches
Open sandwiches stacked with filling – or a couple to fit in your hand?
The open sandwich is one of Denmark's national dishes, and in Copenhagen, you will find a wealth of shops and restaurants offering open sandwiches, representing both modern and traditional cuisine. Traditional open sandwiches with tall stacks of filling often consist of a piece of rye bread with meat or fish, beautifully garnished with orange or lemon twists, salad leaves and vegetables as well as herbs. Modern open sandwiches are often more untraditional, with different preparation of meat and fish, including meat rillettes and cured fish, and with alternative garnish such as veggie crisps and crispy skin from poultry and fish.
Some people certainly prefer a couple of flat sandwiches, and you can usually find those in the open sandwich shops, which sell flat sandwiches with rolled meat sausage, liver paste, salami, etc., either as a packed lunch or as takeaway.
2.Danish hotdog
Visit Café Fodkold for a hotdog with everything
The hotdog has many names, and a Danish hotdog has lots! However, the Danish hotdog tastes best at a hotdog stand on the street, with the bustle of the city around you. You can get a hotdog with a red or regular sausage, and it can come straight from the water or from the pan. If you want it with "everything", then it gets ketchup, mustard, remoulade, toasted and raw onions as well as cucumber salad, or you can just choose what you like.
Several restaurants and cafés also serve hotdogs, often in a modern version with sausages made from gourmet meat, fish or vegetables and with alternative toppings. Both the gourmet and classic hotdog will certainly fall under the 10 most popular foods in Copenhagen.
3.Spaghetti with meat sauce
Try a Danish version of spaghetti Bolognese
There are as many variations and recipes for spaghetti Bolognese as there are Italian mamas, and the same applies to Danish spaghetti and meat sauce. This is to say that every family has their own variation of the famous dish, and it is probably consumed more in Danish homes than in Danish restaurants. However, you will find this classic dish at many Italian restaurants in Copenhagen in one form or another – often served in nice, deep plates and with freshly-grated parmesan on top.
If you are into classic dishes, you can't go wrong in Copenhagen choosing spaghetti and meat sauce.
4.Pizza
Danish classic with Italian roots
The first pizzeria is believed to have opened in Naples in Italy around 1830, but in reality, the Italians have been eating pizza or bread with toppings perhaps for a millennium. However, the pizza came to Denmark with the foreign workers in the 60s and 70s, and since then it has won its place in Danish homes. Now, the pizza is just as popular if not more so than Danish classics like fried pork, meatballs and minced beef patties.
In Copenhagen, you will find an Italian restaurant or a pizzeria on almost every street, and if you feel like pizza, you rarely need to go far before you find a restaurant with a large and varied selection of freshly-baked pizza.
5.Danish meatballs with onion, potatoes and gravy
Almost a national dish
The Danish meatball is one of Denmark's most popular dishes, although this heavenly food was not named Denmark's national dish at the official vote in 2014. Danish meatballs are made from minced pork or a mixture of minced pork and veal. The mince is mixed with lots of chopped onion and often served with boiled potatoes and gravy as well as pickles. The pickles could consist of gherkins, cucumbers or beetroot, while some people like to eat red cabbage with their Danish meatballs.
If you want a great Danish meatball with sauce and potatoes in Copenhagen, you need to look for restaurants serving traditional Danish food. Other cafés and restaurants often serve Danish meatballs with potato salad or similar.
6.Burgers
Get this delicious classic in Copenhagen
Almost every café in Copenhagen with a decent menu serves one or more kinds of burgers. So, if you want to enjoy this classic, you won't have to go far to find a café or restaurant with this divine treat on the menu. In Denmark, burgers are often served in big burger buns and with a large selection of vegetables, such as salad, tomato, cucumber and dressing. Often, a Danish burger can NOT be eaten by hand as is the custom in the US, the official homeland of the burger.
You can enjoy your burger at all times of the day, and many places serve it with alternative fill, such as chicken or vegetarian patties, or with pork roast with crispy rind.
7.Sushi
Enjoy your sushi both indoors and outdoors
Sushi is popular all over the world, and in Copenhagen you will find fashionable sushi restaurants and more price-friendly cafés and takeaway places, where you can get a box of sushi to enjoy in the park, on a bench or home in your hotel room. Sushi comes in many different variants, and it generally consists of boiled rice, some kind of raw fish and something green. If you do not like raw fish, there are often variants with chicken or vegetables.
If the weather is good, take a box of sushi to the park or to the seaside, or you can enjoy the dish at one of the many sushi restaurants in Copenhagen.
8.Danish pastry
Crisp on the outside, sweet and soft on the inside
Danish pastry, called wienerbrød, has little to do with Vienna, but it does hint that Austrian bakers brought the tradition to Denmark, where Danish bakers evolved the pastry into what we know today. The Danes like to eat Danish pastry at any time of day, and you can get some kind of Danish pastry at many of the coffee bars and cafés. This freshly-baked delicacy tastes particularly good with a strong cup of coffee.
Many Danes eat the smaller versions of the Danish pastry with their coffee, which refers to pastry such as the spandauer (pastry with custard or jam fill), cinnamon roll and chocolate bun. If several people are sharing, you could order a weinerstang, wienerkrans or a wienerkringle from a bakery.
9.Minced beef patty with soft onions
Get a taste of yet another Danish classic
The minced beef patty is often served with boiled potatoes, gravy and soft fried onions. You can get a traditional minced beef patty served at one of Copenhagen's restaurants specialising in traditional Danish food. However, the open sandwich restaurants often have minced beef patty with soft onions on the menu. Here, the minced beef patty is often served on a piece of rye bread and accompanied by some kind of pickle. This could be cucumber salad or pickled cucumbers, gherkins or beetroot. At the open sandwich shops, the patty is sometimes covered in sauce, while other times it is served with a fried egg on top.
Regardless of how it is served, it tastes divine, and it is one of the classic Danish dishes.
10.Roast pork with caramelised potatoes
It's Danish, lovely – and not just for Christmas
Another classic is Danish roast pork with crispy rind, caramelised and white potatoes and a good sauce as well as boiled, warm red cabbage. This dish is often served in Danish homes on Christmas Eve, as a Sunday dinner or at round-number birthday parties and other celebrations.
If you want to eat roast pork in Copenhagen, you should go to restaurants serving Danish classics. Cafés usually serve roast pork in a burger bun. However, then you won't get the traditional caramelised potatoes, which are prepared by frying small, peeled potatoes in a mixture of sugar and butter.