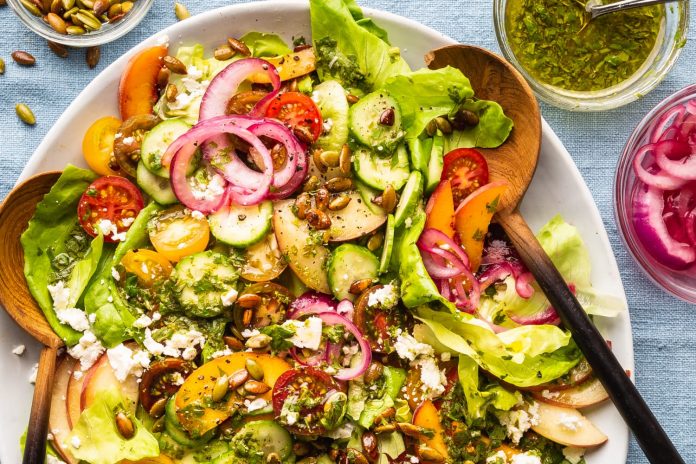 Come summer, you become a total socialite. Between pool parties, vacations, and barbecues, your weekends are fully booked until September. And with your packed schedule and outdoor MO, there's really no time to spend hours slaving over a hot stove.
Fear not — you can always throw together a salad … and yes, we know what you're thinking. Don't worry, it doesn't have to be a #sadsalad.
We've got a tantalizing list of cool lettuce wonders bursting with flavorful summer produce. They're also well-rounded with healthy proteins and fats, so you can still enjoy an ice cream now and again this season guilt-free. Pack them up for a quick lunch, or bring the whole bowl to any picnic or party. These recipes are too good not to share!
Grilled Steak Mango Salad with Avocado Buttermilk Ranch Dressing
This salad won't leave you hungry or feeling dissatisfied. Made with steak and a flavorful avocado dressing, it's full of protein and healthy fats. If you like mango avocado salsa (who doesn't?) you'll love the combination of the mango and the avocado buttermilk ranch dressing. Grill up the steak or take advantage of leftovers to save time.
Black Bean Fiesta Mason Jar Salad
No meal plan is complete without grab-and-go Mason jar salads like this one. Layers of beans, quinoa, and vegetables keep the greens crisp until you're ready to shake it up and dig in. The lime jalapeño dressing has a bit of a kick to keep your salads interesting and feeling fresh. We highly recommend prepping all of your ingredients and making a few jars at a time so you have lunch ready to go for the whole week.
Deconstructed Pesto Couscous Salad
Who said a salad had to have greens? Perfectly chewy couscous and thin ribbons of zucchini combine to make this bright, Mediterranean-inspired dish. The whole recipe comes together in less than 20 minutes and it can be eaten hot or cold. Even better: You don't have to make pesto.
Grilled Zucchini Salad
You just can't beat the flavor of summer squash, especially when grilled. This salad is loaded with healthy summer veggies like purple cabbage, sprouts, and corn. Chickpeas and a creamy sunflower seed dressing top off this vegan, gluten-free meal. Pro tip: This salad is an excellent vegetarian- and allergy-friendly dish to bring to your next summer cookout.
Herbed Quinoa and Chickpea Salad with Lemon-Tahini Dressing
This versatile quinoa salad easily goes from side dish to dinner without missing a beat. Quinoa, chickpeas, and toasted pepitas add a punch of plant-based protein. Make it ahead for a party and the salad will taste even better than when you put in the fridge.
You can also toss in your favorite vegetables — we recommend ripe cherry tomatoes, carrots, or avocado — to change it up. The dressing is so good you might want to double it and save the extra to use on salads or sandwiches throughout the week.
Sunshine Turmeric Potato Salad
There seems to be some unspoken rule that potato salad must be present at every summer gathering — and we're certainly not complaining! This salad is a far cry from your aunt's mayonnaise-drenched potatoes. Inflammation-busting turmeric brings heat and color to this nontraditional dish.
Shaved Summer Squash Salad
Hello summer no-cook zoodles. The last thing you want to do when it's boiling outside is stand over the stove or turn on the oven. Stay cool — and hydrated! — with this raw summer squash salad. Simply use a vegetable peeler to turn your squash into thin ribbons. Top with basil, nuts, or seeds. The easy homemade dressing is made with lemon juice, fish sauce, and jalapeño.