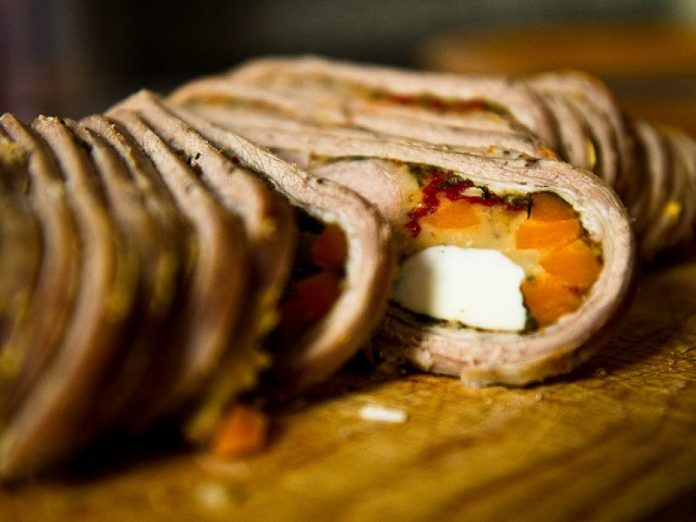 Your quick guide to what foods you must try in Argentina. The favorite foods in Buenos Aires from breakfast to dessert.
There's always a bunch of foods and local delicacies travelers are supposed to try. Here are the ones you absolutely cannot miss while traveling in Buenos Aires. It would be embarrassing to return home and answer "what's ducle de leche?".
1. (Asado) Argentinian BBQ
If you are a carnivore then Argentina will be your steak heaven. The average Argentinian consumes 120 pounds of beef per year and its safe to say that the majority of that is cooked nice and slow on the parrilla:
– Steak: Familiar cuts will be bife de chorizo (sirloin), lomo (filet mignon) and ojo de bife (Ribeye), but the real magic lies with the more unique cuts that are served in Argentina like vacío (flank), entraña (skirt) and asado de tira (short ribs).
– Organ meats aka achuras: Gross. The English translation of that word sounds terrible. It is said that during the Argentine 2001 economic crisis many people began buying up the lesser desired parts of the cow. Today the achuras are often times the most popular appetizers and additions to an asado (Argentine BBQ). I recommend ordering these at only the more skilled and well known parrillas as they need to be prepared and cooked just right; chinchulines (small intestines) need to be crisp on the outside, mollejas (sweet breads) and riñón (kidney) which should be cleaned thoroughly and marinaded in acidic lemon juice for a lengthy period.
– Sausages: Chorizos (sausages made of pork and beef) and morcillas (blood sausages) are common starters to an asado. If you're a first timer when it comes to morcilla try it out spread on bread or with some papas fritas. Delish!
Now as to where to go to get a good steak…
2. Pizza
A controversial topic for many internationals when it comes to Argentine food (some love it, some hate it), the pizza here leans deep dish crust, lots of cheese and more cheese. As for the more unusual, unique pizzas to try…
Fugazza: One of the few cheese-less, sauce-less options, Fugazza is drizzled with olive oil, sprinkled with herbs and layered with lightly sauteed sweet onions.
 Fugazzeta: Take the fugazza and load it with gooey cheese sandwiching the onions on top and below and maybe stuffing more cheese in the crust too.
Fainá: An unleavened chickpea flour sort of pancake. Fainá (fah-ee-NAH) is often times used as an additional layer placed on top of another slice of pizza.
Napolitana: One of the most popular pizzas in Argentina, the napolitana is the traditional tomato, garlic, parsley, cheese and sauce pie.
I would recommend Guerrin, El Cuartito or Morelia.
3. Milanesa:
If you go to a typical Argentine restaurant they will 100% have milanesa options. One of the most traditional plates served, the milanesa is akin to the Austrian/German wiener schnitzel or the Italian milanese. A thin slice of beef, fish or chicken is first dipped in an egg and herb mixture (usually garlic, salt, parsley) then lightly breaded and pan fried. The more common variations include the milanesa napolitana (topped with marinara sauce, tomato and cheese), suprema (chicken breast) or milanesa merluza (hake fish). If you do not try one of these before departing Argentina you have not lived. I, for one, will respect you less.
4. Empanadas
are essentially one of the main food groups in Argentina. The stuffed savory pastry can be found on nearly every block of the city with standard options of meat (usually mixed with a bit of egg and an olive), chicken (typically blended with some herbs and onion), verdura (chard or spinach, white sauce, cheese), humita (sweet corn and white sauce) and jamon y queso (ham and cheese).
More unusual empanda varieties you should keep your eye out for are Salteñas (a small cousin pastry filled with meat, potato and a tasty sauce), Tucumana (cumin, meat and sometimes raisin). Wash them all down with a cold Quilmes or maybe try something else from the Drinks you should try in Argentina list.
5. The Desserts:
The overall population in Argentina is fairly thin which makes no sense when you see the amount of ice cream and sweets consumed here.
– Facturas (sweet pastries) and medialunas (sweet croissants) start the day off for many Argentinians. Facturas are readily found at most local bakeries in a variety of shapes, sizes and fillings. Jams, dulce de leche, coconut, custard, powdered and granulated sugar…sweet Jesus.
Dulce de Leche accompanies almost every dessert imaginable in Argentina. Humus is to the Middle East as Dulce de Leche is to Argentinian desserts. Take evaporated or sweetened milk, add sugar, simmer, reduce to thick, caramelized state and you have dulce de leche. Now put it on everything that could be considered dessert or on things that should be made into desserts.
Alfajores are made up of two thick sweet cookie layers sandwiching dulce de leche and rolled around in coconut. Mass produced brands are dipped and coated in chocolate. Personally I've never been a huge fan, but many travelers and Argentinians swear by them. Best brands to try Cachafaz and Havana found in most kiosks and grocery stores.
man holding ice cream cone
– Ice cream may be the Argentinians' strongest dessert contender if we had an international sweets showdown. The bar has been set high with famed brands using the country's top quality dairy and eggs available. Argentina's cold, sweet treats are right up there with Italy's gelato. Try out Lado Bueno, Freddo, Volta, Persico and Lucciano's.