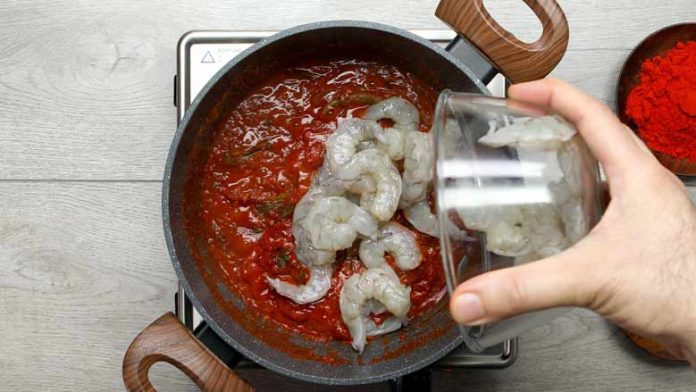 Prawn Roast Kerala Style recipe: Spicy prawn roast or chemmeen roast is a signature seafood dish from God's Own Country, with a perfect blend of spices and packed with delicious flavour and an enticing aroma. It's a must-have dish for prawn lovers, with an unforgettable "wow" factor.
Traditionally, seafood dishes in Kerala are cooked in earthen or mud vessels (man chatti or kal chatti) which enhances the taste. But a non-stick pan or kadhai or wok also serves the purpose for this easy prawn roast recipe.
Our fail-proof recipe shows you how to cook this traditional and much-loved prawn roast dish in easy-to-follow steps.
In our spicy Kerala style prawn roast recipe, prawns are "roasted" in spices before being finished with a drizzling of coconut oil, which imparts a characteristic flavour. The masterful blend of spices—the true stars of the dish—making for a delectable and irresistible seafood preparation that is at once tangy and spicy. Pungent black pepper and fragrant curry leaves balance the sourness of tamarind paste.
For an authentic taste, make sure to use good quality coconut oil, an important traditional ingredient that enhances taste and flavour. Also, adjust the level of hotness according to your taste. For a milder dish, substitute red chilli powder with Kashmiri chilli powder or paprika, and omit or reduce the number of green chillies.
To avoid ending up with chewy and tough prawns, do not overcook them. We think 4 to 5 minutes is enough to cook prawns to perfection though traditionally they are cooked for much longer in Kerala, where they like a bite to their prawns.
For best chemmeen roast results, allow for a resting time of one hour after cooking. The dish tastes even better the next day because the flavours have had time to mellow and blend..
The basic curry in this Kerala style prawn roast recipe can also be used for other seafood. It goes well with any firm fish like king fish, salmon, and pomfret.
Prawn roast Kerala style or chemmeen roast is excellent with Kerala brown rice, white rice, appam, kappa, Kerala parotta, naan, or chapathi. Dal, Alleppey fish curry, and Kerala-style ginger pickle are good accompaniments.It can be served as a main course at a lunch or dinner party.
It can be served as a main course at a lunch or dinner party.
Learn how to make our traditional & delicious Prawn Roast Kerala Style recipe (spicy Kerala prawns) with an easy cooking method and all ingredients right here from Yummefy Recipes.