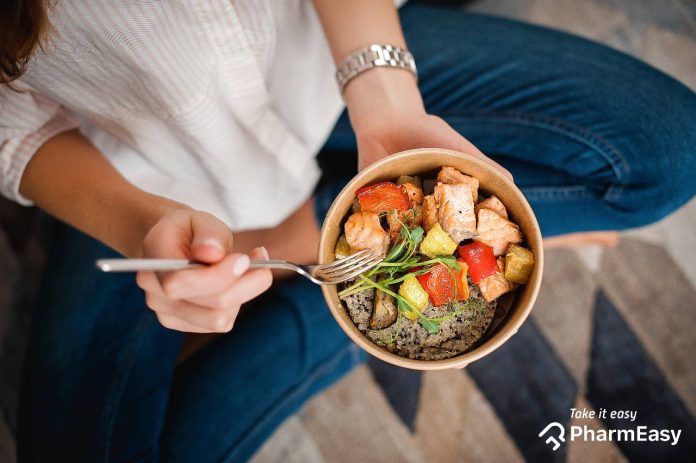 "Health is wealth"- we have heard this line since our childhood. But, it seems like we have forgotten this. Our busy schedules, job life and travelling is affecting our health unknowingly.
More and more people are becoming diet conscious these days. They feel diet food with sweaty workouts can help to keep them healthy. But remember, vigorous exercise can't help your body without healthy eating. Healthy eating is much more essential for your body as well as mental health.
What is a healthy diet?
Healthy eating doesn't mean cutting out foods. It is all about eating various foods in the correct amount to provide your body with the essential nutrients. You need to ensure that you are consuming different foods in the right balance rather than denying certain foods or drinks. All foods should be included in your healthy diet plan except for people who are on a medical diet.
What makes up a healthy diet?
A healthy diet term suggests consumption of all types of foods in the right amount. We all need a balance of protein, fat, carbohydrates, fiber, vitamins and minerals in our diets to sustain a healthy body.
Benefits of healthy eating
1: Help to manage a healthy weight:
Eating healthy food such as vegetables, fruits, whole grains, dairy products and a moderate amount of unsaturated fats can help you maintain a steady weight. Maintaining a healthy weight can help to reduce the risk of getting chronic health issues. A diet rich in dietary fibers can help you to maintain a healthy weight. Fiber-rich foods help you to suppress your hunger by making you feel fuller for longer.
2: Helps manage diabetes:
Diabetes is a common disorder that affects millions of people worldwide. Unhealthy eating habits is one of the causes of diabetes. A healthy diet can help a diabetic person to maintain a healthy sugar level and also help to delay complications of diabetes.
3: May improve heart health:
A healthy diet rich in green vegetables, fruits, whole grains and low-fat foods helps reduce the risk of heart disease by maintaining blood pressure and cholesterol levels. Increased cholesterol levels may cause thinning of arteries and heart blockages. Eating healthy foods helps reduce cholesterol and improve heart health. Limiting certain types of fats can also improve heart health.
4: May reduce cancer risk:
Cancer is the most deadly disease that affects any age group. Many causes lead to cancer – an unhealthy lifestyle is one of them. Eating foods that are rich in antioxidants may reduce the risk of developing cancer by protecting cells from damage. Foods rich in antioxidants such as berries, green vegetables, nuts and seeds help remove free radicals.
5: Help to improve digestion:
Certain vegetables, fruits, whole grains and dairy products contain fibers and probiotics. These are essential foods for maintaining good gut health and help to improve digestion.
Fermented foods such as curd, yogurt, kefir and miso contain probiotics that play essential roles in metabolism and digestion.
Some vegetables that are rich in fibers like vegetables, fruits and legumes promote regular bowel movements. They also help to prevent bowel cancer and diverticulitis.
6: Help to strengthen bones and teeth:
A diet rich in calcium and magnesium is essential for our bone and teeth health. Foods such as low-fat dairy products, broccoli, tofu and legumes that are rich in calcium and magnesium help to minimize the risk of bone issues.
7: Help to reduce stress:
Healthy eating may help to enhance your mood and reduce your stress and tension. If you eat nutritiously, you will feel better and more energized. Avoid eating sugary food and fat-loaded fruits. This will help to reduce mental stress.
8: May improve immunity:
A healthy immune system can help to keep away all infections and diseases. Consumption of healthy food such as green vegetables, antioxidants, fruits, seafood, herbs and spices can help boost immunity.
9: May improve skin health:
A portion of unhealthy junk food may lead to skin damage and acne outbreaks. Consume healthy foods such as fruits, vegetables, fatty fish, nuts, seeds, whole grains and beverages such as water, coconut water and green tea for clear skin.
10. May increase Lifespan
With lower risks of diabetes, cancer, heart issues and more you are more likely to live a longer healthier life as one of the benefits of eating well. Another important aspect is an improved healthspan. Healthspan is the amount of time that you are healthy till you require medical intervention. While many people have long lifespans (due to advances in modern medicine), they aren't always healthy for the majority of their time. Eating well benefits both your healthspan and lifespan.
11. Better Sleep
Issues like diabetes, obesity, depression, alcohol consumption and many other negative factors can impact your sleep. Poor sleep can affect your health and poor health can conversely affect your sleep. Eating well can help on both fronts. Better dietary habits can help to address the root causes of sleep issues and leave you feeling better rested with longer and better sleep.