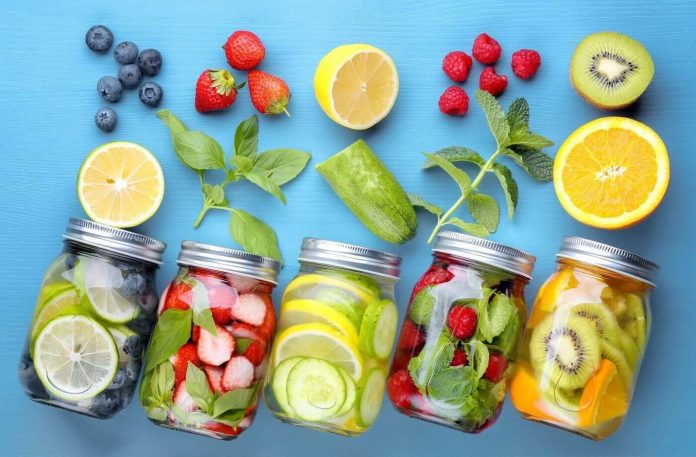 Living in a heavily urbanized world where eye-catching simulated foods flow in air weighting the health of people in toxicity. Well, thanks to the numerous health drinks that are indeed prescribed by nutritionist and doctors. Yes! The Detox drinks have become so popular in recent days taking fitness route by the gale. To get rid of the toxins from the body, several natural detoxification drinks are available that helps in cleansing the liver and guides in losing those extra pounce in just an apt diet. Intaking green raw healthy detox juices takes away the heavy metals, preservative and pesticides from the body in a natural way.
Here are few DIY detox drinks that not only flush out toxins but also give your body the nutrition needed with no side effects. The following smoothies help you rejuvenate the mind, body and skin. Though there was no easy-going way to lose weight n' get glowing skin, these natural health-detox drinks do magic!
MORNING DETOX DRINK: Cucumber-Mint-Lemon Detox Drink
Cucumber-mint juice is a refreshing drink for the summer season but also the best body-detoxifier. Cucumber is naturally filled with the goodness of water, antioxidant and vitamins in cleansing the body rapidly. While mint improves the digestion process and also acts as a soothing for stomach upsets. Adding lemon makes you refreshing and active.
Ingredient: 1-cucumber, 2tsp lemon juice, 6-9mint leaves, water.
Preparation: Blend the ingredients (cucumber n' mint) and strain them. Now add lemon juice and water. You may love adding black salt for taste and garnish them with ice and mint. Take this drink early morning for good results.
NIGHT DETOX DRINK: Watermelon or Pineapple Drink
There's no doubt that adding watermelon and pineapple to your detoxification list increases body immunity and helps in losing several pounds of weight in the night. People who are health conscious often use this natural therapy to cleanse their body and weight reduces.
Ingredients: Sliced pineapple or watermelon, 5-10 mint leaves, 1 tsp cinnamon powder, ½ lemon juice and 1 tsp honey.
Preparation: Blend the above ingredients and drink it before sleep. You will be amazed to look at your body the next day. People who wish to weight many pound love following the above detoxing drinks.