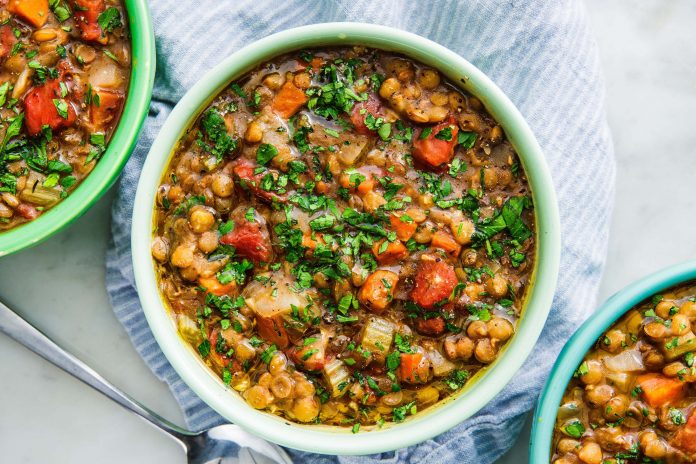 The Instant Pot's main claim to fame is its magical meat-cooking prowess, churning out tender proteins in little time. But there are tons of delicious vegetarian Instant Pot recipes out there that prove the kitchen wizard is awesome for serving up tasty and nutritious meatless meals too.
What goes into a healthy vegetarian Instant Pot recipe? Like any healthy meal (no matter what appliance or protein source you're using), it should be both nutritionally balanced and enjoyable to eat. "For a meal that is both mentally and physically satisfying, I recommend that people strive for three to four food groups when possible—namely fat, protein, starch, and fruits/vegetables," SELF columnist Jessica Jones, M.S., R.D., certified diabetes educator and cofounder of Food Heaven, tells SELF. "By doing this, you will not only get a variety of textures and flavors, but also nutrients that work together to provide you with a steady, stable stream of energy."
The vegetarian Instant Pot recipes you'll find below, including stews, casseroles, and pilafs, generally strive for that varied balance. Most of them begin with a hearty plant protein base like lentils or beans—which, thankfully, cook much faster under the high heat and pressure than on the stovetop.
1.Lemon Vegetable Risotto From Lexi's Clean Kitchen
Asparagus, broccoli, and peas make this risotto a great springtime treat and a delicious way to get a bunch of veggies.
2.Butternut Squash Soup From Gimme Some Oven
Made with cayenne, cinnamon, and apples, this soup is the perfect balance of sweet, spicy, and savory.
3.Saag Tofu From Simply Recipes
Coconut milk makes this spinach and tofu dish totally creamy without any actual dairy.
4.Instant Pot Dal From Bon Appétit
This recipe includes a handy graphic that will show you all the different ways to make dal in your Instant Pot.
5.Pumpkin Walnut Chili From Pinch of Yum
Walnuts in chili might sound weird, but they give this meatless version a hefty, "meaty" texture.