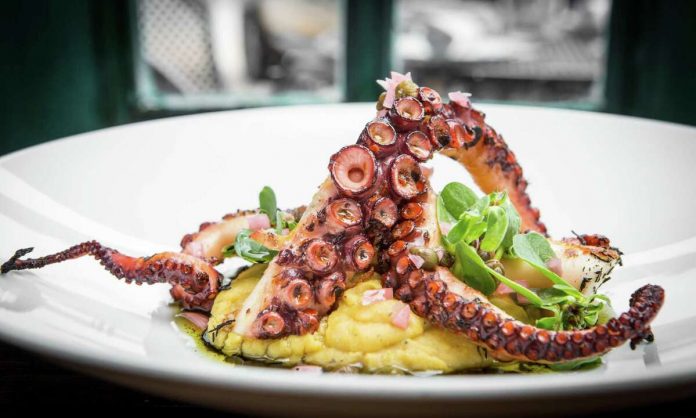 To devour delicious food in Calgary, whether in a recent opening or even in an ultra trending restaurant, the city will always have something to offer for every taste and preference. Calgary is inspired by different cuisines from across the world, from Italian, French, and Indian to Mexican, Asian and more. In this list, we will be sharing with you some of the best restaurants, cafes, and breweries in Calgary.
12 Places To Try The Food In Calgary
See where all you can go to try the various types of cuisines in Calgary that are local to this place as well as some international flavours:
1. Made By Marcus – Soft Serve
The shop is known for its adventurous ice cream flavors, Marcus from Made by Marcus offers ice cream sundaes, soft serve, and ice cream cakes. The interesting signature flavors of the place are peach jalapeno yogurt, pumpkin cashew coconut, toasted hay, and lemon curd blueberry.
2. Cluck N Cleaver – Fried Chicken
Cluck n Cleaver is the best place to offer Southern-fried and French-style rotisserie chicken in Calgary. Run by two sisters: Nicole and Francine Gomes, this casual spot also serves malt milkshakes, retro sodas, salads, gravy, and biscuits. It's the best place in Calgary to satiate your fried food cravings.
3. Alumni Sandwich – For Sandwiches, Snacks, And Salads
Opened in 2018, this sandwich and liquor bar knows how to elevate a simple sandwich from simple lunch to a quality dinner choice. Along with sandwiches, the place serves out snacks, salad, charred onion dip, and parmesan fries. Though this place is new, it serves some of the best food in Calgary for those who like to try typical Canadian and continental food.
4. Broken Plate – Greek Food
The Broken Plate Kitchen and Bar serves authentic Greek food in Calgary and some of the best dishes you should try out are the mouth-watering lamb rack, calamari, saganaki, and lamb souvlaki. Other than good non veg dishes, there also are various vegetarian items to try on the menu.
5. Hayden Block – Best Barbecue
Hayden Block Smoke and Whiskey might be the best place to serve Texas-style barbecue in North America. You can choose from a delicious selection of meats, trays, and sides but you have to try the briskets.
6. Yellow Door Bistro – Best Breakfast
This contemporary eatery in Hotel Arts offers creative breakfast like eggs benedict and some house-made seasonal pancakes. Other specials include; Express Lunch – Shake, Stir and Strainbow – Half Price Wine Fridays. Though a little on the expensive side, it will offer the finest taste and food experience to make it worth your while.
7. Blink Restaurant And Bar – Canadian Food
With modern exposed-brick interior, this fine diner promises masterfully executed, memorable, simple, vibrant and delicious Canadian cuisine with some beautiful dishes like the Italian-inspired Cioppino and Agnolotti. It's the best place in town to satiate your love for Italian and European cuisine at affordable prices.
8. Sidewalk Citizen Bakery Deli – Bakery
If you are looking for a quick snack or some cheap food in Calgary, the Sidewalk Citizen Bakery has achieved a high status among the Calgarians and that is thanks to its crusty and artisan sourdough bread which is served on a daily basis. You can just grab a wrap or sandwich on your way while passing by this cafe.
9. Two Penny Chinese – Chinese Food
A lovely Chinese restaurant with instagrammable décor serving updated traditional dishes like the beef and broccoli with slow-roasted brisket. Craving some nice and authentic Chinese cuisine in Canada? Make sure you stop by this delightful restaurant for some fine noodles and dimsums.
10. Alloy – Latin American, Mediterranean, And Asian
A posh fine-dining located in Calgary, with a unique experience of Latin American, Mediterranean and Asian fusion dishes. Don't miss the truffle gnocchi and beef short rib. It's the finest place in the town of Calgary to indulge in some great Latin American, Mediterranean, and Asian food.
11. Una Pizza + Wine – Pizza
With both eat-in and takeout options, the trendy Una Pizza and Wine offer stone deck oven cooked Californian style pizzas with gourmet toppings, signature kale salads & wine. These are anyway some of the most famous items on any American menu and a prominent part of every food tour in Calgary.
12. Moti Mahal – Indian Food
If you are craving the flavors and aromas of some Kashmiri food, Moti Mahal will offer you with the best Indian food in Calgary. Some of the signature dishes are butter chicken and their vegetable specialties. The food here is so good that it is a hi even amongst Canadians and travelers from other countries, and not just Indians.