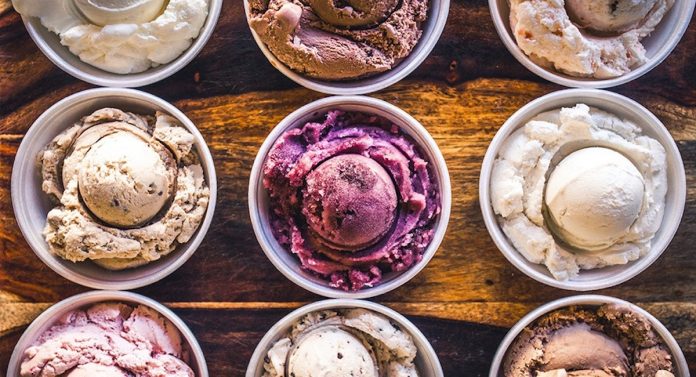 Old-school fudge sundaes, funked-up modern flavors, and a gelato or two, too.
No one loves ice cream as much as New Englanders do—even in the dead of winter, we'll brave icy temps to get our cone fix. But there's no better time to get acquainted with our local ice cream parlors than when summer is in full swing. From old-school snack shacks peddling classic hot fudge sundaes, to allergen-friendly trailblazers exploring delicious, dairy- or nut-free frontiers, here's our comprehensive guide to the best ice cream in Boston.
Boston Ice Cream Factory
Ice cream may be a classic kids' treat, but Boston Ice Cream Factory founder Steve Cirame—a former J.P. Licks employee and the original owner of Christina's—adds an adult twist to many of the offerings at his Dorchester storefront. Though traditional flavors like chocolate and pistachio hold a place on the menu, the real standouts borrow from the bar. Try a scoop of Barbados Breeze, a fruity fusion made with Malibu rum and blue Curaçao; or Mud Slide, a boozy blend of Baileys, Kahlua, and vodka. Good luck going back to a plain old vanilla cone after stopping here.
Chill on Park
Calling all locavores: This Fields Corner shop sources offerings, from cookies, to tea and coffee, to the hot fudge they drizzle over sundaes, from Massachusetts businesses. And the ice cream is no exception: Puritan Ice Cream, in nearby Roslindale, supplies such flavors as salted-caramel truffle, peanut butter Oreo, and Dutch apple, which can be ordered by the four-flavor sampler. Waffle cones and bowls, ice cream rolls, and cakes and pies, meanwhile, are crafted in-house.
Christina's Homemade Ice Cream
Summer nights in Inman Square mean lines snaking out the door of this neighborhood institution. With well over 50 classic and inventive flavors alike, the shop continues to stay true to owner (and spice-lover) Raymond Ford's vision to craft "creative, bold and daring" ice cream. Try a few samples that take inspiration from around the world (see: Indian chai, Italian gianduja chocolate, and Japanese adzuki bean), or—in the case of the Concord grape sorbet—from our own backyard.
Cookie Monstah
There's nothing scary about this monster of a food truck, once featured on Travel Channel's Bizarre Foods: Delicious Destinations for wheeling around colossal heaps of Richardson's ice cream sandwiched between fresh-baked cookies. (Be sure to try the Red Monstah, made with red velvet cookies and mint Oreo ice cream.) Don't feel like chasing down the truck? Hit up one of the handful of brick-and-mortar shops in the suburbs.
Crescent Ridge
For more than 50 years, cone heads have made the pilgrimage south to Sharon's Crescent Ridge Dairy Bar for frozen Cressies (a chocolate-dipped disc-on-a-stick of vanilla, chocolate, or raspberry ice cream) and Best of Boston-worthy ice creams. But with a stall inside the Boston Public Market, flavors ranging from coffee to coconut, cotton candy to Mississippi Mud, and pumpkin to s'mores are now available within city limits.
Dairy Freeze
Sweltering South Shore nights call for a trip to this Quincy institution, which has been slinging sundaes since 1963. If the midcentury signage didn't clue you into the fact that this place is a classic, the menu certainly will: It's got all the old-school New England bases covered, from frappes and raspberry lime rickeys to orange-sherbet soft serve and Richie's Italian ices—and even hard ice cream in pumpkin and cranberry flavors
Dairy Joy
This roadside ice cream and seafood shack is absolutely worth a leisurely summer drive out to Weston. It's the only place to find JavaBerry, the raspberry-coffee twist you didn't know you needed. The creamsicle soft-serve swirl is also a classic, and the stalwart spot has new dairy-free options, too. Don't forget the chocolate or cherry dip!
Delini Gelato
Opened during the pandemic, this West Roxbury destination for house-made gelato, named for owner Viki Petkova's daughter, occasionally marries the traditional Italian dessert to some Eastern Mediterranean and Middle Eastern flavors—baklava, for instance, or the Persian Stracciatella infused with Iranian saffron. That's in addition, of course, to elegant standbys like honey lavender, made with sweet local sap from Cape Cod hives.
Emack & Bolio's
Boston's puritanical stance on early bar-closing times has at least been good for one thing: It's indirectly given us some darn good ice cream. Bob Rook, a music lawyer who's worked such with such acts as Aerosmith, The Cars, and U2, founded Emack & Bolio's in a Coolidge Corner basement in 1975 to provide a post-gig hangout space for bands (back when clubs closed at midnight). In the intervening decades, this local chain hasn't lost track of its rock n' roll origins—note the nod to classic rock in its black-raspberry-flavored "Deep Purple" Chip.
FoMu
When it comes to vegan ice cream, there's no FOMO to be found at FoMu: You won't miss dairy a bit once you've tasted coconut-milk-based flavors such as triple-chocolate brownie, raspberry almond crumble, and mango-habanero, all handcrafted in Watertown. The local chain has rapidly expanded since opening its first scoop shop in 2012, and in other cool news, FoMu owner Deena Jalal recently published her first cookbook, Incredible Vegan Ice Cream, featuring these recipes and more.
Forge Ice Cream Bar
Experience an oh-so-sweet blast from the past at Forge Bakery's retro-looking ice cream parlor. While the shop's chrome finishes, vinyl seat coverings, and antique pump system may harken back to a simpler time, its flavors are decidedly modern. A constant rotation of small-batch scoops with rotating options like cucumber-lime sorbet, blueberry, and banana Oreo keeps things fresh. Can't decide? Forge offers a tasting flight of four small scoops.
Gelato & Chill
This marvelous maker uses the finest ingredients—chocolate, nuts, and spices from around the world—to create recipes developed by an award-winning Northern Italian gelato pro. That means rich vanilla made with cultured butter; hand-dipped ricotta with Mediterranean fig jam; and nutty concoctions made with imported Sicilian pistachios, to name a few.
Gracie's Ice Cream
Fire and ice come together at this Union Square shop, which will serve up its award-winning ice cream in Fluff-filled cones toasted to perfection with a blowtorch. Alongside six "anytime" go-tos, Gracie's treats their customers to a slew of fun, seasonal flavors, all made fresh in the small Somerville shop (There's also a Cambridge outpost inside Earnest Drinks, its sibling bar in Kendall Square.) The lineup might include creative takes like honey cornbread, spicy mango, and "chocolate salty snax" laden with chunks of pretzel and potato chip. And for those really hot days where you can't bear to leave the AC, Gracie's also delivers via several third-party services.
Honeycomb Creamery
Where else can you get a cone with flavors like ginger rhubarb crisp, horchata, or basil goat cheese? Using local ingredients, this two-time Best of Boston-winning shop is committed to making each from-scratch batch as fresh as it can be: Married duo Rory Hanlon and Kristen Rummel rotate their mouthwatering menu often, designing flavors based on seasonal ingredients like summery sweet corn or cherries. In other words, there's always a reason to come back and see what's new.
The Ice Creamsmith
Since 1976, this second-generation-run shop in Lower Mills has churned out classic flavors (such as maple walnut) as well as monthly-changing specials like black cherry and lemon custard. Customers are also encouraged to dream up their own inventive combinations with the shop's selection of "Mixins," which include jelly beans, bubblegum, Skittles, and coconut.
J.P. Licks
So many treats, so little time. Along with a cool collection of monthly specials such as Cinnamon Toast Crunch, unicorn crunch, and coconut almond, there are creative classics like salted caramel cookies 'n cream. And with 17 locations of the beloved, Jamaica Plain-founded chain now scattered from Dorchester to Lynnfield, there are plenty of opportunities to try them all.
Lizzy's
In 1995, ex-Digital employee Nick Pappas decided to leave behind the world of microchips for the world of raspberry chocolate chip, and we're so glad he did. Though Pappas passed the torch to new ownership in 2016, the spark—and Lizzy's loyal following—remains. Swing into the Harvard Square shop for a scoop or four, throw a buffet-style Sundae Party at the original Waltham location, or tap Lizzy's ice cream catering service to bring the sweet experience anywhere.
New City Microcreamery
The original Hudson location, founded in 2015, helped kickstart the culinary scene in that quaint Central Mass. downtown, thanks to dozens of liquid-nitrogen-frozen flavors inspired by nostalgic tastes (see: malted milk ball, peanut butter Reese's, creamsicle). In 2018, the cool newcomers opened up a Central Square shop so city-dwellers can get in on the excitement, too.
Picco
This South End mainstay, whose name stands for "Pizza and Ice Cream Company," does not disappoint on either front. Follow up a personal pie with a cup of bright passionfruit or refreshing mint chip ice cream, or intensely velvety dark-chocolate sorbet.
Rancatore's
Dairy must flow through the veins of the Rancatore family: Since 1985, owner Joe Rancatore (brother to Toscanini's Gus and Mimi Rancatore) has been serving up superior scoops to a devoted suburban fan base with daring flavors such as Havana Banana, Vienna Finger, and Bombay, a sweet invocation of Indian spices. Ice cream sandwiches and cake are also available, as is home delivery to select nearby towns.
Ron's Gourmet Ice Cream & Bowling
An awesome, family-owned gem in Hyde Park, Ron's is either an ice cream parlor with candlepin bowling, or a candlepin bowling alley with great ice cream. However you see it, you will want to see it with one hand on a bowling ball and the other hoisting a cone of rum raisin, Oreo cake batter, or Peanut Butter Explosion. Opened in 1979, there's sort of a Stranger Things-era sweetness about the place, too.
The Scoop N Scootery
Got the munchies and an empty freezer? Fear not: The Scoop N Scootery has you covered. The delivery-based operation is dedicated to getting custom cups of Phantomberry and Totally Turtle to your door as fast as possible. The startup opened a suburban brick-and-mortar in Arlington in 2016 after getting its start doing drop-offs. It later added locations in Allston and Brighton, scooting its scoops closer to even more fans.
Taiyaki NYC
This New York City-based soft-serve company splashed down in the Seaport in spring 2019 with undeniably adorable fish-shaped ice cream cones (the waffle-like Japanese treat taiyaki), and toppings like unicorn sprinkles, whole cookies, and rainbow mochi. Instagram-worthy, for sure—and definitely delicious, too.
Tipping Cow
Homemade and always nut-free, Tipping Cow ice cream stays true to its farmers' market roots and keeps away from additives and preservatives. But owners David Lindsey and Gerly Adrien, who bought the Tipping Cow brand in 2018, don't just rely on the store's natural ethos to keep their customers coming back—they also wow them with unusual and seasonal flavors, like cannoli, peach cobbler, ginger lemon, snickerdoodle, and espresso.
Toscanini's
After more than three decades in Central Square, Toscanini's sibling-duo Gus and Mimi Rancatore are now slow-churning out the same sinfully rich ice cream in nearby Kendall. Go decadent, or go home—may we suggest an order of the best-selling B3 (brown sugar, brown butter, and brownies)? Just don't forget to add a dollop of Tosci's freshly made whipped cream. It's one of the many reasons this multi-year Best of Boston winner has received so much national attention.