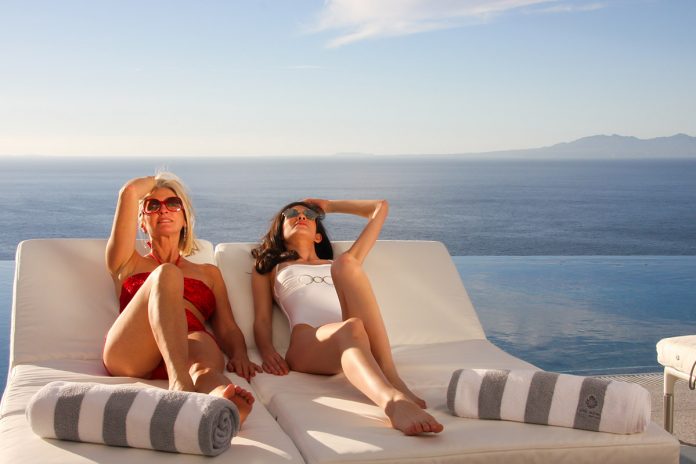 The benefits that a vacation getaway can give you are pretty well known. Between forgetting about the stress of everyday life, changing routines, admiring a different landscape and breathing different air from that of your home city, a vacation changes your mindset. Taking a break can recharge your batteries so you can go home feeling renewed and ready to finish old projects or take on new ones with more vitality and clarity.
If we add to this, being able to enjoy an adults only vacation, there are even more benefits. Don't get us wrong, we love children. Even so, sometimes it is nice to spend a few days on the beach, sunbathing and drinking sumptuous cocktails alone with your partner.
An adults only vacation is ideal for couples who are looking to have a romantic getaway and devote themselves entirely to relaxation and simple pleasures. They are also perfect for groups of friends looking for unlimited fun or celebrating a special occasion like a bachelor or bachelorette party. No matter what plan you have in mind, it is sure that you'll enjoy it to the fullest at a beach resort in a 100% kids-free environment.
What to Look for and Expect on an Adults Only Vacation?
Let's start with the hotel. If you are taking a beach vacation, you will most likely spend a good part of the time at the resort, so your accommodation choice will be essential for the overall experience of your trip.
All-inclusive vacation resorts are an excellent option for beach getaways because they offer unlimited food and drinks for you to enjoy at any time of the day. But you have to pay attention to the all-inclusive beach resort you choose, as some can really be overrun with tourists so they aren't that relaxing, or the food quality can sometimes be lousy. The most important thing to look for is that you will receive excellent service and personalized attention, as feeling pampered when you are on holiday is one of the things that makes it so special.
But, as in everything, there are good and bad resorts. Then occasionally you will find exceptional resorts that break the mold and offer world-class accommodation and top-notch service and give you value for your hard-earned money. This is the objective you must pursue.
Since it is an adults only vacation, you must take into account the services that the hotel offers both inside and outside the rooms. Does the hotel offer suites with a private balcony and hot tub, exceptional room service, a spa with special therapies for couples, bars with incredible ocean views? We recommend that all of these should be included in the resort's offering so you can spend countless hours enjoying your vacation without worrying about anything.
Of course, the destination you choose is also a huge factor in your entire vacation experience. Mexico has fantastic beach destinations where you can spend a relaxing and fun adult only vacation. Puerto Vallarta is a beach destination situated on Mexico's Pacific coast, and it is one of the favorite Mexico beach destinations of adult travelers around the world.
Puerto Vallarta: the Perfect Spot for an Adults Only Getaway
Puerto Vallarta is one of the dream paradises that the long Mexican coast offers. Mountains and lush vegetation wrap around this tourist's haven with golden sand beaches and shimmering azure waters. It's not only a favorite destination among people of all latitudes, but also of animal species that year after year choose this beautiful place as their home. Scores of humpback whales migrate to Banderas Bay every winter to reproduce, give birth to their young and surprise locals and visitors with their spectacular flukes and occasional breaches.
Humpback whale in Puerto Vallarta
All this fascinating nature allows you to do endless ecotourism activities, sea excursions and adventure tours in Puerto Vallarta. You can be sure that having fun in beautiful natural surroundings will be a part of your trip at any time of year. If you're a golf player, you can also enjoy incredible golf courses with beautiful scenery surrounded by tropical vegetation and an extraordinary view of the mountains and the horizon of the Pacific Ocean.
Beyond its beautiful nature, downtown Puerto Vallarta has an exceptional charm. It is one of the most captivating beach towns in Mexico thanks to its traditional Mexican style. Here you will find art galleries with incredible cultural art, handicraft stores and clothing boutiques to satisfy your shopping needs. We are sure that your suitcase will go home fuller than it arrived.
An ideal destination for adults only getaways must have a first-class culinary offering. Puerto Vallarta is known for its sensational restaurants and bars where you can enjoy not only the exquisite flavors of the sea and other regions of Mexico, but also extraordinary dishes of international cuisine. This destination has so much to offer that it became one of the favorite places of renowned national and international chefs to start their restaurants with a variety of innovative gastronomic dishes. Vallarta is a foodie destination and that's why different gastronomic festivals are organized here throughout the year (did anyone say tasting menu with wine pairing?).
In addition to its gastronomic offering, Puerto Vallarta is a haven for party lovers with bars overlooking the beach, live music, clubs where you can dance until the wee hours of the morning and there is even a spectacular Cirque du Soleil show in the heart of the jungle only accessible by boat. These are all the fantastic options that visitors can enjoy once the sun sets.
And, of course, Puerto Vallarta is known for its exceptional hospitality and extensive hotels. Here you will find extraordinary adults only hotels that will exceed all the expectations you have for your trip. Hotel Mousai, our Five Diamond certified hotel, is a luxury oasis for adults only vacations.
Hotel Mousai: a Five Diamond Adults Only Resort in Puerto Vallarta
Hotel Mousai is the first and only Five Diamond certified hotel in Puerto Vallarta and the whole state of Jalisco. This recognition confirms that we offer the ultimate luxury experience in Puerto Vallarta, where guests can expect the very best of the best in every aspect of their stay. The hotel is part of Tafer Resorts, a hospitality company that merges excellence, quality and creativity.
This adults only all-inclusive luxury resort offers ultra-chic vacations for guests over 16. It's the crown jewel at the heart of Garza Blanca Preserve. It features gourmet restaurants, a spectacular rooftop infinity pool, a collection of luxurious suites and penthouses, and the most spectacular spa in the area.
Whether you're looking for a secluded paradise for a romantic getaway as a couple, or an avant-garde luxury resort to enjoy with friends, Hotel Mousai is the ideal place for an adults only vacation.
Suites
Each suite at Hotel Mousai has been created with the most modern and luxurious designs. The spaces invite you to experience total pleasure. All of the suites have an incredible private terrace with hot tub and hammock, as well as a sophisticated entertainment center, electric curtains and iPad-controlled automated lights.
Hotel Mousai takes personalized service a step further with its exclusive butler service. One way to ensure that all your needs and desires are met with a unique personal touch. This service offers a level of exceptional hospitality even to the most demanding guests.
Gourmet All-Inclusive
Gastronomy is an essential part of any trip and can genuinely make or break your vacation experience. Hotel Mousai has a first-class gastronomic offering that you can enjoy with the gourmet culinary all-inclusive plan.
A contemporary Mexican food restaurant, a steakhouse and an innovative restaurant of Japanese cuisine are part of the hotel's gourmet culinary offering. All of them with a stylish vibe, incredible views of the bay and terraces to enjoy food accompanied by the gentle sea breeze.
The Rooftop
The Rooftop is the fabulous terrace of the hotel, where our incredible infinity pool is located with a unique panoramic view. It is an ultra-chic area with lounge chairs to relax, two hot tubs and an exquisite food and drinks menu.It will become your favorite spot in Hotel Mousai!
The Rooftop at Hotel Mousai North Tower
Spa Imagine
What better way to enjoy an adults only vacation than by pampering yourself in one of the best spas in Puerto Vallarta?
Our luxurious Spa Imagine offers a cutting-edge wellness experience. We have an exceptional palette of treatments and personalized spa therapies focused on providing a balance between body, mind and soul. Enjoy our hydrotherapy circuit with its whirlpool, pressure massage shower, cold plunge pool and six-cycle vitality pool.
Choose the beauty treatment or specialized therapy you want and live a unique relaxation experience with your partner or friends.
Enjoy the best adults only vacations in paradise