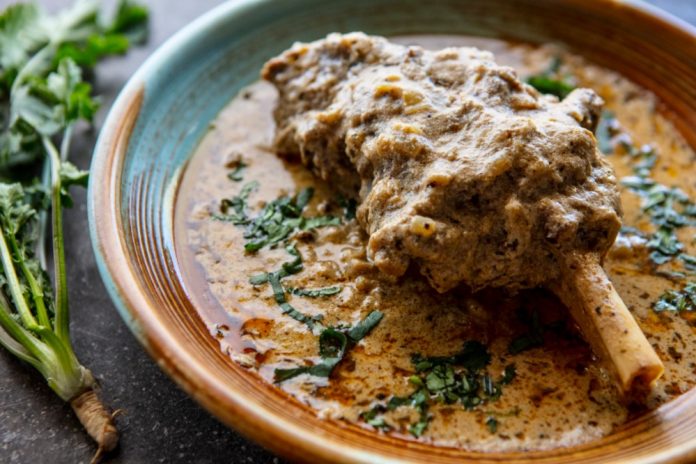 The real taste of Kashmir
The beautiful state of Jammu & Kashmir is not just a treat to the eyes but has a rich culinary heritage as well. If you have experienced a Wazan, the Kashmiri multi-course meal, you would know what we are talking about. Kashmiri food is full of flavours, desi ghee and uses ingredients like dry ginger powder, fennel powder, kashmiri red chilli and garam masala in abundance. According to Paritosh Kapoor, a Kashmiri home chef, "Kashmiri cuisine is predominantly non-vegetarian because of the climatic conditions, but, there are a few vegetarian preparations too that are tremendously delicious ." Here is a list of ten Kashmiri dishes that you would want to explore in your next visit to the state
Rogan Josh
Introduced by the Mughals, Rogan Josh is an aromatic lamb preparation that has the goodness of grounded spices, browned onions, and yogurt. Traditionally, it is served with rice and roti.
Yoghurt Lamb Curry or Yakhni
Your visit to Jammu and Kashmir is incomplete if you don't taste the mouth-watering Yakhni, which is lamb cooked in yogurt gravy. Flavoured with mawal flowers, onion, dry mint leaves and cardamoms, this Kashmiri preparation is ideally served with steamed rice.
Kashmiri Muji Gaad
Kashmiri Muji Gaad is the perfect amalgamation of vegetarian and non-vegetarian ingredients in form of fish and radish. Made during festivals like 'Gaaada Bata', the preparation has a unique taste because of local spices and herbs used in it
Modur Pulav
Modur Pulav is nothing but sweetened Kashmiri rice prepared with saffron, rice, milk, ghee, dry fruits, and sugar. The distinctive taste of this dessert preparation will surely make you crave for more.
Matschgand
Seduce your taste buds with the aroma of Matschgand, a minced meatballs preparation which is cooked in spicy red chilli gravy. This dish of Kashmiri cuisine is best served with jeera rice and is on the list of every meat lover.
Lyodur Tschaman
If you think that Kashmiri food is all about non-vegetarian dishes, you need to try Lyodur Tschaman, a popular vegetarian preparation that is made with cottage cheese cooked in creamy turmeric based gravy.
Khambir
Khambir is basically a pan-shaped local bread with a thick crust made of whole wheat and is served with butter tea (a combination of butter and salt)
Goshtaba
Popularly known as 'dish for the kings', Goshtaba is a traditional delicacy of Kashmir, made with minced mutton, grounded spices, and yogurt. The dish is an inevitable part of royal occasions and festivals.
Dum Olav
Dum Olav or Dum Aloo is one of the most famous dishes of Kashmiri cuisine. Made with potatoes (aloo), yogurt, ginger powder, fennel and other hot spices, this main course dish is best served with chapati or naan.
Among the many mutton dishes of Kashmir, Aab gosht is a popular one that is made in two ways either Kashmiri or Iranian. This dish is made using milk and grounded spices. Give it a try!