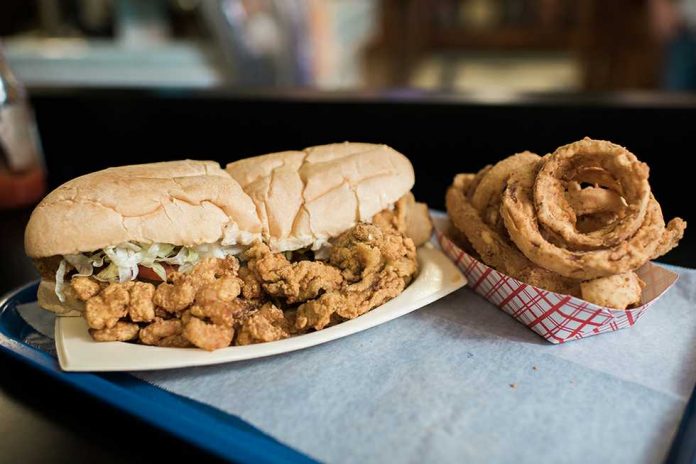 If you're headed to Louisiana, then Baton Rouge is a must-stop. And while you're there, you have to eat!
I mean, why else travel? There are so many great places to grab a bite in Baton Rouge. We've narrowed it down to 10 of our favourites that you need to try.
So get your appetites ready for these 10 awesome places to eat and drink in Baton Rouge:
Mason's Grill
A place for the whole family, and they offer daily specials if you're watching the wallet.
Mason's Grill is famous for their brunches on Saturdays and Sundays, but also have weekly specials like Kids Eat Free Mondays, Taco Tuesdays, Burgers & Beer Flights on Wednesdays, and Wing Night Thursdays.
Grab their Cajun Breakfast: eggs your way, with a jalapeño-stuffed grit cake. They top it with a creamy seafood, au gratin sauce with shrimp and crawfish. Be sure to try their Crawfish & Shrimp Étouffée and Boudin-Stuffed Onion Rings served with remoulade sauce.
Mason's Grill is located at 13556 Jefferson Hwy in Baton Rouge, Louisiana.
Louisiana Lagniappe Restaurant
If you need a little something extra, then you wanna stroll on in to Louisiana Lagniappe (which actually means 'a little something extra'). They're serving up the best in Cajun and Creole seafood, like the fresh, Blackened Shrimp with pineapple rum-butter sauce, the Barbecue Shrimp sautéed in a spicy New Orleans style butter sauce, or the Fried Catfish fried to perfection.
Oooooohhhhh yeahhhh!
It's like eatin' Grandma's cookin' down in the swamp… without the mosquitoes, that is.
Mestizo Louisiana Méxican Cuisine
Mestizo Louisiana Méxican Cuisine is owned and operated by third-generation restauranteur, Jim Urdiales, who serves up Mestizo cuisine that honours his Mexican and Cajun-French heritage. It's a great place for dinner and drinks with friends, or a relaxed meal with your family.
Try the Cancun: a shrimp and crab enchilada, a crawfish and spinach enchilada, a fresh guacamole salad, and crispy crawfish taco! It comes drenched in queso, but I got mine without. I wanted another 5 of those crispy crawfish tacos! So darn good!
Or try the Pescado: a grilled, sweet potato crusted and fried redfish on a bed of brown rice, topped with shrimp & crab queso and a slice of avocado.
Whatever you order, it is sure to be delicious! Oh, and there may be a wait if it is busy, but trust me – the food is worth it!
Mestizo Louisiana Méxican Cuisine is located at 2323 South Acadian Thruway in Baton Rouge, Louisiana.
Parrain's Seafood Restaurant
If you think this list is chock full of seafood, you're right. I mean, you're in Cajun country! And Parrain's is serving up the best seafood you can find anywhere.
They've got shrimp, crawfish, crab, and catfish. They even have 'gator for an appetizer! When in Cajunland, eat like a Cajun.
Oh, and if you are not in the mood for seafood, try their 14oz pork chop or chicken platter. Finish off your meal with a decadent white chocolate bread pudding. Delish!
Cocha
Right in downtown Baton Rouge, Cocha is a place like none other. They pride themselves in sourcing food locally, organic when possible, and they make everything from scratch, every day.
Cocha makes you feel like you are at home with great attention to detail and awesome customer service. And, they have a pretty awesome bar to meet up for drinks with friends.
Try the Cachapa… a Venezuelan Corn Cake with a choice of slow roasted pork or jackfruit, cheese, crema, pickled red onion, and organic spicy micro-greens. It's gluten free and can be made vegan, vegetarian, or dairy free.
Or, if you're feeling like seafood, try the seared scallop and shrimp chupe… Peruvian seafood stew, pan seared scallops & Louisiana gulf shrimp, fingerling potato, charred organic corn, asparagus, avocado, seafood broth, and aji amario. This superb dish is also gluten free.
Whatever you try at Cocha, you are sure to leave with a full belly and a smile on your face.
Sammy's Grill Highland
For a reasonably priced meal, you can't beat Sammy's Grill Highland. Order your freshly caught and boiled crawfish by the pound, but be sure to check timing. First batch Monday to Thursday by 4pm, and first batch Friday, Saturday & Sunday by Noon.
We had the fried alligator with jalapeño ranch dip, Caesar salad, crab cakes, and seafood gumbo (shrimp, crawfish, and crab) for appetizers.
For lunch, we chowed down on a big 'ole platter of Crawfish with Corn and Potatoes. Now I gotta tell you, I like spicy food with lots of flavour, and this did not disappoint. The platter was fun of flavour, and corn and potatoes packed an even bigger spicy punch!
And they have waaaay more than that on the menu… burgers, sandwiches, Poboys, pasta dishes, steaks, catfish, oysters, and pretty decent kids menu.
We finished it off with White Chocolate Bread Pudding for desert. Tough choice, as they also have Mississippi Mud Pie and Bananas Foster Cheesecake on the desert menu.
Sammy's Grill Highland is located at 8635 Highland Road in Baton Rouge, Louisiana.
The Chimes Restaurant & Tap Room
For over 25 years, The Chimes has been serving up fine dining in a relaxed, family friendly environment. They make everything from scratch, and have an extensive beer and liquor menu.
If that's what you're lookin' for, then The Chimes is where you've gotta go!
Appetizers include Hushpuppies, Crawfish Fries, Shrimp & Grits, and Boudin Egg Rolls. You can also get raw oysters from their Raw bar.
Small plate offerings include Louisiana Alligator, Chimes Lagniappe Cakes, and Boudin Balls.
For mains, try the Crawfish Étouffée, Red Beans & Rice with Sausage, Blackened Chicken Alfredo, Catfish Perdu, New Orleans BBQ Shrimp, Crawfish Royale, or the Charbroiled Catfish with garlic butter.
The Chimes Restaurant & Tap Room is located at 3357 Highland Road in Baton Rouge, Louisiana. There is a second Baton Rouge location at 10870 Coursey Blvd.
Beausoleil Coastal Cuisine
Beausoleil Coastal Cuisine brings some serious elegance to Cajun cuisine. They source all of their ingredients from local area farmers, fisherman, and food producers, ensuring the food they serve is super fresh and top quality.
For starters, savour the Blue Crab Claws, infused with Calabrian pepper, with black garlic aioli and kimchi slaw.
At dinner time, try the Caribbean Jerk Stuffed Palace Cut… a citrus stuffed fresh grilled fish, with roasted carrots, mango wild rice pilaf, and orange jalapeño butter sauce. If you're feeling extra hungry, try the Grilled Seafood Tower… 4 lobster tails, 1 lb saffron-infused boiled shrimp, 1/2 lbs marinated blue crab claws, 9 raw oysters, with house sauces.
Does it get any better than that? Maybe if you combine it with a snack of Ceviche or Crispy Brussel Sprouts!
Mid City Beer Garden
If you love beer, and gardens, or great cocktails and food, then the Mid City Beer Garden is your place.
They have a huge selection of craft beers, with 40+ taps as far as the eye could see. And, they are pet friendly! You can bring your fur friend in the restaurant with you.
I was feeling like a cocktail, so after asking our awesome server Andrew for a recommendation, he suggested the Briar Rose: Ketel One Botanicals Grapefruit & Rose Vodka, with Fentimans Sparkling Rose Lemonade. It was both delicious and refreshing!
We ordered Boudin Balls for an appetizer: house-made shredded pork and rice boudin balls, deep fried, served with a tangy dipping sauce.
For dinner I had the Brisket with Asparagus and focaccia bread.
Mid City Beer Garden is located at 3808 Government Street in Baton Rouge, Louisiana.
Mansurs on the Boulevard
If you're looking for fine Creole cuisine, then Mansurs on the Boulevard is your place. They've been serving Creole with style since 1989, and have an extensive wine list sure to please and connoisseur. Be entertained by a live pianist as you enjoy your meal.
For appetizers, enjoy some Oysters On the Half Shell, Crab Cakes Covington, Zydeco Mushrooms, or Cajun Arancini.
For your main course, try the Grand Filet Mignon, East Coast cold Water Lobster, Shrimp Vacherie, Creole Chicken Piccata, or "The Dish That Made Us Famous" – Cedar-Roasted Redfish. It's roasted on a plank of cedar and seasoned with Creole lemon caper butter. Amazing!
As this is a fine dining establishment, dress code is business causal.
Mansurs on the Boulevard is located at 5720 Corporate Blvd A in Baton Rouge, Louisiana.
Eat and Drink your way through Baton Rouge!
Well, there ya have it! 10 Awesome places to eat and drink in Baton Rouge, Louisiana. Try them all, then let us know how it went!
Cheers,
Big Daddy
If you are a PR agency or brand and would like me to review a travel destination, vehicle, restaurant, product or service, please send me an email at craig@bigdaddykreativ.ca
Craig is a husband, father, team leader, travel and food writer, senior youth group coordinator, designer, brander, community builder, volunteer, and social media strategist. He likes to travel, go camping, go on road trips, watch movies, build stuff, operate the grill, and sing with his band. Craig is a member of the North American Travel Journalists Association and Travel Media Association of Canada. If you are a PR agency or brand and would like Craig to review a travel destination, vehicle, restaurant, product or service, please send him an email.