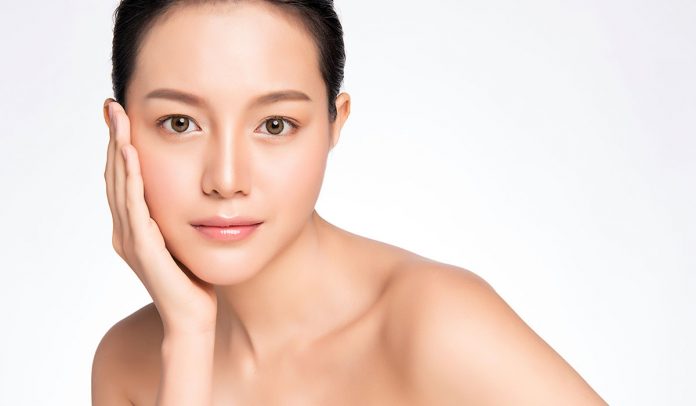 Have you heard? Glass skin is the latest Korean skincare trend that's blowing up on Instagram, and it ticks off the top goal on our beauty wishlist: a crystal-clear complexion. Taking dewy skin to the next level, this look is all about beyond-luminous skin that's super-plump, super-reflective and super-lit, thanks to a combo of skincare and makeup. If you want in on this glossy, glassy finish, keep scrolling to discover three steps that'll get you glowing in no time. It's your time to shine.
Step 1: Prep & Polish
A fresh-faced base starts with good skincare, so make sure your routine is on-point. To perfect your glass skin look, start by double-cleansing with a cream cleanser and muslin cloth. Buff the cloth onto skin in circular motions to fully remove makeup and lightly exfoliate skin in one step, boosting radiance instantly.
Hydration is the key step to achieving a glass skin look. When applying moisturiser, start at your forehead and massage into skin with fingertips in circular motions. Move down to cheekbones, massaging under eyes, your nose and outwards to cheeks and chin. Use your knuckles to massage along the jawline and blend moisturiser down your neck. This super-quick, skin-smoothing facial massage technique gets your circulation going and your skin glowing in an instant. Yaaasss.
Finish by smoothing a small amount of primer, like Fix & Perfect Pro Primer, onto skin, blending upwards and outwards to create a poreless, bright and even-toned effect.
Step 2: First Base
Ready for phase two? Now your skin is looking flawless, step up the glow with a touch of our new dew-boosting foundation, Lasting Radiance. Pump a small amount on the back of your hand and mix with a drop of a light, hydrating moisturiser. This gives your base a sheerer finish that's ultra-natural-looking, while the foundation's light-reflective radiance pearls have you positively gleaming. Blend the two formulas together, then dot onto forehead, cheeks, centre of nose and chin.
Then, starting at your nose, use a fluffy foundation brush or pointed sponge to lightly blend your base outwards. Use your fingertips to apply a little extra around the nose, under eyes and chin, or on any areas that need more coverage. Give skin a gentle tap around the forehead, cheeks and chin to boost circulation and instantly up the glow factor.
Step 3: Glassy Finish
The final polish. For that glass skin reflective shine, our new Jelly Highlighter is here to get your glow on. It's a water-based, bouncy gel that comes in three shades; rose gold Candy Queen, true gold Poppin' Bottles and holographic Shifty Shimmer. Tap the highlighter around the brow bone, tops of cheekbones, centre of the nose and the tip of the chin… everywhere the light will naturally hit to create the most radiant, dewy finish.
To up the shine even more, glide Oh! My Gloss Lip Gloss in Crystal Clear over lips for a mirror-shine finish. You could even add it to the tops of cheekbones to create a subtle face gloss.
Finish your glass skin routine by misting Insta Fix & Glow Setting Spray over skin to lock in your glow. It's super-hydrating, leaving a dewy, plump finish to complete your crystal-clear complexion.
Want to get that glow with a little extra coverage?