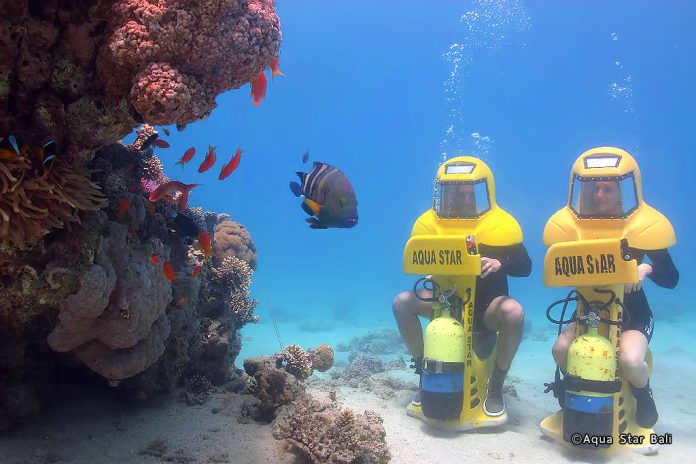 Underwater Scooter Adventure: Driving A Subscooter In Mauritius!
Ever heard of a scuba scooter? Neither had I until a few days ago.
I'm in Mauritius as part of the #MyMauritius Explorer Lab with iambassador and Mauritius Tourism, where we spent a week doing a mixture of workshops about blogging and tours around the island discovering Mauritius.
When they told me one of my activities would be a subscooter I was a bit perplexed, I'd never heard of it before and didn't know what to expect!
In this blog post I've outlined everything you need to know about doing an underwater scooter adventure in Mauritius, including the basic information like cost, location and duration, but also more personal insight about my experience.
What is a scuba scooter?
Let's start with the basics, what exactly is a subscooter? Also known as scuba scooter or underwater scooter, however you want to call it.
As the name suggests, a "subscooter" is a crossover between a scooter and a submarine. It combines elements of both to create a completely new and unique experience, which you can have only in Mauritius!
The subscooter basically looks a bit like a normal Vespa scooter, with a slightly wider front and a big glass dome that covers your head.
There are two seats on the subscooter so that you can ride with a friend (as you often would with an actual scooter)!
The person sat in the front has access to the accelerator pedals and the steering wheel, whilst the person sat in the back has more freedom of movement if they want to bring a GoPro and take photos of what is going on outside the scooter.
The subscooters go to about 3 metres below the sea surface, and can go to a speed up to 4km/h.
About Blue Safari
We did our subscooter experience with Blue Safari, a local company that was founded in 1998 by two Frenchmen with a passion for sailing, the sea and travelling.
It started off as a single submarine for five passengers, and then expanded to two 10-person submarines and a fleet of underwater scooters.
The subscooter was actually invented by Luc Billard, one of the co-founders of Blue Safari, and at the time of writing Mauritius is the only place where you can go on a scuba scooter dive!
Blue Safari delivers without a doubt a unique marine experience.
Practical information about diving with a subscooter in Mauritius
Before we jump into my experience and what it's really like to do a subscooter dive, I wanted to cover some logistics basics.
Price
The subscooter experience with Blue Safari costs 5,100 MUR (around 127 EUR) for a person going solo, or 6,700 MUR (around 166 EUR) for two people going together.
Where
We did our scuba scooter adventure with Blue Safari, located in Trou aux Biches, in the northwest side of Mauritius island.
Excursion duration
The whole experience lasts around 2 hours. The actual time you spend in the water on the subscooters is around 20-30 minutes, but you need to take into account the getting there, preparation and back.
You will meet at the Blue Safari office, take a boat out to the platform where the subscooters are, receive the induction speech by the crew, have some time to get ready and lock up your bags, all before actually getting in the water!
After the dive you will have some time onboard to get changed and for refreshments, then you still need to take the boat back to shore. You can see how it all adds up.
Health & Safety
Before getting in the water the crew will give you a full run down of the gear and excursion. They will teach you how to manoeuvre the subscooter and the scuba diving signals you need to do to communicate with the scuba divers.
We had three subscooters in the water and there were two scuba divers member of the crew supporting us, which they called "dolphins".
There is a red button that you can press if you need help, this emits dolphin sounds that carry in the water that the scuba divers can hear underwater (hence the name "dolphins"!) and they will come help.
You are also given a padlock and key when you reach the main boat from which you then board the subscooters, there are for the lockers where you can leave your bags while you're in the water.
There is a spot in the dry air dome of the subscooter where you can keep the key. The scuba scooter will float at about 3 metres of depth, not too deep but not too shallow either.
At no point will it rest or "drive" on the seabed floor, so you shouldn't worry about it killing the corals or reef.
Photo and videos
One of the scuba divers that will accompany you on your dive will have a GoPro, with which he will take photos and videos of your subscooter experience. You can buy these after for an additional price.
If you have a GoPro you can bring it with you and take photos and videos with that, but only the person in the back can use it, since the person in the front needs to drive the scooter!
My thoughts on our underwater scooter adventure in Mauritius!
You know all the basics, and now you're probably wondering, but what is it really like to dive with a scuba scooter? It's unlike anything I had ever done before; it's a pretty weird experience but a very unique and fun one.
If you're like me and you love all sorts of marine and aquatic activities, it's a pretty cool adventure to add to your bucket list. I had been scuba diving before (both in Thailand and Kenya) but I'm not a huge fan of it.
This provides a fun alternative to scuba diving since despite being based on the same principle; it feels a bit less strict.
You don't go as deep underwater, which isn't as scary, and you don't have to breathe out of a mouthpiece, which is what puts me off scuba diving.
Despite the fact the air in the dome is from an oxygen tank like in scuba diving, it doesn't have that same recycled taste that scuba diving tank air has that I personally dislike.
As someone who is slightly claustrophobic, I was pretty scared before doing the scuba scooter experience. Before seeing the subscooters I didn't really understand what they would be like and I was afraid they'd be too small or dangerous.
The fact that they don't go too deep, combined to the calm and professional manner of the crew calmed me and I was able to dive. I also liked that they're very open, so you never feel trapped inside.
The only part that is a bit scary is as they first lower the subscooter in the water, but once that is done you're as free as a fish!
One thing I do recommend if you're a bit claustrophobic like me, is to go solo.
I know it's counter intuitive, initially I was scared to go alone and I asked one of my friends to come with me, but when they closed the dome around us and I saw how small it was, I kicked my friend out of the scooter (lol).
My reasoning was that if I was alone and decided I was too scared or if something went wrong, I would have more freedom of movement and I could just duck under the dome and swim up to the surface.
The crew are all super friendly and professional, and the "dolphins" (how they call the scuba divers that will support you during the dive) are always on hand to help.
At one point my subscooter was drifting and I couldn't get it turn back to the others so I pressed the emergency dolphin signal and one of the divers immediately came to fetch me back.
We spent the initial part of our dive "driving" along the seabed floor, with the crew pointing us in the right direction.
There is a small coral reef close to where the main boat is anchored that is your final destination, here you will be able to see lots of corals and colourful fish.
Driving the subscooter is pretty fun. There are two pedals that you have to keep pressed for it to move forward, although in my case the subscooter didn't steer very well so I could only really go straight, so I had to wait for one of the scuba divers to point me in the right direction.
The scuba scooters only go at about 4 km/h so they're not fast don't worry, you won't be speeding through the water like in a Spy Kids movie! It's a pleasant cruise at the bottom of the sea, taking in all that the marine fauna has to offer.
The crew will bring some bread with them that they feed to the fish around your subscooter.
This is pretty fun because the fish know to expect a midday snack and will start following the subscooters even before the divers take out the bread.
You will see the fish all around you through the dome, but if you turn and look down and behind you will also see them getting quite close and almost inside the scooter with you.
Where to stay for your scuba scooter experience
Mauritius isn't a very big island, but the roads aren't great. If you're staying on the opposite side of the island it can take a while to reach Trou Aux Biches. We were staying in the Beachcomber Resort & Spa and can highly recommend it.
From the resort it's a short 10 minute drive to the Blue Safari office for your subscooter experience. Besides the convenience of the location, it's also an incredible property.
The Beachcomber is beachfront and has a beautiful central pool surrounded by palm trees, villas with private pools and an excellent restaurant. If you're looking for somewhere beautiful and close to Blue Safari, this is the place.
Have you ever been on a subscooter before? How did you find it? Let me know in the comments below!
Diving with a scuba scooter was a unique experience, which I'm glad I did. Paired with my hike of Le Morne Brabant, it's amongst the most fun activities I've done in Mauritius.
You can only do it in Mauritius so if you're visiting this paradise island, make sure to add it to your bucket list!
The scubascooter is a fun alternative for those who don't want to scuba dive, and would like to experience the beautiful underwater world of Mauritius with someone else!
I hope you find this guide useful in planning your own underwater scooter adventure in Mauritius!