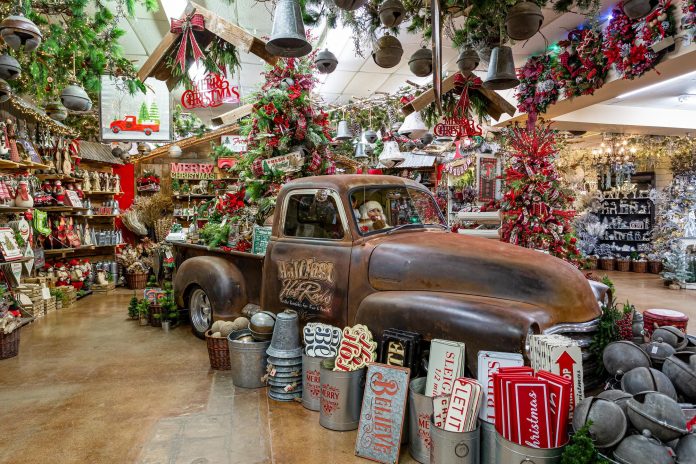 Everyone feels fortunate to have their family at Christmas time. The year's most celebrated holiday on December 25th is important both for homes and churches worldwide. Christmas celebrations include spending time with the family, decorating the entire house, inside and out and shopping, for friends and relatives. Spending Christmas with the family is very important. On this day, all family members spend time in baking cookies, making fudge and preparing a big Christmas dinner, with all the trimmings. The children love to see each other and spend the day playing games and sharing their new gifts and toys that Santa Claus brought for each of them.
It may be January, with Christmas as far away as it can be, but for fans of the holiday season, it may also be comforting to know that in central Michigan, in the world's largest Christmas store, it's Christmas 361 days a year.
Bronner's CHRISTmas Wonderland
In the small town of Frankenmuth, population 5,131 as of 2016, you can experience a small piece of Bavaria in the heart of Michigan. Settled by German immigrants in the mid-19th century, the town's German, and particularly Bavarian, heritage and culture has been preserved, and this draws over three million visitors a year.
One of the main attractions is Bronner's CHRISTmas Wonderland, the world's largest Christmas store, where every festive item imaginable can be found throughout its huge 2.2-acre building. Started in 1945 by "Mr. Christmas" Wally Bronner, the store had three previous locations before moving to its current home in 1977, with extensions in the early '90s and '00s bringing it to its present size, which equals nearly two football fields. The lane built to access the site was appropriately titled Christmas Lane.
The site also includes the Bronner's Silent Night Memorial Chapel, a replica of a chapel in Austria where "Silent Night" was first sung on Christmas Eve in 1818.
The store now deals in over 50,000 different trimmings and gifts, and sells around 600,000 glass tree ornaments, 500,000ft of garland and 150,000 postcards a year. Outside it is flanked by three gigantic Santas and a 15ft snowman, and hundreds of electric-light models are available to buy. It's no surprise, then, that their daily electricity bill is $900.
And that schmaltzy Bronner's experience wouldn't be complete without lashings of cheesy slogans. The store proudly declare they've been "decorating hearts and homes with peace and love since 1945". Their official motto is "Enjoy CHRISTmas, It's HIS Birthday; Enjoy Life, It's HIS Way", which makes a lot more sense when you believe that "Christmas isn't just a holiday – It's a way of life!"