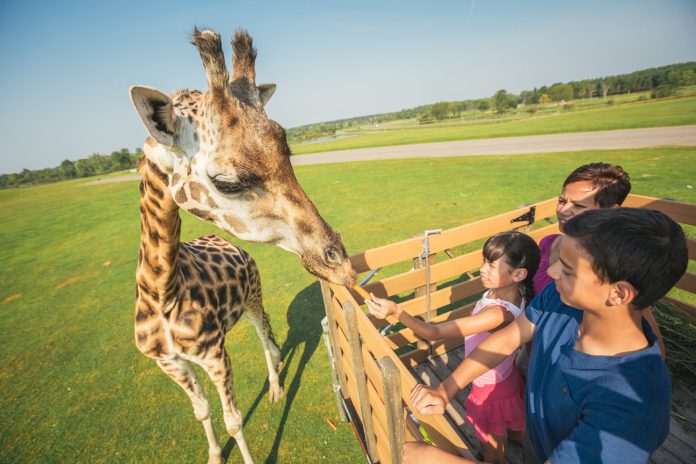 Hamilton is a beautiful city nestled in the ports of Lake Ontario in Canada. Its coastline possesses exceptional views dotted with soothing waterfalls & lush green canopies. There are numerous fun things to try in Hamilton, Canada that you can explore with your family or friends. Yet, planning all the tours is a tricky part, whereas the venues & their highlighting features take a bulk of time! Hence, serve yourself with this brief list of 10 exciting things to do in Hamilton, that will fill your tours with the exceptional beauty of Hamilton's waterfalls & a dash of adventure is always complimentary. This list makes sure you make build nostalgic memories without any extra charges of hustle my friend!
1. Safari Tour in Hamilton
Hamilton fun starts with an intoxicating tour of the African Lion Safari. This was founded by Colonel Gorden Debenham Dailley, in 1968 under the passion for creating a new attraction in Canada. The project began with just 40 lions. Now you can have a complete wildlife safari adventure of 1000 animals, 100 different species, over 750 acres of parkland. It is often called "Canada's Original Safari Adventure". It is a must-try fun thing to do in Hamilton especially during family trips. Whereas, it is just 1.5 hours away from the famous attractions of Buffalo and Niagara Falls.
2. Hiking at Historic Bruce Trail
Bruce Trail is an epic 890-kilometer-long hike that tickets the ego of every hiking enthusiast. Stretching from majestic Niagara Falls all the way to Georgian Bay on Lake Huron. This is one of the top adventures in Hamilton to enjoy this year. You will also encounter some of the famed & spectacular waterfalls of Hamilton including the beautiful Canterbury Falls. It is settled in Dundas Valley Conservation Area lying just a few minutes away from the west of downtown Hamilton.
3. Waterfront Stroll at Bayfront Park
If you seek some "isolated me-time" in Hamilton, then Bayfront Park is the perfect place to acquire some peaceful time with your own self. It is situated at the west end of Hamilton Harbour. Initially, it was a landfill site that is now transformed into the city's most attractive green spaces. A fine network of level trails wreathes this park with their ease of accessibility. The same trails connect an additional 6 acres of green space at Pier 4 Park to Bayfront Park. Walking here is one of the best things to do in Hamilton to experience the 1,800 meters of shoreline that also sustains natural fish habitat, a sandy beach & a public boat launch with plenty of parking slots. Don't forget your angling permits as there are numerous incredible fishing zones too.
4. Rewind Tour of Westfield Heritage Village
A unique tour of time travel is arranged by the Rockton community in Westfield Heritage Village nestled just 25 minutes away from the west of Hamilton. They have managed to capture the region's past via 35 historic buildings reconstructed around a central "village" on an 840-acre site. The whole vibe is recreated to showcase the lives and culture of Canadians from the 1800s to the 1900s. You can also interact with costumed interpreters while spending time at the grounds, featuring pleasant trails through the meadows and woods. It is one of the popular things to do in Hamilton that any history geek shouldn't miss.
5. Enjoy the Art Gallery of Hamilton
Art enthusiasts set your bags up! As the art gallery touring is the famous thing to do in Hamilton. These were established in 1914 & later replaced onto King Street West. You would be amazed to find that there are more than 7,000 square meters of museum spaces to explore in Hamilton. More than 10,000 artworks are featured in these museums. Along with uniquely rotating displays from the permanent collection, the museum also features regular visiting exhibits.
6. Witness Canada's "Fightingest" Warship: HMCS Haida
Honored with the title of Canada's "fightingest ship" HMCS Haida is one of the popular attraction figures in Hamilton. It is famed for sinking the most enemy tonnage during WW2. Now it accounts amongst, the top waterfront tourist attraction that you can add to your Hamilton travel itinerary. It possesses quarters that accommodated around 250 crewmen of the ship. Apart from the expedition, there are other fun things to do in Hamilton such as you can try the morse code if you find it interesting at this ship.
7. Canadian Warplane Heritage Museum Flights
For all vintage lovers, the Canadian Warplane Heritage Museum is one of the best places to spend their free time. It is situated at Hamilton's international airport, for static displays & expeditions. A lot of planes are fully restored and operable that includes 47 military aircraft ranging from WWI evacuation planes to the modern jet fighters. But the highlight of this museum is the Avro Lancaster, out of which one WW2 bomber is still able to fly. If you really want to experience the flights of these ancient treasures you can plan your visit during the museum's annual air show.
8. Visit Dundurn Castle
The history geeks love to witness the Dundurn Castle in Hamilton. Dundurn castle has been the testimony to a lot of iconic historical moments in Canada's history. It consists of 1,700 square meters of living space and approximately 40 rooms, with an incredible Neoclassical design. The 4 majestic pillars at its entrance are the major attractions of this tour. Whereas, a two-acre kitchen garden that is still working, and the old coach house are some other fun exploration sites at this popular place in Hamilton, Canada to explore.
9. View the Royal Botanical Gardens
Finding a soothing, garden full of floral beauty nestled just 10 minutes away from the east of Hamilton, is surely a perfect plan to set in action. Royal Botanical gardens cover around 2,420 acres, of land that houses 1,100 species of plants. Such a wide collection is segregated into a number of areas for ease of access. Out of these, Hendrie Park is the largest garden that comprises RBG's cultivated land adorned with Rose Garden. There are endless varieties of roses ranging from hardier, cold-weather Canadian types, to the attractive Morrison Woodland Garden collections. You'd love this incredibly fun thing to try in Hamilto
10. Hamilton's Waterfalls
Hamilton's Waterfalls are the top attraction figures of this city. There are more than 100 waterfalls situated near the Niagara Escarpment in Hamilton. Exploring such wonders is surely one of the exciting things to try in Hamilton at least once. One of the major superstars out of these waterfalls is the Albion Falls, which is also locally known as "lover's leap." With an elevation of around 20 meters, it is an iconic place to visit once. Along the way, you can also witness the Tews Falls that is 41 meters tall, & offers breath-taking views of the countryside of Grand falls outlining Hamilton.