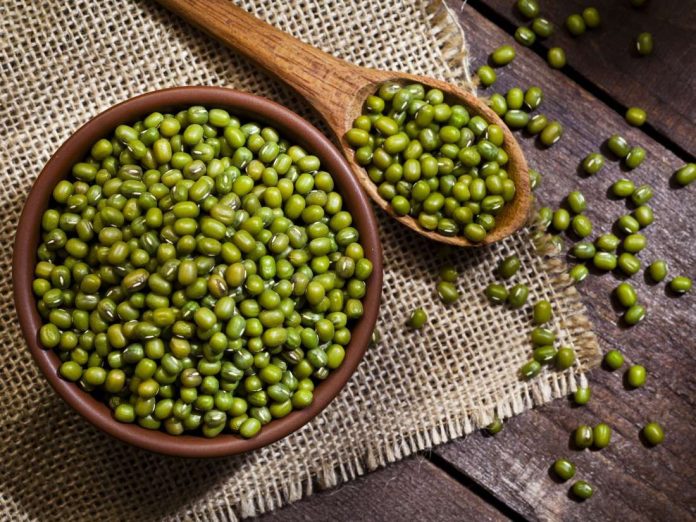 As the name says, mung beans come in the category of beans, and in the broader category of pulses. And why am I telling you this is because pulses are called 'functional foods'. Which means they not only provide you regular nutrients protein and carbs, but they also are a great source of B vitamins, minerals, antioxidants and resistant starch.
What's the deal with resistant starch? Well, it's a special plant fibre that feeds the healthy gut bacteria. And if you don't know much about the healthy bacteria, I can say in one word, they are 'awesome'. They keep the bad bacteria and microbes in check, so your immunity will go up and your infection rates will go down. And what else will go down is your weight as these good bacteria also help with fat metabolism.
And that's because of their rich amino acid profile. Amino acids are essential for building muscles, tissue as well as hair. Nowadays, you will find mung beans being used to make meatless burgers, vegetarian omelettes, etc. Basically as a substitute for meat because of its texture and protein quality.
Besides, if you have low energy, pale skin and thinning hair, eat mung beans.
They contain high amounts of iron- the mineral necessary for making haemoglobin. When you have adequate haemoglobin, you are able to make better bonds with oxygen  which gets transported to every cell of your body. So you will be more energetic and have a glowing skin and stronger and healthier hair.
Mung beans are a nutritional powerhouse. But just eating a bland vitamin-rich food is no fun. Like being in a job you don't like. The good thing about mung beans is that they tastes great. So it's a win on all fronts.
Mung beans are so versatile, we had mung beans in various forms, mung bean dosa (savoury crepe), mung bean fritters, mung bean stir fry and mung bean curry. And they all tasted great. I will be sharing with you a recipe of mung bean dosa, which I cook a lot and it's also easy to make.
Okay, you know mung beans benefits, now let's see how to cook it.
How to Make Mung Beans Dosa?
I like to keep cooking minimalist. Most of the time, I put two or three spices. And that is how we eat. Let the main ingredient standout. In case of the mung beans dosa, we only need mung beans, rice, salt and some water for soaking and grinding. You can add more things if you like, I have given the suggestions below,
You will need:
1 cup Mung Beans
1/4 cup Rice
Salt to taste
Water
1 Spring Onion chopped (optional)
1 Green Chilli (optional)
Making the Dosa Batter:
First, wash mung beans and rice. You can soak them together or separately. Place in a bowl and add enough water, so the beans are covered with 3 inches of water. Soak for 24 hours and change the water once or it will smell.
Mung beans will double in size and may show signs of sprouting. Drain the water and give it a rinse.
In the grinder, place mung beans, salt (along with a green chilli).
Add some water and grind to a smooth batter (consistency should be like dosa or pancake).
Making the Dosa:
You need a flat pan to make dosa. Heat the pan and spread some oil or ghee.
Using a ladle or big spoon, pour the dosa batter in the centre and spread it in a circle using the back of the ladle.
Drizzle a few drops of oil around the sides and in the centre of dosa. Keep the pan on medium heat.
If you want, you can sprinkle some chopped onion on the top.
Turn the dosa and cook on the other side.
Serve with tomato chutney, coconut chutney or even ketchup.
Make-ahead and store the mung batter in the fridge:
If you want to eat mung beans dosa, you can't decide 10 minutes before. You have to plan it. But the good thing is this batter keeps for 2-3 days in the fridge. So if you make a large batch, you can eat it more than once.
And you can eat mung dosa for breakfast, pack it in your lunch box or have it for dinner.