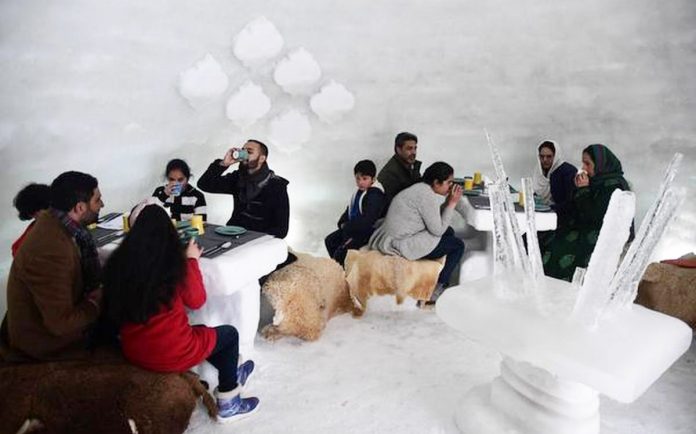 India's first snow igloo café has come up at Gulmarg, one of the Asia's premier ski resorts situated in the Pir Panjal Range of the Himalayas at an altitude of 2,650 m (8,694 ft) and about 56 km from capital Srinagar.
Set up by a local group of hotels on the lawns of its property in the cup-shaped valley, the igloo is 22 feet wide and 12.5 feet high from inside and can accommodate 16 people at any given time for lunch or dinner or just to have coffee or tea. The owners claim the café can make to the Limca book of records for it being Asia's biggest igloo.
An igloo, also known as a snow house or snow hut, is a type of shelter built of 'suitable' snow. Gulmarg like many other parts of the Valley received several spells of major snowfall in recent weeks and has recorded below-freezing temperatures constantly since mid-November last.
Waseem Shah, managing director of Kolahoi Green Group of Hotels and Resorts, said that the idea to set up Kashmir's very first igloo café crept into his mind after the family built a small (8×7 feet) igloo at its Srinagar home. "The idea of building an igloo café emerged after we built one at my home during the snow season in Srinagar. It garnered a lot of attention and we all got excited. Soon thereafter we decided to build one outside our Gulmarg hotel," he said. He added, "Its outside dimensions are 26 feet wide and 15 feet high. And we are already in talks of getting it recorded as Asia's biggest igloo".
Mr. Shah said, "The concept of a snow restaurant is very new to India although it has been tested successfully in Finland, Canada, Switzerland and some other countries. We wanted to do something dramatic for our guests and patrons and hence we came up with an idea of a snow restaurant". The task was accomplished with a team of 20 members working in two shifts in 15 days.
Snow igloos are normally built in a catenary curve, a shape more closely resembling a paraboloid and are necessarily not spherical. This is done so that the stresses of snow, as it ages and compresses, do not cause to buckle because in an inverted paraboloid or catenoid the pressures are nearer to being exclusively compressive.
The cafe is offering sumptuous spreads ranging from a traditional Kashmiri khewa, mutton, chicken tikka, or vegetarian course. At the Igloo Cafe, you can sit and dine on tables and benches made of snow.
In order to give it a traditional touch and also ensure comfortable stay by guests, sheepskin rugs have been placed on each snow- seat whereas small side-tables (also of snow) nestled into the corners hold accent lighting and Kashmiri artwork including hand-engraved Kashmiri copper Samovar.