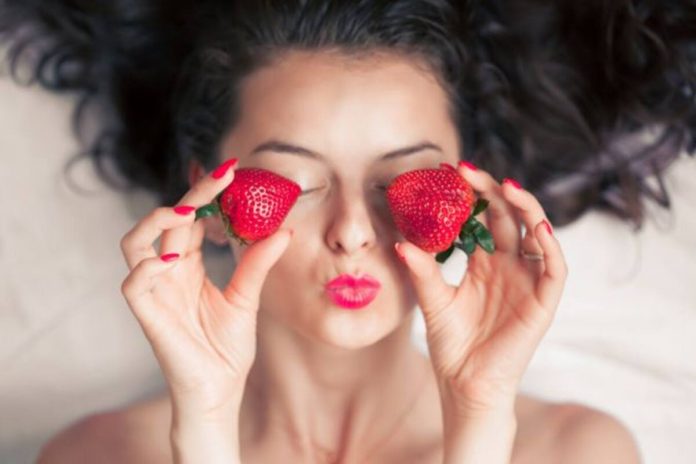 Strawberries get their vibrant color from plant compounds called anthocyanins, which exhibit significant antioxidant and anti-inflammatory properties. These antioxidants inhibit free radical activity, which is responsible for a great deal of skin damage. Strawberries naturally contain vitamin C, salicylic acid and alpha hydroxy acid-all of which may help to exfoliate, moisturize, and brighten the skin.
Additionally, the polyphenols in strawberries can help shield your skin from the harmful effects of the sun's UV rays, which cause premature skin aging, among other problems.
A)Strawberry and Lemon:
Take 3-4 strawberries and mash them. Add a tsp of fresh lemon juice there. Mix both the ingredients together and apply the mixture on your face and neck. Keep it on for 15-20 minutes and then rinse off using lukewarm water followed by some cold water splashes. Repeat 2-3 times in a week. The natural bleaching properties of lemon juice help in lightening acne scars and improve skin tone.
B)Strawberry and Chocolate:
Mash strawberries along with a tablespoon cocoa powder and honey. Apply on face for 15 minutes and wash off with warm water. It helps to make you skin glow and also makes it soft.
C)Strawberry and Aloe Vera:
Mash couple of ripe strawberries with the help of a fork. Alternatively, you can prepare strawberry pulp by blending few ripe strawberries. Take out and add a tbsp of each aloe vera gel as well as honey to that. Mix the three ingredients together and apply this all over the face and neck. Massage with your fingertips gently and keep it on the skin for 15-20 minutes. Wash off after that. Reapply once in every 3-4 days. Aloe vera is non-comedogenic, it helps in softening the skin without clogging the pores. The anti inflammatory as well as anti bacterial benefits of aloe vera make it an ideal solution to treat acne as well as other skin infections.
D)Strawberry and Coffee:
Make a paste out of some strawberries and add the finely ground coffee powder to it. The water from the strawberries should be sufficient enough to turn the mixture into a thick paste. If you feel the need to make it less viscous, you can add a few teaspoons of water to the mixture. Use this paste as a scrub and massage your face all over with it. After a few minutes, wash off the paste from your face with lukewarm water. This mask is an excellent exfoliant and gives your skin an even tone as well. Strawberries are loaded with Vitamin C which also helps brighten your skin tone.
E)Strawberry and Cucumber:
In a blender, put a 2-3 fresh ripe strawberries along with 3-4 cucumber pieces. Blend together and your cucumber-strawberry face pack is ready. Apply and let it stay on the face for 15-20 minutes. Wash off and repeat 2-3 times in a week. The high water content in cucumber help to moisturize as well as hydrate the skin without imparting any oiliness.
F)Strawberry and Honey:
Mash few strawberries with fork until it turns into a smooth paste. Add a tablespoon of honey and apply this mask for 15 minutes and wash with warm water. Honey is an anti-oxidant that helps to fight skin impurities and acne.
G)Strawberry and Olive Oil:
Take 4-5 fresh strawberries and mash them using a fork. Alternatively, you can prepare strawberry pulp by blending a handful of fresh strawberries. In a separate bowl, take a tbsp of olive oil, two tbsp of honey and few drops of fresh lemon juice. Mix together and add the strawberry pulp in. Give it a final mix and apply the face mask all over the face and neck, massaging gently with the fingertips. Keep it on the skin for 15-20 minutes and then wash off with lukewarm water. Also splash some cold water on the face. Repeat this treatment twice in a week to get soft, glowing skin.
H)Strawberry and Potato:
Put few potato cubes, 3-4 strawberries and 1-2 tsp of honey in a blender. Blend together to prepare a paste. Apply that all over the face and neck and wait for 15-20 minutes. Rinse off with fresh water. Repeat 2-3 times in a week. Potato is great for dry skin. It contains potassium and calcium-two minerals, which can heal dry skin by providing hydration and moisturization.
I)Strawberry and Orange:
Peel an orange and extract all the fiber from it into a bowl. Add some mashed strawberries to the orange fibers and mix well. Apply this mixture as a mask onto your face and neck region and leave it to dry. Once it has dried completely, scrub off the remnants of the mask with your hands and wash your face with cold water. The acidic nature of the mask helps in maintaining your skin's pH levels and further prevents the production of excess oil and sebum. This fruit mask is loaded with nutrients. Both strawberries and oranges have high natural acid concentration levels which make this mask an excellent option for dealing with acne or skin irritation issues.
J)Strawberry and Yogurt:
Cut 4-5 strawberries and into small pieces. Put them in blender to make strawberry pulp. Add one tbsp each of fresh yogurt and honey to it. Mix all the ingredients .Apply all over the face and neck and keep it on for 15-20 minutes. Rinse off and repeat once or twice in a week.
K)Strawberry and Papaya:
Put few ripe papaya cubes, 3-4 fresh strawberries and a tsp of fresh lemon juice in a blender. Blend together to prepare a smooth paste. Apply an even layer of the face pack on the face and neck. Let it sit on the skin for 15-20 minutes. Rinse off with lukewarm water. Reapply this strawberry face mask twice in a week. Papaya contains 'papain', which is a protein dissolving enzyme. It helps in exfoliating the skin and removing the layers of dead skin cells. Also papaya has significant skin lightening properties.