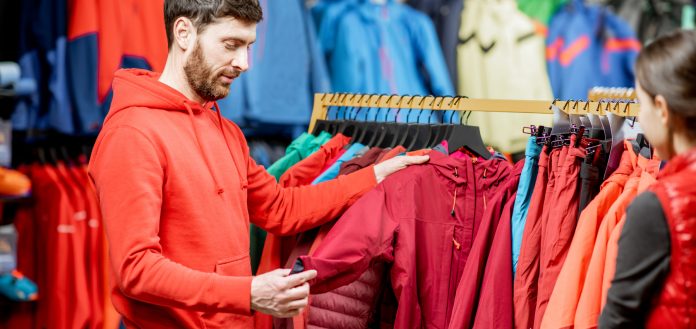 The right clothing can quite literally be the difference between living and dying if you're caught outside in bad weather.
Of course, keeping all of your fingers and toes and avoiding freezing to death are benefits of choosing the right clothes for cold weather, too!
In general, the rule of thumb for living in a cold environment is to get insulation between you and the environment.
Best Fabric for Clothing
Synthetic fabrics such as polypropylene work the best. Polypropylene wicks moisture away and insulates even when wet. Wool and silk are the best natural fibers for cold weather. Wool insulates better (even when wet) and is naturally odor resistant. It wicks moisture, but not quite as well as synthetics. Wool is also durable.
If it's not too cold and you are less active, silk is a good option. It retains odors, and is moderately wicking. A thin layer of silk can fit under almost any garment. Silk is less durable than wool.
Cotton is a poor choice, because it absorbs water and holds the water next to your skin.
Dress in Layers
The first and most important step to keeping warm is to dress in layers. This helps in several ways.
First, it allows you to shed some clothing if you get too warm. There's nothing more miserable that sweating so much that your clothing gets wet, then being exposed to cold. Staying dry is extremely important if you're planning on surviving long enough to warm your toes by a fire somewhere.
Layers also serve different functions. Your first layer should be your long underwear. It should fit snugly against your skin and be made of a nonabsorbent material. This layer works by wicking away water and keeping your skin dry.
A middle layer should be warm and insulating, and the outermost layer should block the wind. It's also good to make this layer waterproof.
Now, most people make the mistake of only thinking about a coat; if you're going to survive, you need to cover as much as your body as you can, while still maintaining mobility. You lose most of your body heat through your head, hands, and feet, so make sure that you keep those well-insulated.
The next layers are important because they serve to absorb the moisture out of your long underwear and transport it to the environment through evaporation.
Once again, synthetics are best here, but wool is a good substitute. Shirts, sweaters, and trousers are what you will likely be wearing when you are active. Pay close attention to the fit, as the mid layers work by trapping air and preventing it from circulating and carrying away your body heat.
Your coat may serve as both the middle and outer layers if it's stuffed with insulating material and has a wind-proof outer shell. The stuffing is the middle layer, and the shell is the outer layer.
Coats that are made to keep you warm as you go from your car to the office often offer more aesthetic incentives than functional ones. They keep you warm, but they're not built to keep your heat in long-term or to really block wind or keep you dry.
When you're choosing a coat for serious warming power in the real outdoors, go for a coat that has baffling those little layers of pockets full of fluff that are sewn together, sort of like a quilt.
Gloves/Mittens
Mittens are the best option because they keep all of your fingers together in one warm little pocket, whereas with gloves, your fingers are isolated. It's important that your gloves have great insulation if you choose to use them instead of mittens. Gloves do offer much more mobility than mittens.
What type of fabric you choose depends on your activity. If you're going to be sweating, you want something breathable that wicks moisture away while keeping your hands warm. If you're not going to be active, you may want to go for something with more insulation.
Socks
Keeping your feet warm can be the biggest challenge in winter, especially on those really cold days.
Liner socks are lightweight and small, but perfect for wicking away moisture. It's important to keep feet dry to keep them warm. The mid-layer socks are thick warm wool socks that insulate our feet. Usually, this is enough and we don't have to add any more, but when the temperatures get really cold, another outer layer is great. As you can see we like layering everything. If you are going to be in some extreme cold weather, the third pair of heavier wool socks will keep your feet toasty warm.
Hat
If you want, you can always buy a coat with a hood. There are some limitations when you're wearing a hood versus a hat, though, so if you opt to go with a hat, follow the same rule as you do with socks. Wool is good because it's both insulating and wicking.
Oh, and don't forget to cover your face. Your nose is one of the quickest appendages to freeze, so cover it up! A good wool balaclava will keep your head, face, and neck warm and toasty.