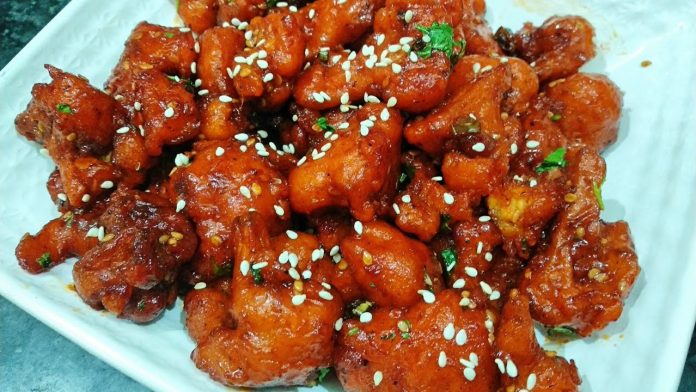 If you think cauliflower isn't for you, then you haven't tried this recipe! These Honey Garlic Cauliflower Poppers with our are out of this world. The perfect blend of crispy with a drool-worthy sauce, these poppers redefine cauliflower. What's better than eating your veggies AND enjoying it too?
Necessary goods
Cauliflower-1 small
Corn flour 1 tablespoon
Flour-3 Tablespoon
Water -1/4 cup
Salt – as needed
Ginger – 1 tablespoon
Garlic-1 tablespoon
Green Chilli Sauce-1 Tablespoon
Red Chilli Paste – 1 Tablespoon
Tomato sauce-1 tablespoon
Lemon juice – 2 tbsp
Soya sauce-1 tablespoon
Vinegar-1 tablespoon
Honey – 3 tablespoons
Onion stalk – 1 tablespoon
White sesame – 1 T spoon
Oil – as needed
Method of cooking
Wash the cauliflower finely with salt and a little turmeric powder
When the water boils well, add cauliflower and cook for 1 minute.
Allow the water to drain
Mix cornflour, flour and a little salt in a bowl and mix well
Add little water to it
Prepare a well thick batter
Now add cauliflower to it and rub it well
Fry it in hot oil (medium heat is enough)
Drizzle the roasted cauliflower with oil
Now prepare the sauce
Place a one-foot thick non-stick pan in the oven
Heat a tablespoon of oil and add chopped ginger and garlic and saute.
Watch the heat..keep it from burning..
Add all the sauces to it..
Then add lemon juice, vinegar, honey and salt and mix well.
After that add some water and boil it well.
Add the roasted cauliflower to this and mix well.
The sauce should be well coated on all sides
Finally sprinkle some onion stalks and white sesame seeds on top and transfer to a serving bowl..
Serve hot with fried rice..
Method
Wash cauliflower florets using turmeric powder and salt..
Add this to boiling water and cook for 1 minute
Then drain and keep aside..
Mix corn flour,maida and salt and add water little by little to make a thick batter..
Then dip each florets in this batter and fry them in medium hot oil ..
Drain the fried cauliflower in a kitchen tissue and keep aside..
Heat 1 tbsp oil and sauté ginger d garlic
Then add all sauces followed by vinegar,salt,honey and lemon juice..
Then add very small amount of water and bring to boil..
Give a taste test..All anything according to ur taste ..
Then add fried cauliflower and caot well with tha sauce ..
Finally garnish with spring onion and white sesame seeds ..
So the simple but yummy lemon honey cauliflower is ready ..
Serve hot with fried rice or ur choice of dish ..