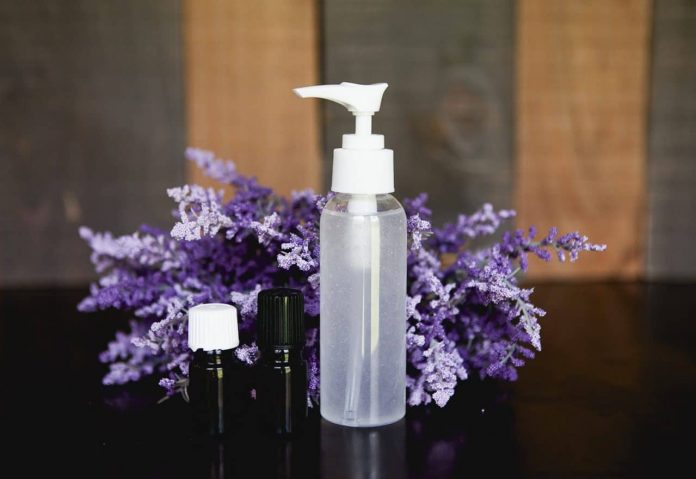 Germs are everywhere! They can get onto hands and items we touch during daily activities and make us sick. Sanitizers are great because when you are traveling or in emergency, you don't have to search for water to wash your hands. Just rub a small portion of sanitizer, the alcohol and antibacterial properties of the other ingredients in the sanitizer helps to kill the germs in your hands.
All the ingredients in this homemade sanitizer are pure and will not irritate the skin. The ingredients used for this sanitizer are rubbing alcohol, aloe vera gel, tea tree oil and glycerine. The alcohol in this mixture sanitizes the hands, you can also substitute unflavored vodka instead of rubbing alcohol, if you don't like the smell of rubbing alcohol. Aloe vera gel and glycerine in the sanitizer moisturizes the hands well. Tea tree oil contains antimicrobial properties. It helps to kill the bacteria in the hands along with alcohol. Try to buy the best quality pure aloe vera gel to make this sanitizer.
Ingredients:
Rubbing alcohol-1/2 cup
Aloe vera gel-1/2 cup
Glycerine-1 tsp
Tea tree essential-6 drops
How to Make?
1.Get the aloe vera gel ready. If you are using fresh leaf, wash, cut the thorns on both sides first and cut in half and scoop out the flesh.
2.Grind it well in a mixer and strain the mixture.
3.Add the measured out rubbing alcohol, glycerine and essential oil and mix well.
4.If it is not smooth, grind everything together in a blender. Pour into small bottles and use.
Notes:
You can use your own blend of essential oils, to make your own custom blend hand sanitizer.
Rubbing alcohol has a strong smell that many people dislike. If so, you can substitute it with unflavored vodka.
If you are making a large batch, try it with the aloe vera gel that available in the market.
While buying aloe vera gel make sure that it contains 100% pure Aloe Vera gel.
You can also increase the alcohol content up to 60%, if it does not dry your hands.
Shake well before use, especially if you are using fresh aloe vera gel.