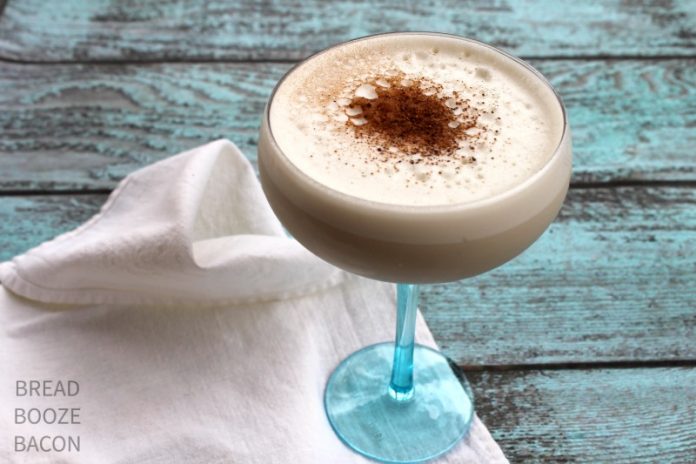 Bring all the boys to the yard.
Bourbon Milk Punch is a creamy, bourbon forward cocktail that is a party favorite! It's a wonderful merriment of flavors combined in one awesome drink!
Now, I know you're probably thinking, "Dude. This is not a punch. Where's the fruit juice?" And you,'re right. This is not a traditional punch – but technically neither is one made with fruit juice. But this punch does have five ingredients, so it totally fits the bill. Punch, after all, is from the sanskirt word pañc which means five – as in five ingredients. Now you know, and knowing is half the battle.
This particular punch uses bourbon. Yum! I'm an avid whiskey drinker, and I just had to try this recipe. It's pretty damn good too. The milk and bourbon marry well with the vanilla helping to blend the flavors, and a little sugar to add a hint of sweetness. Then you get that big aroma of nutmeg as you lift the glass. It's just wonderful. Perfect for fancy parties and hipster dive bars alike. Sláinte!c
INGREDIENTS
4 ounces 2% milk
2 1/2 tablespoons half-and-half
1 teaspoon vanilla extract
2 1/2 ounces good bourbon
4 teaspoons powdered sugar
Ground nutmeg for garnish
INSTRUCTIONS
Fill a cocktail shaker with ice. Pour in milk, half-and-half, vanilla, and bourbon. Then add powdered sugar.
Close shaker and shake vigorously for 30 seconds.
Strain cocktail into a coupe glass. Sprinkle top with freshly ground nutmeg.
NOTES
While I would love to tell you this cocktail works well in large batches, it's just not the same. You need the ice to mix the sugar into the cocktail. So suck it up, do yourself a solid, and make this drink to order.
NUTRITION
Calories: 311kcal
Carbohydrates: 15g
Protein: 4g
Fat: 6g
Saturated Fat: 4g
Cholesterol: 22mg
Sodium: 69mg
Potassium: 207mg
Sugar: 14g
Vitamin A: 250IU
Calcium: 176mg