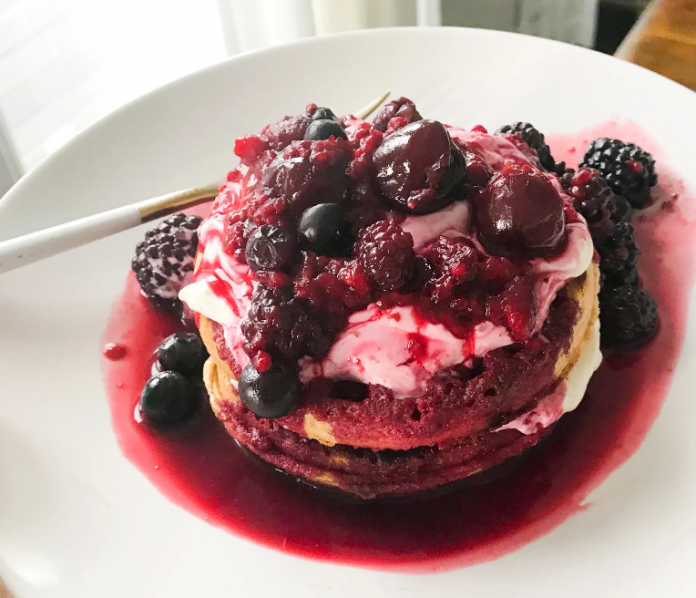 Trader Joe's is an absolutely crucial part of my food life. Lots of people assume that because I'm a dietitian I eat "perfectly" (whatever that means). But to me, a healthy diet is flexible and includes all foods, even processed ones. After all, I'm busy (I'm sure you are too), and my days are never predictable. That's why I lean on T.J.'s to help me make delicious, mostly balanced meals when I'm crunched for time.
Whether I'm coming back from a trip, recovering from a cold, swamped with work, or just feeling lazy, here are my favorite meals to throw together from already-prepared ingredients from Trader Joe's.
Ravioli with Sautéed Spinach and Walnuts
This comforting meal is full of flavor and fiber. I eat a version of this almost once a week because it's quick and hits the spot every time. You can switch it up by adding different types of greens and herbs (kale, collards, and chard all work well). And the walnuts are nice because they add a subtle crunch, plus a dose of unsaturated fatty acids.
Dal with Extra Lentils and Instant Brown Rice
Trader Joe's has a bunch of precooked Indian-inspired dishes, but if I'm being honest, they don't always do it for me. The flavor is there, but they lack bulk. That's why I like to add extra fiber (plus protein) to make the meal more satisfying. My go-to for making these precooked meals more filling is T.J.'s precooked lentils (which you can find in the produce section). They taste fresh and can be incorporated into almost anything, including this dal. I usually serve this with T.J.'s precooked frozen brown rice, which I promise tastes like you made it at home (it took me years to try because I had been scared by cardboard-tasting precooked rice in the past).
Fried Rice With Extra Veggies and Protein
I love a good Asian-inspired rice-and-tofu recipe, and this hits the spot every time. For added protein I use either extra-firm tofu or frozen shelled edamame. I also add extra veggies in the form of frozen peppers (T.J.'s Mélange à Trois mix) and/or frozen broccoli. To bump up the flavor, I add frozen crushed ginger with toasted sesame seed oil and coconut aminos. Thank me later.
Easy Mouthwatering Curry
I made this exact curry for my sister and her husband while they were on parental leave, and they loved it! It's simple but always delivers in flavor. Plus, it's balanced A.F. As a dietitian, I recommend eating 3–4 food groups in every meal, and this one checks off all the nutrient boxes: protein (from the chickpeas), starch (brown rice), veggies (broccoli, cauliflower, onion), and fat (coconut curry).
High-Protein Granola With Soy Milk and Sliced Fruit
Honestly, sometimes I can't even. That's where this basic (but filling) cereal comes in. When you need a quick breakfast (or let's be honest, even dinner) this may be your saving grace. If you use unsweetened soy milk (specifically the T.J.'s brand) you'll get a total of 20 grams of protein in this meal. Plus, since the soy milk is unsweetened, and the cereal has less sugar than most, you are less likely to have a blood glucose crash afterward. Add fruit to stay full even longer.
Egg-and-Pepperjack-Cheese Sandwich on an Everything Ciabatta Roll
I have to credit my BFF and business partner, Wendy, for this recipe. We were traveling to Austin for SXSW, and, as always, we made a pit stop at Trader Joe's to pick up a few basics. Wendy threw together this delicious and incredibly filling egg sandwich using a roll, sliced pepperjack cheese, and precooked hardboiled eggs. I've been making it ever since! It's delicious and has 21 grams of protein per serving.
Waffles With Greek Yogurt and Mixed Berries
Who said breakfast had to be boring?! This waffle-based brekkie literally tastes like I am having dessert in the a.m., but without making me feel sick (I love sweets, but sweets on an empty stomach make my stomach hurt). The Greek yogurt is deliciously creamy and provides a hearty dose of protein that keeps me feeling full. The berries are sweet, tart, and syrupy, but offer fiber and vitamins.
Sauerkraut Tacos
In my 10-year career as a nutrition professional, I've never met anyone who didn't love tacos. Recently, I've been obsessed with these T.J. shells because they remind me of when I used to eat Taco Bell every day for lunch in high school. But this is a new and improved version. I like to use the T.J.'s taco seasoning with black beans as the filling, but chicken or ground turkey or beef work too. My secret taco ingredient is—wait for it—sauerkraut. I like the nice, salty flavor and crunchy texture. Plus, it helps that it's really good for your gut health.