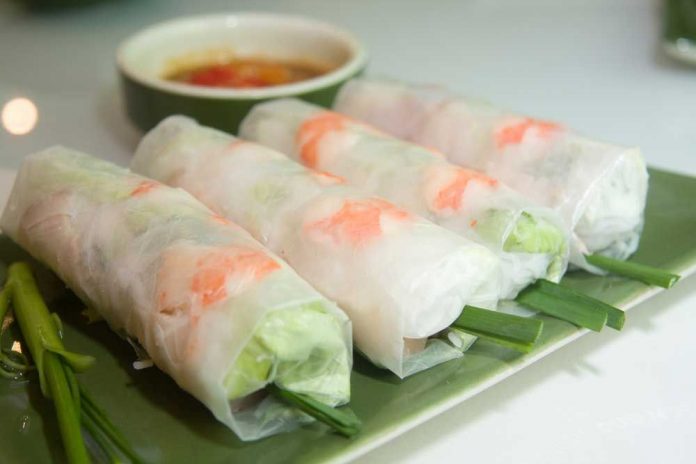 Vietnamese food is distinct and unforgettable. Spread across street-side vendors and high-end restaurants, typical Vietnamese food tastes salty, sweet, sour and hot. Whether you fancy a lunchtime snack in Hanoi or want to check out the best restaurants in Ho Chi Minh City, Vietnamese cuisine is some of the tastiest in all of Southeast Asia, so there's no need to wonder what the best food to eat in Vietnam is – we've got it covered.
Taken from our Rough Guide to Vietnam, we've picked ten essential Vietnamese foods everyone should try. And, in good news for foodies travelling on a budget, Vietnam also happens to be one of the cheapest places to travel. It's not short of beauty spots, either — read up on the most beautiful places in Vietnam as voted by you.
Goi Cuon (spring rolls)
Goi Cuon are translucent spring rolls packed with greens, coriander and minced pork or shrimp. A southern variation has barbecued strips of pork wrapped up with green banana and star fruit, and then dunked in a rich peanut sauce – every bit as tasty as it sounds.
Served cold, Goi Cuon are usually served as a starter before a main course at Vietnamese restaurants. If you travel to northern Vietnam then you may find that they're referred to as Nem Cuon. Whatever they're called, they're certainly delicious!
Banh mi (Vietnamese/Saigon sandwich)
Banh mi is one of the most popular street foods in Vietnam – and once you've read what goes into it, you'll be desperate to try it out for yourself! The Vietnamese (or Saigon) sandwich was first created during French colonial rule during the 19th century. Banh mi uses a French baguette and is filled with a delicious selection of ingredients.
The baguette sandwich is filled with greens and a choice of fillings, including paté and usually pork. Other fillings include beef, chicken, liver and tofu. Banh mi is so good that it's gone on to be imitated around the world, from London to New York.
Find out how you can incorporate the food scene into your trip in our guide to eating and drinking in Vietnam.
Banh xeo (sizzling pancakes)
These enormous, cheap and filling Vietnamese pancakes contains shrimp, pork, bean sprouts and egg. They are fried, wrapped in rice paper with greens and dunked in a fish sauce (Nuoc Cham) before eaten.
The best city to try Banh xeo (or "sizzling pancake") is Ho Chi Minh City. But it's also one of those snacks that you should stock up on if you're travelling by train or bus – the perfect accompaniment for those long journeys.
Talking of long journeys, if you're looking to experience the real Vietnam, you'll want to venture beyond the tourist trail.
Bun Cha (grilled meatballs)
Bun Cha is a Hanoi specialty. You'll find bun cha at food stalls and street kitchens across the city. The pork is barbecued on an open charcoal brazier and served on a bed of cold rice noodles with assorted foliage and a broth.
This type of Vietnamese cuisine is usually eaten at lunchtime. It's been described as somewhat similar to meatballs or hamburgers, but we think that with its intriguing mix of flavours, there's not another taste like it! Discover what other Hanoi street food you should try.
Pho (noodle soup)
The country's great staple dish is Pho (pronounced "fuh"). This noodle soup can be eaten at any time of day but is primarily eaten at breakfast. It originated in the north of the country but is now a national dish of Vietnam. A bowl of Pho consists of a light beef or chicken broth flavoured with ginger and coriander, to which are added broad, flat rice noodles and spring onions. Meat-wise, slivers of chicken, pork or beef are then added. Tofu is the main vegetarian option.
Pho in Vietnam can be found on almost every menu; once you've got your serving, squeeze a lime over it and add a dash of chilli flakes for an extra kick. Find out more about Vietnamese soup and noodle dishes.
Cao lau (noodle bowl)
Central Vietnam does it best. Among Hoi An's tasty specialities is Cao lau, a mouthwatering bowlful of thick rice-flour noodles, bean sprouts and pork-rind croutons in a light soup. Sound good? It gets better. Cao lau is then flavoured with mint and star anise, topped with thin slices of pork and served with grilled rice-flour crackers or sprinkled with crispy rice paper.
Tuck into this typical Vietnamese food with a serving of local salad and green beans. Legend has it that authentic Cao lau is cooked using water drawn from one particular local – which is why Hoi An is the ultimate place to try it.
If you're considering visiting Vietnam, get in touch with our local experts today. They're on hand to create your customised Vietnam trip.
Cha ca (Turmeric fish)
Seafood dishes stands above most other Vietnamese cuisine. Cha ca, reportedly created in Hanoi, is perhaps the best known. It sees white fish sautéed in butter with dill and spring onions, then served with rice noodles and a scattering of peanuts.
Da Nang is one of the best places to tuck into Vietnamese seafood dishes. Thanks to its waterfront position, Da Nang's specialities are fish-based and is the perfect spot to try Cha ca. For a similar eat that's popular in the local area, try Bun cha ca, a fishcake noodle soup.
Find out why else you should stick around in Da Nang. It also features in our round-up of the best beaches in Vietnam.
Mi Quang (noodle soup)
Mi Quang is an underrated and affordable noodle dish that's a Hanoi specialty. Ingredients vary by establishment, but expect to see a simple bowl of meat noodles with additions like flavoursome oils, fresh sprigs of leaves, shrimp, peanuts, mint and quail eggs.
Hanoi street food doesn't get much better than Mi Quang, a classic Vietnamese noodle dish. It's usually eaten as a dinnertime meal; you'll find yourself counting down the hours until you can tuck into the turmeric-infused bone broth, yellow noodles and fragrant herbs sprinkled on top.
Com tam (Broken Rice)
Com Tam is a quick'n'easy street-stand favourite that is almost exclusive to Ho Chi Minh City. Made up of smaller pieces of rice, it's also known as Broken Rice, and was traditionally a leftover-style snack. The Vietnamese have managed to hone it into a renowned Ho Chi Minh street food snack.
Com Tam is served with either grilled/steamed/shredded pork (usually grilled), fish or simply a fried egg. And this being Vietnam food, it wouldn't be complete without a squeeze of lime, a sprinkle of fresh herbs and a smattering of spring onion.
If you fancy sampling these delights during your trip, book an expert-guided foodie tour in Vietnam — they're available all over, from Saigon to Hanoi.
Ready for a weird and wonderful adventure? Discover 8 of the weirdest things you'll see in Vietnam, while foodies with a hunger for adventure might want to read up on weird world food.