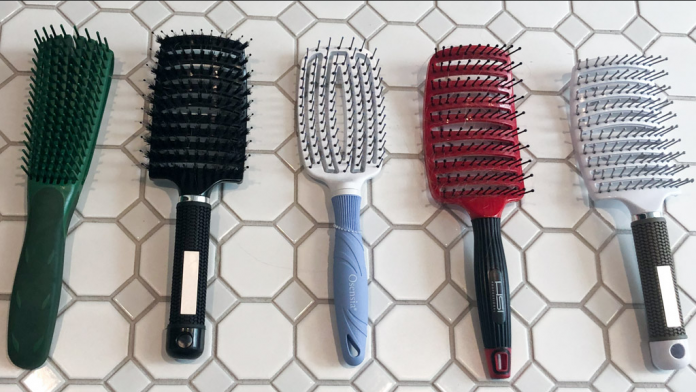 All products featured on SELF are independently selected by our editors. However, when you buy something through our retail links, we may earn an affiliate commission.
Between keeping up a mundane schedule of work, sleep, and binge-watching Ozark these days, the one weekly routine I know like the back of my hand is my hair care. Wash days for my natural, 4A hair are ritualistic at this point: a somewhat lengthy process involving a preshampoo, regular shampoo, and deep conditioning mask to start, followed by my least favorite part, a solid 45 minutes of desnagging my tangled, tightly coiled hair. Over the years, several hair brushes (and many clumps of hair) have been casualties of this tug-of-war, but I think I've finally found a solution.
Months ago, when I was ready to retire a detangling brush that was on its last leg (RIP), I did some Googling to find a worthy replacement and found this one on Amazon, from none other than professional hairstylist Felicia Leatherwood, who is best known for working with celebrities like Issa Rae, Ava Duvernay, and Jill Scott. So many reviewers commented on how it helps "cut their detangling time in half" that I couldn't help myself and bought it. Many shampoos have confirmed what everyone else already knew: The Felicia Leatherwood Detangler Brush is the first one that actually makes it easy and relatively painless to unsnag my curls, adjectives I never thought I'd use to describe my extensive hair routine.
The main difference I've found is the pliable bristles, which are ideal for detangling just about any hair type, and even help minimize shedding. After washing my hair, I typically section it into fourths (she's thicc) and generously distribute my deep conditioner of choice through each section.