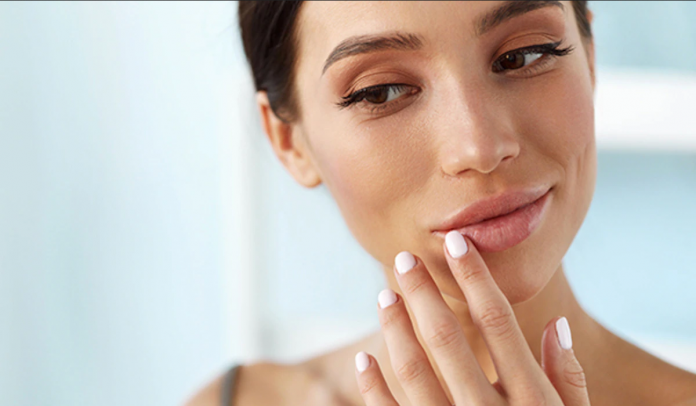 Unlike other parts of the body, the skin of the lips is a lot thinner, making it more prone to dehydration, especially during the fast approaching cold winters. The cold, chilling wind and dry, heated air in the interiors all conspire to make your lips dry and flaky. There is no denying the fact that lips require a lot of care.
So, here are six tips to keep your lips smooth and healthy all winter long:
1.Drink plenty of water
If you feel like you read this advice everywhere, it's because it's true. Despite the fact that it may not be a sweltering, summer day, your body still needs water. Consuming your daily dose of  water is beneficial for skin and lip hydration, and for your overall health. Get a glass/aluminum water bottle and stay hydrated throughout the day; your lips, skin, and body will thank you
2.Use lip balm regularly
Lip balm will lock in the moisture and help to heal cracks and splits in the skin. Another important ingredient is sunscreen. Despite the colder temperatures, the sun still shines in the winter. Your lips can still get burned and are more susceptible to burning than the rest of your face since the skin is thinner and more delicate.
 3.Heal your lips with petroleum jelly
Cracked lips, flaky skin, slits, and cold sores are some of the skin issues that come with the colder weather. It is important to treat your cracked and chapped lips the right way so it heals properly and the skin woes don't get worse. Avoid scrubbing or brushing your lips harshly when they are peeling or cracked. It can lead to infection and even worse, lip sores.
Apply petroleum jelly like Vaseline Original Pure Skin Jelly to heal chapped lips and moisturize them. Invest in a lip balm that is infused with an ointment or natural ingredients that help heal winter lip woes.  Vaseline Aloe Soothe Lip Care is a nourishing lip balm formulated with pure aloe vera extracts that soothe and heal your lips while also providing deep moisture to your lips.
 4.Lip oil
Your winter lip care  is incomplete without a nourishing overnight lip oil. Your lips tend to dry even more when you are asleep as the moisture gets stripped away. Lip oils provide extra nourishment and added benefits to your lips. Before going to bed every night, slather on a lip oil and massage your lips using your fingertips. It helps stimulate blood circulation and makes your pout plumper and softer. You can use a few drops of lavender essential oil or mix coconut oil and almond oil to make your own DIY lip oil and use it every night before bed to wake up to soft and pink lips.
5.Ghee
A drop of ghee can work wonders on your dry and chapped lips. Ghee acts as a moisturiser. Apply some ghee on your lips and leave it overnight.
6.Never brush or rub your lips with your teeth or fingers
Create a natural exfoliator by mixing a few drops of Argan Pure cold pressed oil is mixed with one tablespoon of brown sugar for smoother lips.
7.Don't lick your lips 
When your lips are dry, it's natural to want to lick them to make them moist. But licking your lips actually has the opposite effect. "Once you put saliva on your lips it actually makes them dry out faster, making your lips even more dry overall," Dr. Piliang says. "Plus, the enzymes that are in saliva that are meant to digest food are irritating to the lips."
8.Treat severe peeling and cracks right away 
If you let them go, they can become worse, possibly infected or may even lead to a cold sore. The herpes simplex virus has a tendency to attack when your immune system is down, which can happen more frequently in the winter. And when your lips are peeling, cracking and dry it doesn't help the situation, creating an environment more ideal for that annoying invader as your defenses are down.
9.Honey
Honey is said to be an amazing moisturiser that has healing and antibacterial properties to treat chapped lips. Make a mixture of honey and glycerine and apply on your lips. Leave it overnight and wake up to amazing lips.
10.Coconut oil
Coconut oil is one of the best natural moisturisers you'd come across. All you need to do is to warm some of it and massage it on your lips. Leave it overnight and wake up to soft and supple lips.