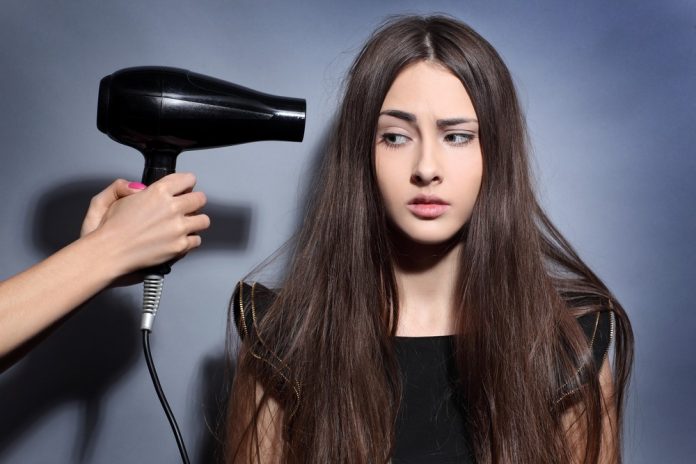 After I had my arm amputated, I had to relearn lots of things — but styling my own hair was definitely the hardest.
With sweat beading at the nape of my neck — joining the tangled knot between my salt-soaked hair and my necklace — I jumped off the treadmill. I decided this would be my last run with yet another failed attempt at tying my hair up with one arm. Literally throwing in the towel, I returned home from the gym to my drawing board — a.k.a. my colossal stash of scrunchies — determined to find an approach that would be accessible for me and the one arm I still have.
Losing my left arm resulted in gaining many understandings, one of those being that there wouldn't always be someone there to help me with my hair. I've had to relearn plenty of tasks after the accident that caused the eventual amputation of my arm, and handling my hair has been the hardest. Born with naturally rebellious hair, I rarely found styling easy even with two arms. I definitely had no idea how to even gather my hair into one hand, let alone secure a hair tie around the ponytail. The French braids I used to rely on became impossible for me to do on my own.
The worst part for me, though, was that I felt like I was the only person in the world who was going through this. I know now that this, despite the lack of representation in traditional hair tutorials and advertisements, is not true. Self-described "bionic actress" Angel Giuffria was born with a congenital limb difference — her left arm missing below the elbow. Giuffria agrees that the most challenging aspect of learning to do her own hair with one hand was not seeing others like herself do their own hair, leading to a lack of confidence that it was something she could ever achieve. "Only learning from others who had both hands made me feel like it was a huge task that I maybe could never do, let alone become skilled at," recounts Giuffria. Of course, as she pointed out, it also doesn't help that many hair products and tools are made to be used with two hands.
As hairstylist Michael Rockafellow tells Allure, developing skills in the one-armed hairstyling arena is more than possible. The St. Louis-based stylist, born with one arm, pursued his passion of becoming a hairstylist. "At first, I wasn't sure if a client would even trust me to do their hair with one arm. That [thought] kicked my confidence down," shares Rockafellow. But despite being told it wouldn't be possible, he has overcome most obstacles with practice and adaptations. For example, a big struggle for single upper extremity amputees and disabilities is creating enough tension between their hair and their hand or tool to shape it into a style. But Rockafellow frequently relies on a tool called EazyHold, a silicone cuff meant to help users with disabilities hold onto a wide range of items. Using this, he can attach tools to his arm, or as he calls it, his "fin."
Finding accessible tools and creating that necessary hair tension that Rockafellow mentioned are two of the biggest challenges I've personally encountered. This seems to be widely felt with one-handed individuals, who are often forced to come up with creative solutions on their own. Chelsea Porter, brand specialist at Likeness Consulting and disability awareness advocate, was born with a limb difference to her left hand known as monodactyly, meaning one is born with a single finger on a hand or a single toe on a foot. Unable to grip with her left hand, Porter utilizes a wall to secure her hair while braiding. It's a technique that might seem unconventional, but so much is possible when you practice and open up to new approaches. I've experienced frustrating wash and style days and really sorry-looking ponytails, but that helped me develop a lot of pretty helpful techniques and tips. Below you'll find my guide, complete with additional notes from the sources above on all things one-armed hairstyling.
Search for products that make showering hassle-free.
Water makes everything more slippery, and combined with having one hand, it can set your routine off on a tough start. The main difficulty I've encountered in the shower is finding shampoos and conditioners that were both easy to open and possible to dispense into my one hand. If you don't have a second hand to pour product into, I've found that finding products with a pump is your best option.
For me, accessibility shouldn't come at the cost of quality. My top picks at the moment for one hand-accessible design, in addition to their transformative formulas, are Luseta Biotin and Collagen Shampoo and Conditioner and Drunk Elephant Cocomino Glossing Shampoo and Cocomino Marula Cream Conditioner. The Luseta bottles are bottom heavy so it keeps them from toppling over when you dispense the product, and the rectangular shape of the Drunk Elephant products make it so you can get a better grip on the bottle than you would with a product with rounded sides. If you like using your feet or knees as an aid. Plus, both of these combos rescue my hair from unruly frizziness that might make my post-shower hairstyling a lot trickier.
Buy bigger bottles…
Go for the larger or bulk sizes, because these most often come with a pump. With the aforementioned Drunk Elephant products, I go straight for the 25 oz containers which have a pump top and are justly labeled as "big" on their site.
and smaller towels.
Twisting a standard-size bath towl tightly enough around your hair can be a challenge if your hand isn't big enough to gather and twist the entirety of the towel at once. Instead, seek out smaller towels that are made specifically for drying hair. The built-in elastic in this Quick Dry Hair Towel from Kitsch keeps the towel "hooked" around your head while you twist it, and the loop is large enough to fit around the button hook without needing to widen it with another hand. If you have big ears like me, use them to help you "hook" the towel over one side of your head while you move to get it over the rest of your hair — kind of like what we've all been doing with face masks, but instead covering your hair.