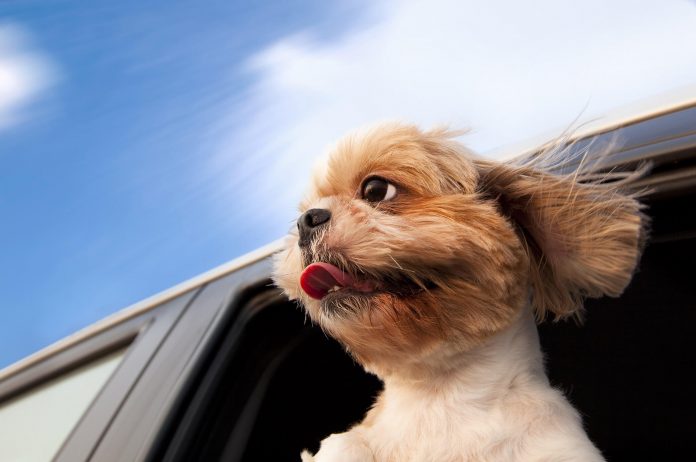 TRAVELING WITH PETS
Are you planning on bringing a four-legged friend on your next trip?
Traveling with Pets image
Having your beloved pet along for the ride can make a vacation even more memorable, but it's not without challenges. When you're bringing your pets along, the key is to plan ahead and choose whatever is safest and most comfortable for them. These tips for traveling with pets will get you on the right track.
PREPARING FOR YOUR TRIP
Image of Django and Chloe on the Brooklyn Bridge – here are some pets traveling better than you.
Regardless of your mode of travel, it's important to make preparations long before you and your furry pal hit the road. Packing for a dog or cat isn't quite the same as packing for a human after all, so make sure you're prepared:
• Check with your vet to make sure your pet is healthy and has the right temperament for safe travel. Above all, ask for a certificate showing that your pet is up to date on vaccinations, including rabies, distemper and kennel cough.
• Put together a list of veterinarians and animal hospitals near your destination.
• Find out about local pet regulations at your destination. That includes the hotel and any nearby parks or attractions you and your animal plan to visit. Pack a few things to keep your dog or cat happy and comfortable away from home, including extra food, toys, a collapsible water bowl and a blanket or pet bed that will remind him of home.
TRAVELING WITH PETS BY CAR
Violet the dog looking out of a car window
Generally speaking, traveling by car is the safest and easiest way to transport your pet from point A to point B. Of course, that depends on how used to car travel your pet is, and how he usually reacts to being in the car. If you have a pet that isn't fond of long rides—or has never been on one—start with some short trial runs. A few other things to keep in mind:
• Always keep your pet in the backseat, and use a pet car seat, pet seat belt or travel crate to keep him restrained. A pet loose in the car is at a greater risk of injury in a crash, and is a distraction to you while you're driving.
• Plan pit stops at least every two to four hours so you can walk your pet and give him food and water.
• As much as he may seem to enjoy it, don't let your dog stick his head out the window when the car is moving. It exposes his eyes and ears to injury. If you know your pet may experience carsickness, talk to your vet about possible solutions before you head out.
FLYING WITH PETS
Image of Charlie Esplin, looking up at the camera – here are some tips on dog friendly places.
Air travel is the mode of transportation that forces you to jump through the most hoops to take your pet along. Traveling by plane can be stressful for animals, and you should try to keep your pet with you in the cabin if regulations permit. Be sure to thoroughly check your airline's rules before you take off. With the exception of service animals, pets must always be kept in a carrier while in flight, but other regulations vary by airline. Take a few steps to prepare before you head to the airport:
• Give your pet water immediately before it goes in its crate.
• Do not feed your pet for six to eight hours before getting on a plane.
• Check your airline's pet weight restrictions to find out if your animal can travel with you in the cabin, or must be transported as checked luggage.
• Bring your pet's vaccine records and ID tags. Attach identification information to both your pet's collar and its car