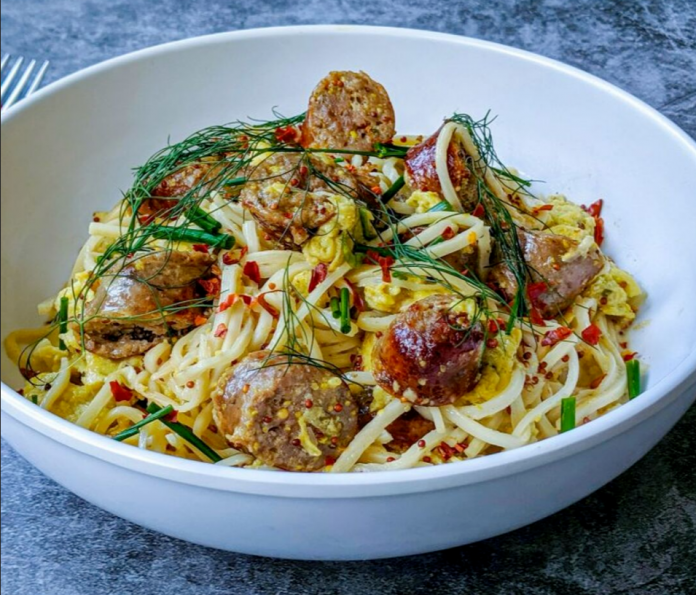 Pasta may just be the ultimate comfort food, so it's no surprise that an entire month is dedicated to the dish: and that happens to be October. While we love a bowl of spaghetti just as much as the next pasta-holic, the meal is typically loaded with carbs and calories that make it best reserved for an occasional indulgence. So to fill the comfort-food craving we're constantly on the lookout for recipes that can satisfy our taste buds and fit into a healthy diet plan. If you're counting carbs, craving them, or looking to cut back on processed varieties, these five healthy dishes offer a unique and creative take on popular pasta favorites. Using veggies as the base, these alternatives are similar in texture and appearance to pasta noodles, and also add a dose of vitamins while cutting back on refined carbohydrates. Get ready to twirl away without the guilt!
Easy Carrot Spaghetti
These colorful "noodles" from Oatmeal With a Fork are made from vitamin A-rich carrot ribbons, which are super easy to make with a vegetable peeler. Mushrooms give the marinara sauce a hearty flavor and meaty texture. Go homemade with the sauce to cut back on extra sodium. If you're pressed for time and need to pick up the store-bought variety, opt for a low-sodium sauce with minimal ingredients and no added salt. Perfect for busy weeknights, you'll have a nutrient- and flavor-packed meal on the table in less than 30 minutes.
Lemon-Oregano Salmon and Leek Parsnip Pasta
Root vegetables like parsnips and turnips are well-suited for your spiralizer or vegetable peeler. This delicious "pasta" dish from Inspiralized uses parsnips, which have a slightly sweet taste, but also impart a nutty and earthy flavor. Pair them with heart-healthy salmon, rich in omega-3 fatty acids, and mild leeks for a delicious dinner any day of the week.
Spinach and Zucchini Lasagna
Cheesy lasagna doesn't have to be a calorie-bomb. Give the comfort food favorite a veggie twist like in this low-carb, gluten-free recipe from Primavera Kitchen. Using low-cal veggies like zucchini and spinach in place of lasagna noodles means you'll slash hundreds of calories while getting a boost of vitamins and minerals.
Spaghetti Squash Pesto "Pasta"
Spaghetti squash is another great alternative to pasta because when cooked, the squash comes apart into noodle-like strands that are similar to capellini, or angel hair pasta. This low-carb ingredient is the star of Petite Canteen's tasty recipe, which also features a simple pea and parsley pesto. Use just a few tablespoons of olive oil to keep fat content in check without sacrificing the creamy texture.
Roasted Cauliflower Gnocchi
In a twist on the traditional potato, semolina, or flour gnocchi (the soft dumplings popular in Italian cuisine), cauliflower makes for an easy and low-cal alternative that achieves a similar texture. The Food in My Beard's roasted version includes vitamin-rich broccoli rabe and tomatoes, and swaps butter and canola oil for flavorful balsamic vinegar and olive oil.