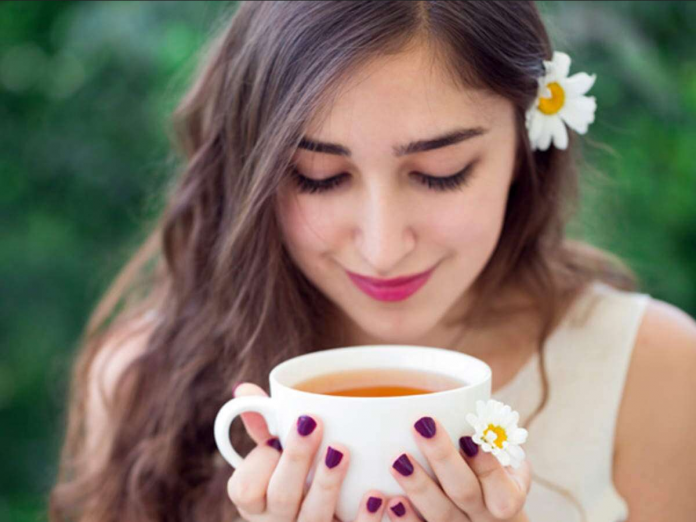 Green tea was originally grown in China, but now is grown in other places as well. It can be used either as a drink or an extract.
Green tea is particularly good for hair. It is rich in catechins, which help to reduce dihydrotestosterone (DTH), responsible for hair loss. As a result, green tea stops hair fall. It helps to fight dryness of the scalp and dandruff. Green tea abounds in essential compounds. Polyphenol, found in green tea, is good for hair roots and hair follicles, which leads to hair regrowth.
Benefits of green tea rinse for hair:
1.Reduces shedding
The caffeine in green tea acts to reduce hair loss by blocking dihydrotestosterone (DHT). DHT is a byproduct of testosterone that hinders the hair follicles from producing hair.
2.Promotes hair growth
Green tea helps to grow hair by increasing circulation of the scalp and stimulating hair follicles.
3.Treats scalp conditions
Green tea may help to calm ailments like psoriasis and dandruff by improving your scalp's health.
4.Conditions hair and adds shine
Green tea contains polyphenols and vitamins E and C, which soften hair. Tea helps to close the cuticles of porous hair to create a healthier and shinier mane.
How to make green tea hair rinse? 
You need green tea and water to make the basic rinse. And it will work just fine if you have an oily scalp. But for those of you with dry scalp, green teas astringent qualities can be further drying for your scalp.
You will need:
1 teaspoon green tea(or 1 tea bag)
2 cups water
 Making:
Place the green tea in a pot or jug. You can also add one or more of the conditioning herbs: chamomile, lavender and rose petals. Pour hot water over it.
Let it steep, covered. Once the tea cools, strain and use.
How to use?
Use as a final rinse. Pour the green tea water into your hair. Work it into your scalp and hair and leave it on for 3 to 5 minutes. Then rinse off with cool water to lock in the shine. You can use this tea one or twice a week.
If you are wondering how green tea can have an effect in a few minutes sitting on the scalp. Well, a study shows that it can penetrate the hair follicles just after 2 minutes of applying,which is fantastic.
Tip: You can use squeeze/applicator bottle for easy pouring.