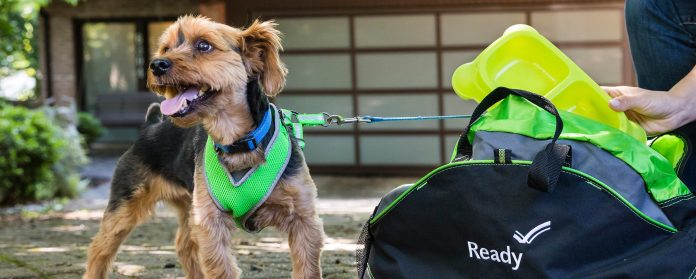 New technology in streaming cameras can flag unusual behavior or suggest why the dog might be barking.
This article is part of our latest Artificial Intelligence special report, which focuses on how the technology continues to evolve and affect our lives.
Most dog owners intuitively understand what their pet is saying. They know the difference between a bark for "I'm hungry" and one for "I'm hurt."
Soon, a device at home will be able to understand them as well.
Furbo, a streaming camera that can dispense treats for your pet, snap photos and send you a notification if your dog is barking, provides a live feed of your home that you can check on a smartphone app.
In the coming months, Furbo is expected to roll out a new feature that allows it to differentiate among kinds of barking and alert owners if a dog's behavior appears abnormal.
"That's sort of why dogs were hired in the first place, to alert you of danger," said Andrew Bleiman, the North America general manager for Tomofun, the company that makes Furbo. "So we can tell you not only is your dog barking, but also if your dog is howling or whining or frantically barking, and send you basically a real emergency alert."
The ever-expanding world of pet-oriented technology now allows owners to toss treats, snap a dog selfie and play with the cat — all from afar. And the artificial intelligence used in such products is continuing to refine what we know about animal behavior.
Mr. Bleiman said the new version of Furbo was a result of machine learning from the video data of thousands of users. It relied on 10-second clips captured with its technology that users gave feedback on. (Furbo also allows users to opt out of sharing their data.)
"The real evolution of the product has been on the computer vision and bioacoustics side, so the intelligence of the software," he said. "When you have a camera that stares at a dog all day and listens to dogs all day, the amount of data is just tremendous."
The Furbo team is even able to refine the data by the breed or size of a dog: "I can tell you, for example, that on average, at least as much as our camera picks up, a Newfoundland barks four times a day and a Husky barks 36 times a day."
Petcube is another interactive pet camera, the latest iteration of which is equipped with the Amazon Alexa voice assistant.
Yaroslav Azhnyuk, the company's chief executive and co-founder, is confident that A.I. is helping pet owners better understand their animals' behavior. The company is working on being able to detect "unusual behaviors."
"We started applying algorithms to understand pet behavior and understand what they might be trying to say or how they are feeling," he said. "We can warn you that OK, your dog's activity is lower than usual, you should maybe check with the vet."
Before the coronavirus pandemic forced many pet owners to work from home during the day, they were comforted by the ability to check on their pet in real time, which had driven demand for all kinds of cameras. Mr. Bleiman said the average Furbo user would check on their pet more than 10 times a day during the workweek.
Petcube users spent about 50 minutes a week talking to their pet through the camera, Mr. Azhnyuk said.
How to Make the Best Miso Soup of Your Life
Dry Brushing, Body Scraping, Gua Sha: Lymphatic Health Is All the Rage
The Faces That Look Back at Us When We Come Out, Again and Again
"The same way you want to call your mom or child, you want to call your dog or cat," he said. "We've seen people using Petcubes for turtles and for snakes and chickens and pigs, all kinds of animals."
Now that she's working from home as part of measures to contain the spread of coronavirus in New York City, Patty Lynch, 43, has plenty of time to watch her dog, Sadie. When she's away from her Battery Park apartment, she uses a Google Nest to keep an eye on her. Ms. Lynch originally bought the camera three years ago to stream video of Sadie while she recovered from surgery.
"I get alerts whenever she moves around," Ms. Lynch said." I also get noise alerts if she starts barking at something. I'll be able to go in and then see her in real time and figure out what she's doing."
"Sometimes I just like to check in on her," she said. "I just look at her and she makes me smile."
Lionel P. Robert Jr., associate professor at the University of Michigan's school of information and a core faculty member at Michigan's Robotics Institute, said A.I.-enabled technology has so far centered on the owner's need for assurance that their pet was OK while they were away from home.
He predicted that future technology would focus more on the wellness of the pet.
"There are a lot of people using these cameras because when they see their pet they feel assured and they feel comfortable. Right now, it's less for the pet and more for the humans," he said.
"Imagine if all that data was being fed to your veterinarian in real time and they're sending back data. The idea of well-being for the pet, its weight, how far it's walking."
Mr. Robert noted that other parts of the world had gone a step further with technology: "They're actually adopting robotic pets."
While products like Petcube and Furbo are mostly used by dog owners, there are A.I. devices out there for cats as well. Many people track them throughout the day using interactive cameras, and one start-up has devised an intelligent laser for automated playtime.
Yuri Brigance came up with the idea about four years ago, after his divorce. He was away from the house, working up to 10 hours a day, and was worried about his two cats at home.
"This idea came up of using a camera to track animals, where their positions are in the room and moving the laser intelligently instead of randomly so that they have something more real to chase," he said.
The result was Felik, a toy that can be scheduled via an app for certain playtimes and has features such as zone restriction, which designates areas in the home the laser can't go, such as on furniture.
Mr. Brigance said his product did not store video in the cloud and required an internet connection to work, like many video products. It analyzes data in the device.
"We use machine-learning models to perform what's called semantic segmentation, which is basically separating the background, the room and all the objects in it, from interesting objects, things that are moving, like cats or humans," Mr. Brigance explained.
The device then determines where the cat has been and what it is currently doing, and predicts what it is about to do next, so it can create a playful game that mirrors chasing live prey.
The laser toy, Mr. Brigance said, has provided his cats, and those of his customers, with hours upon hours of playtime.
"Some people are using it almost on a daily basis and they're recording things like where they used to have a cat that would scratch furniture, that would get really agitated if it had nothing to do, that this actually prevents them from destroying the house," he said.
"Or cats that meow in the morning and try to wake up their owners — if you set a schedule for this thing to activate in the morning, it can distract the cat and let you sleep a little bit longer."