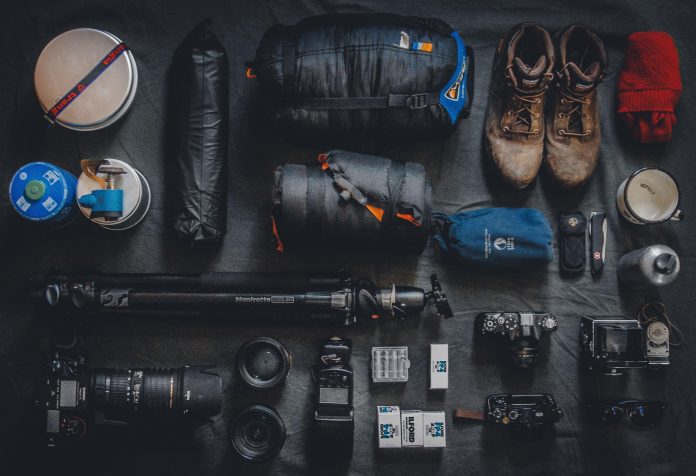 We travel as much as we can, as far as we can and for as long as we can. The wanderlust in us often makes us go away to far off lands and explore new places. To make your adventure easier than ever, all you need is a few of these cool travel products ranging from smart luggage to the ultimate utility jacket. Let's see the accessories essential for your adventure travel,
1.Solar Source
Free yourself from the outlet. The solar source keeps you and your electronics on the go longer with an ultra-lightweight power supply fueled by foldable solar panels. The perfect companion for hiking trips and wilderness adventures, this pocket-sized companion will ensure you don't have to ascend without your favorite tunes in your earphones.
2.Touch Sensitive Light Source
The convenience of a headlamp packed with features is compromised if you have to free your hands to fiddle with the settings, this allows pre-dawn or post-dusk adventurers to adjust brightness with a simple tap on the lamp's touch sensitive housing. You can't make the sun rise any faster, but you can illuminate the path ahead.
3.Power Bank
Who doesn't own a power bank these days?! Well, a power bank is a must to carry along with you when you are travelling long distances. You can't always find a plug point when you are out in the woods, or on a beach, or any open space whatsoever. If you have a power bank, you are good to go!
4.Eye Mask
One of the essential items to be added in your carry-on is an eye mask. You don't want to be stuck in a situation where you find it very difficult to sleep since it is essential to relax before heading off to explore your destination. Whether you are travelling by flight, or by a train, it is always convenient to have an eye mask at your disposal.
5.Safety Locks
Most people carry safety locks with them while travelling, but many still don't understand the utility of this travel accessory. It is one of those items which must be a top priority in your items-to-carry list since you always need to safeguard your luggage no matter where you are travelling to.
6.First Aid Kit and Medicines
You never know when you can meet with an accident or fall sick when you are travelling to a place. It is always essential to carry a first aid kit and medicines along with you to help in times of dire need. (We do hope you never need them, though!) Add the following items to your first aid kit- bandages, ointment/antiseptic, cold compress, cotton balls, thermometer, tweezers, antacids, fever and pain reducers.
7.Water Friendly Smartphone Case
There's nothing like a soggy smartphone to put a serious damper on your trip. Lifeproof's newest release, s designed to protect your device while keeping the screen bare and open to direct touch – even underwater.
8.Camera 
If a picture is worth a thousand words, how many words is a great camera worth? We could use plenty to gush about the Canon Powershot D20. This pocket-sized memory maker remains waterproof up to 33 feet, temperature resistant from 14°F to 104°F, and is loaded with a GPS tracker, in case you forget exactly which idyllic stretch of sand. And if you're after the colder kind of powder, rest assured that all buttons are accessible even below gloved fingers, making this camera the perfect companion from sea to ski and everything in between.
9.Inflatable Neck Pillow
Finding it difficult to sleep on the flight or in a car? Inflatable Neck Pillow is there to save the day! The best solution to your sleeping problem is to carry along an inflatable neck pillow which gives comfort up to a certain level. Also, if you don't like the pillow provided by the hotel, you will at least have your pillow.
10.Resealable Plastic Bags
People generally fail to assess the importance of carrying a resealable plastic bag with them. It is a handy item as they are good for organising, as well as when you have to pack something damp like a wet bathing suit or any item that might leak.
11.Navigator and Magnetic Compass
When you go on a vacation you explore new places. A navigator is your saviour in such situations. It helps you to locate your way in case you are lost, or when you are looking for direction to an unknown place. Also, don't forget to carry a magnetic compass with you if you are going on a hiking trip, as it will help you in finding direction in zero connectivity area.
12.Binoculars
Binoculars are an essential travel accessory when you are going on a safari trip, as you don't want to miss out on spotting a tiger or some rare animal. Also, when you are out on a trekking trip in the mountains, you can soak in the beautiful scenery from up close if you have a pair of binoculars with you.
13.Portable Air Coolers
Using portable air coolers is very cost-effective to cool your place without spending much money on electricity. Because the operating costs needed are only for water and electricity.
14.Tripod/ Selfie Stick
A tripod will let you blur flowing water or star trails for beautiful long exposure photography, create engaging time-lapse video, capture panoramic landscapes… or just take a better selfie!.Tripods also allow you to get sharper and clearer photos than shooting handheld.
15.Reusable Water Bottle
Carrying a water bottle might sound quite unnecessary, considering there's packaged water easily available almost everywhere. But the reasons you must have a reusable bottle are: It saves your money (as you can refill your own bottle instead of having to purchase packaged water bottles), it helps reduce plastic waste, and because doing so is a conscious act towards a better environment.